Small Businesses Apply Lessons from Great Recession
Learning lessons from the past and putting them into practice keeps the small business economic engine turning.
Seven out of 10 small business owners nationwide are optimistic about the U.S. economy, the PNC Economic Outlook Survey's highest number since 2007. They also are optimistic about sales and profits during the next six months, yet remain cautious about hiring additional employees or seeking a new loan or line of credit. Richard Bynum, executive vice president and head of business banking at PNC Bank, shares his perspective on the survey results and small businesses:
POV: What's your view of the current small business climate?
Bynum: The operating environment today is as good and is arguably better, in some cases, than it was just pre-recession. Small business owners are looking to take advantage of that environment to grow their businesses in a thoughtful way.
POV: How would you compare their outlook today, with an improving economy, versus the struggling economy?
Bynum: If it's about running their day-to-day business, small business owners would tell you that they're feeling very good about the immediate future. If it's about all of the other things that are not in their control; that's where the uncertainty comes in. They are focused on making day-to-day decisions about their business so they can weather storms that might come. That's a very different place for them to be in today versus where they were ten years ago.
POV: Four in 10 small business owners expect cash flow to increase during the next six months. Do you feel this is a trend?
Bynum: This is definitely a trend that we've been seeing over the last 12 months. But before we say it's smooth sailing, we need to see that number continue to increase for at least 2-3 more quarters.
POV: Seventy percent of small businesses are maintaining an emergency or cash reserve fund – and 39 percent estimate the amount would cover 3-6 months. What does that tell us?
Bynum: It's a risk management play that you wouldn't have seen seven or eight years ago. That cash, sitting on the sidelines right now, isn't working for them in the current interest rate environment. It's actually losing value since it's not being invested put back into the business or in the owner's pocket. It's just sitting there and its real value for the business is to be available through whatever difficult time might occur. The fact that business owners are holding on to a cash reserve can be attributed to a lesson learned by the industry.
POV: While most don't want a new loan or line of credit, there are more owners now who do – 22 percent now vs. 17 percent last fall. What does that say about the prospects for future business growth?
Bynum: Small business owners have to reconcile what financing approach works best in their operating model. Many owners have found that with their cash reserves and their income stream, they are just fine. But other owners will tell you that to significantly grow their business they will not be able to rely entirely on their cash coming in or reserves. They are going to have to invest in their business. So, that to me suggests that loan demand will continue to rise, albeit slowly over the course of the next year.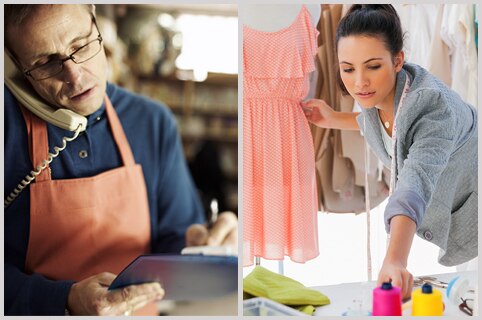 POV: There were mixed views in the survey information/cyber security. More than half said they were less concerned about being affected by a security breach. Does that surprise you?
Bynum: No. Our survey found that only one in 10 have been impacted by a security breach. But, it is a big concern because it doesn't take much more than one breach to have that nightmare scenario. You hear about it all the time.
I think for small business owners it's a bit of a double-edged sword. Not only are they concerned about protecting and safeguarding the information and financial data of the business, but also on guard about protecting and securing the financial data of customers. If customers use a credit card with a small business, they look at the business as a guardian of their personal information. If something happens, like a hack into that business' systems, then your reputation and your brand are on the line as a small business owner.
This is a very important year for credit and debit card security because the new EMV (Europay, Mastercard, Visa) chip cards are being issued. Businesses will have to install new card reader equipment soon as the financial liability for card-present counterfeit card losses shifts from banks to merchants if merchants receive EMV-enabled cards but have not yet installed EMV-capable terminals. For consumers as well as businesses, the emphasis on secure transitions will be greater than ever before.
Read what's on the minds of small business owners in the PNC Economic Outlook Survey findings.

Richard Bynum oversees business banking for PNC Bank
---
More Work, More Pay for Some
- Only 22 percent of small business owners plan to add full-time employees, PNC found, while 72 percent will keep staffing the same.
- Of those not hiring, their top two reasons are: choosing to do more work with fewer employees, and lack of economic improvement.
- 40 percent, however, expect to increase employees' pay. Of those giving raises, nearly half (44 percent) plan increases of 3-4 percent.