Toggle nav
Login
Sign on to Online Banking
Sign on to another service:
---
Personal and Small Business:
---
Personal and Small Business:
---
Corporate and Institutional:
Trump, the Economy & You:
Experts Explain What Is Ahead
PNC Chief Economist Stuart Hoffman and Chief Investment Strategist Bill Stone offer predictions on how Trump's policies may affect the economy and markets.
What does Donald Trump's surprise victory to win the White House and Republicans' success in retaining majority control of Congress ultimately mean for the economy and financial markets?
PNC Chief Economist Stuart Hoffman and Chief Investment Strategist Bill Stone addressed that question for clients and employees in a recent webinar. Watch U.S. Election Insights: Perspectives on the Markets webinar
Economic Impact
There are many open questions about Trump's fiscal policies that could affect the economy in different ways – some positive, others not so, Hoffman noted. Changes in U.S. trade pacts, including proposed tariffs, would likely be a "lose-lose proposition" for trading partners and a potential negative for the economy and stock markets. However, tax reform (including large cuts in personal and corporate tax rates), a reduction in regulations and a large infrastructure spending program, could be a plus for the economy.
Even with uncertainty, PNC's economic outlook isn't going to change that much, Hoffman said. "Right now, we feel comfortable that moderate to a little faster economic growth is likely in the year ahead."
Why? Hoffman outlined several reasons:
Consumer spending remains the "heart of the economy." "Income and job growth will help consumers have a good holiday season, which will carry into next year."
Likely infrastructure spending programs and tax cuts bolster economic and job growth.
Wages are expected to pick up with infrastructure spending.
Oil and gas are expected to benefit from a Trump presidency.
The dollar continues to strengthen.
Interest rate hikes remain a question mark, he noted. While there will be greater uncertainty with the election of Trump, we still expect the FOMC to raise the funds rate at their December 13-14 meeting. The Fed funds futures odds of a December rate hike are currently at 86 percent, up from 75 percent on Election Day. We think the FOMC will take the opportunity to hike in December with stock prices rising and the dollar getting stronger.
Stock Market Impact
After plunging in overnight trading on election night, the Dow Jones Industrial was up 1.4 percent at the end of trading Wednesday. Stone reminded clients that, while seemingly worrisome, the violent swing was in line with past elections.
"In six of the last eight elections, the S&P was down the day after the election and, in almost all cases, went on to record positive returns over the next 12 months," he said.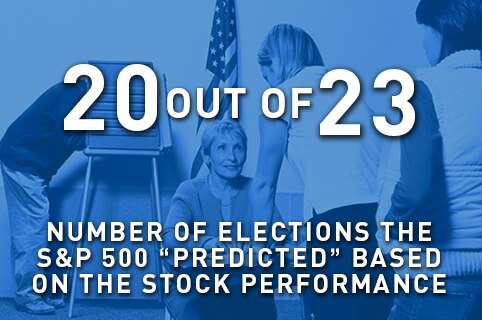 The sectors that should fare best with a Trump presidency? Stone describes five:
Energy – "Oil remains important, and it's highly likely that Trump will be more amenable to more drilling in the United States."
Financials – "Reduction in regulatory scrutiny may help this sector, along with a steeper yield curve."
Industrials – thanks to Trump's proposed infrastructure spending program
Defense – tied to potential increases in spending
Technology – "A higher likelihood of corporate tax reform could benefit the tech sector with their large cash levels."
The overall market forecast likely will depend on Trump's priorities. Trade issues and protectionism are "less market-friendly" than deregulation and tax reform, Stone said.
And, chalk up another win for the stock market's "amazing track record" of predicting presidential election winners – 20 of the past 23 elections. In the three months before the election, if the S&P 500 was down, the incumbent party lost. If stocks were positive, incumbents won. The S&P was down 1.9 percent in the three months preceding this week's election.
"It's not correct all the time, but it's why we left our minds open, despite the polls," Stone added.

Stuart Hoffman says the U.S. likely will see moderate economic growth in 2017

Bill Stone says it's normal for the markets to fluctuate before and after elections
GET IN TOUCH

Join Us

Be part of our inclusive culture that strives for excellence and rewards talent.

Visit PNC Careers »
The PNC Financial Services Group, Inc. All rights reserved.