What an Interest Rate Hike Means for Investors
PNC's chief investment strategist Bill Stone says following the Federal Reserve interest rate hike, we can expect periods of market volatility in the near term, but investors should stay the course on long-term planning.
Recently, PNC Chief Economist Stuart Hoffman and PNC Chief Investment Strategist Bill Stone provided PNC Point of View an overview of how the U.S. election could affect the economy and the markets ».
In that overview, Hoffman noted that many economists had been expecting the Federal Reserve to raise the interest rate at its December 13-14 meeting, which it did, and that small and gradual rate hikes will likely continue in the year ahead.
While a rate hike signals an improving economy, what does it mean for the average investor? Stone provides perspective on how rising interest rates impact markets and investors.
POV: How does an interest rate increase affect investors?
Stone: A Federal Funds Rate hike signals improvement in the long-term outlook for the economy and stocks. Anyone with a 401(k), IRA or investments in the stock market should feel good knowing things are getting better for their investments, despite some short-term market volatility with the hike.
We remind investors that the rationale behind raising interest rates is a good one: it signals that the economy has improved since the Great Recession in 2008. The Federal Reserve – the central bank in the United States – can begin to slowly back off the emergency measures put in place during the financial crisis. Remember, the Fed funds rate had been near zero since late 2008, and the Fed raised it slightly in December 2015 and again in December 2016 to reflect economic improvement. The Fed has emphasized that it expects to continue slow and gradual increases over time. This is a "return to normal' for the U.S. monetary policy.
POV: How will the stock market react when the Fed increases interest rates?
Stone: Since mid-2015, most markets have been trading on the assumption that the Fed would gradually increase rates over time.
The U.S. markets experience ups and downs continuously, sometimes reacting to events around the nation and world. Trading also can be affected when investors worry that an upcoming event may trigger a market decline. The "unknown" aspect of a Fed rate hike makes investors nervous, with some exiting the markets temporarily.
While the anticipated "return to normal" monetary policy is due to a stronger U.S. economy, the financial markets typically react ahead of a hike by temporarily pushing stock prices lower and yields (the income return on an investment) higher over the long-term. In other words, stocks may seem shaky immediately following a rate hike, but they have often proven strong in the long-run.
POV: Should we expect more volatility in the stock market?
Stone: We've experienced quite a bit of volatility in the last year due to several wide-ranging global concerns, including political uncertainties with Brexit in the U.K., the U.S. election, uneven economic data and anticipation of the next interest rate increase.
Uncertainty over the timing of rate hikes may create volatility in both stocks and bonds. However, after a hike, this uncertainty usually disappears, which may help to lessen volatility.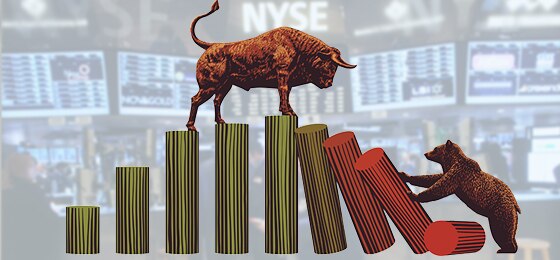 POV: Which investments typically are most affected?
Stone: Stocks, which have been on a seven-year bull run (an upward trend in value), continue to push higher, and in the long-term have tended to show significant positive returns. Historically, the S&P 500 generally has performed positively in the 12-month period following a rate hike.
The outlook for bonds is not as strong as stocks, because rising interest rates push down bond prices – all other things being equal.
Historically, 10-year Treasury note yields have moved higher in the 12 months following the first rate hike. In recent years, Treasury interest rates have moved at a sluggish rate compared to economic growth in the wake of the financial crisis. However, we still expect longer-term interest rates to move higher.
POV: How can an investor withstand market volatility?
Stone: The bottom line here is not to panic. There always will be periods of uncertainty, market rises and market falls. The best approach is to create a long-term plan with your financial advisor to ensure a healthy balance of diverse assets in your portfolio.

Bill Stone says an increase in interest rates
is better for stocks than bonds
---
Uncertainty over the timing of rate hikes may create volatility in both stocks and bonds. However, after a hike, this uncertainty usually disappears, which may help to lessen volatility.