The Federal Reserve, which is responsible for managing the monetary system of the United States, recently raised interest rates by 0.25 percentage points. All money flowing through the U.S. financial system originates with the Federal Reserve, so what does this mean for you and any loans you may have?
According to Gus Faucher, PNC's chief economist, the Fed Funds rate is the rate that the Fed sets for overnight loans between banks. The rate influences the country's financial system because interest rates on existing variable-rate loans typically rise in lockstep with the Fed. Interest rates on new fixed-rate loans may go up as well after the Fed raises its rate.
While no one likes to pay more interest on their loans or credit cards, this increase actually signals good news because it indicates that the economy is getting stronger. More people are working, earning higher salaries and wages, and spending more.
Lakhbir Lamba, head of retail lending, answers some questions relating to rate hikes and what they mean for you.
What financial products are tied to the Fed Funds rate?
Home equity lines of credit (HELOCs), personal lines of credit (unsecured) and credit cards all have variable rates that use the prime rate as their basis, says Lamba. Variable rates on some business loans and credit cards also are calculated using the prime rate. Many banks, including PNC, tie their interest rates to an index published by The Wall Street Journal.
Will my mortgage rate increase now that the Fed raised its interest rates?
"There is not a direct correlation here with the Fed's actions," Lamba says. Generally speaking, mortgage lenders set their rates due to market forces tied to what is called the secondary market. The biggest players in the secondary market are the government-backed agencies Freddie Mac and Fannie Mae, which buy mortgages from banks and resell them to investors. But, like other consumer loans, mortgage rates often are affected by how well the country's economy is performing.
How do variable rate consumer loans work?
According to Lamba, the interest rate you pay on a variable rate loan is the value of an index selected by your bank– such as The Wall Street Journal prime rate – plus some pre-determined additional percentage, or margin. Margins are set for each new loan account based on a number of factors, including your how much debt you currently have and how likely you are to repay your loan on time. The value of the index used to calculate the variable rate on your loan will vary over time, and this will cause your variable rate to increase or decrease. However, the margin portion of a rate typically stays the same on an account unless something happens such as a default or delinquency, which may trigger a change. These triggers are defined in the loan contract, which you should read before signing.
Also, bear in mind that some accounts may have multiple variable rates. For example, on a credit card account, the margin used for calculating the rate charge for a cash advance usually is different from the margin used to calculate the rate for purchases.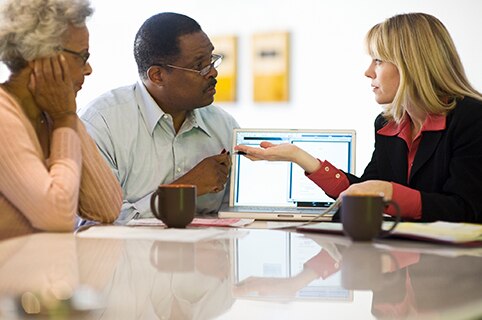 How do rising Fed Funds rates impact savings accounts?
Banks adjust their interest rates on eligible deposit accounts based on a number of factors, including the depth of their relationship with a customer and market demand. You should talk to your financial institution to understand your current accounts and what savings opportunities are available to help meet your needs.
Is there anything I can do to prevent further rate increases in my variable interest loan?
Lamba suggests talking to your bank. You may be able to lock into a fixed rate that will not change during the life of the loan. With a fixed-rate loan, no matter how much the prevailing lending rates rise, you will not pay any more. It's also important to note that the converse is true: should lending rates go down, your fixed rate does not follow. Note, however, that credit card rates are variable and cannot be locked in.
Should I be worried that rates will rise so high that I won't be able to afford a loan?
It's important to note that interest rates remain at historic lows. Think back to early 1995, when the Federal Reserve Bank of St. Louis reported that the average 30-year mortgage rate was more than 9 percent. Borrowing money now, especially in a robust economy, is still worth considering.
Visit PNC.com to see current mortgage interest rates in your area »