Toggle nav
Login
Sign on to Online Banking
---
Personal and Small Business:
---
Personal and Small Business:
---
Corporate and Institutional:
Soon the bells will toll at the stroke of midnight on New Year's Eve and the magnificent, glowing orb will make its official descent from high above Times Square. Many Americans will take a moment to silently pledge to themselves a commitment for personal improvement in the New Year.
With the tradition of New Year's resolutions fast approaching, common resolution themes include physical and financial fitness goals. But in our digitized, social media-manic world, perhaps it's time to modernize the New Year's Resolution. Resolve to step up your game to include cyber fitness and protect one of our most precious commodities today – our personal identities.
"Individuals today are at more risk than ever of identity theft," said Debbie Guild, chief security officer, The PNC Financial Services Group, Inc.
Personally Identifiable Information, including Social Security numbers, birthdates and drivers' license numbers are now widely available on the internet or black market thanks to a series of well-publicized security breaches.
Identity theft is the fraudulent acquisition and use of a person's private identifying information, usually for financial gain. The exact number of victims is difficult to determine, but various reports put the number anywhere from nine to 15 million per year. Identity thieves have stolen more than $107 billion from consumers in the past six years, according to the 2017 Identity Fraud Study by Javelin Strategy & Research.
"Modern times call for modern New Year resolutions, and cyber security should definitely be a New Year's resolution contender this year," said Guild.
But is cyber security at the top of your mind when it comes to making New Year resolutions?
Top Cyber Resolutions
PNC asked 500 consumers how they would actively enhance their personal, cyber security measures. Here are their top cyber New Year's resolutions: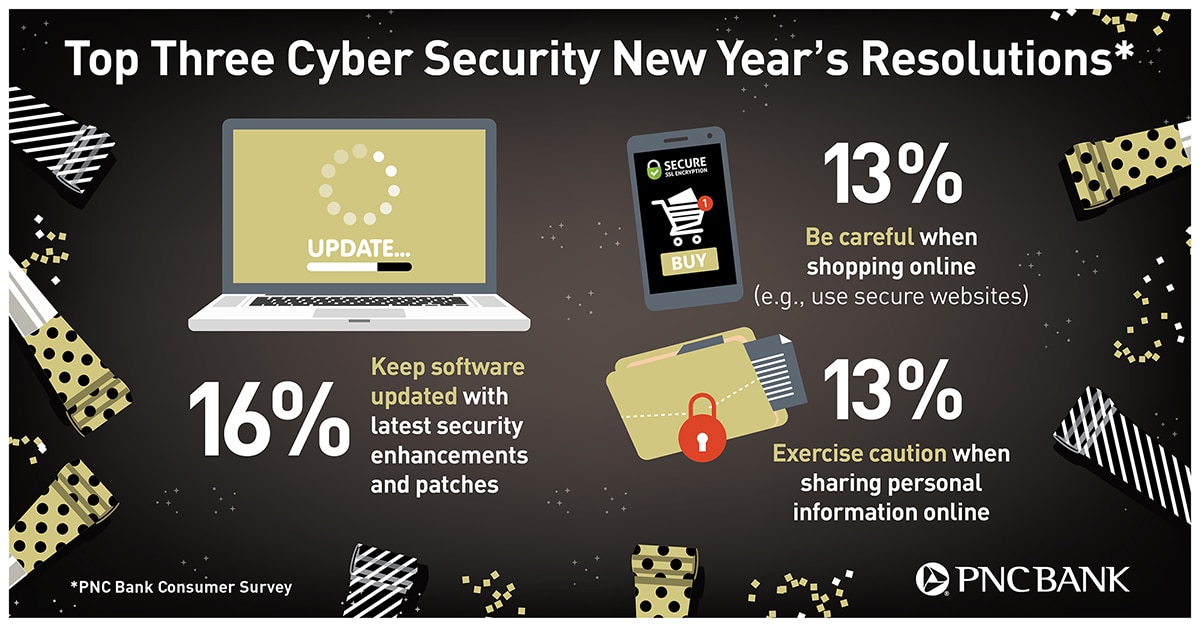 12%:Only send payment information to secure, trusted sources

11%:Update passwords more frequently than prompted to do so

10%:Use strong and varied passwords

"These are basic cyber security tips that can easily be turned into resolutions. And they can help you defend yourself against the bad guys who seek to steal your identity and help themselves to your good name and financial assets," said Guild.
Guild also highlights other ways to boost your personal cyber security, if available through your financial institution and/or credit card issuer, including:
Or, place a credit freeze on your credit report to block all credit inquiries. There is a cost involved, typically a one-time cost ranging from $2-$15, depending on the state. You also may be charged a similar fee to temporarily or permanently lift the freeze when you want to obtain credit.
Start off 2018 right with a focus on protecting your personal information and identity and make one of these tips your New Year's resolution.
Top Three Cyber Security New Year's Resolutions

16%: Keep software updated with latest security enhancements and patches
13%: Be careful online shopping (e.g. use secure websites) 
13%: Exercise caution when sharing personal information online 


*PNC Consumer Survey                  


Chief Security Officer Debbie Guild suggests modern times call for modern New Year's resolutions; think cybersecurity
Making Resolutions

41% of Americans usually make New Year's resolutions.
9.2% of people felt they were successful in achieving their resolution
"New Year's Resolution Statistics – Statistic Brain," 2017 Statistic Brain Research Institute, publishing as Statistic Brain, January 1, 2017, //www.statisticbrain.com/ https://www.statisticbrain.com/new-years-resolution-statistics/
You May Also Be Interested in Visiting...
Important Legal Disclosures & Information
1. A supported mobile device is needed to use Mobile Banking. Standard message and data rates may apply.
*Check with your bank and credit card issuer regarding availability of these security features.

These articles are for general information purposes only and are not intended to provide legal, tax, accounting or financial advice. PNC urges its customers to do independent research and to consult with financial and legal professionals before making any financial decisions.
This site may provide reference to Internet sites as a convenience to our readers. While PNC endeavors to provide resources that are reputable and safe, we cannot be held responsible for the information, products or services obtained on such sites and will not be liable for any damages arising from your access to such sites. The content, accuracy, opinions expressed and links provided by these resources are not investigated, verified, monitored or endorsed by PNC.