Rob Stover is going on 30 years as a fraud investigator, so scams to bilk senior citizens are nothing new to him.
One recent case will stay with him, though. Stover remembers an elderly PNC customer who almost lost his life's savings to particularly aggressive predators. Scammers would call him and threaten him with harm if he didn't send money. Stover and the U.S. Postal Service managed to stop $62,000 in cashier's checks from falling into the wrong hands.
Yet even after Stover made sure the customer changed his phone number, the scammers found a brilliant but simple way to keep harassing him. They would order a pizza to be delivered to the victim's house. When the pizza was delivered, scammers would call the delivery person while he was at the front door and tell him to hand over the phone to the victim so they could talk.
"These people were relentless," Stover said, adding there were messages on the victim's phone threatening to burn down his house or kill him. Other messages claimed the callers were from the FBI.
Observant bank employees were key to protecting the customer. A branch employee, recognizing signs of possible exploitation, alerted the Investigative Services Group about unusual withdrawals and other activity on the customer's account.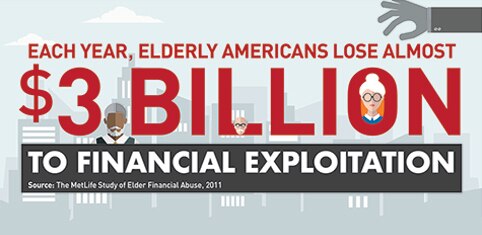 A Growing Problem
Financial exploitation of vulnerable adults is a growing problem that causes deep emotional and financial trauma. Exploitation occurs when a person misuses or takes the assets of a vulnerable adult for his or her own personal benefit.
Experts say that as America ages, financial exploitation is rising.
Each year, elderly Americans lose almost $3 billion because of exploitation, according to The MetLife Study of Elder Financial Abuse, 2011. Because the crime is often underreported, it is hard to know how many elderly people are affected each year.
And while stranger exploitation does happen, as in Stover's story, perpetrators often are family members, neighbors or caregivers.
Recognizing Abuse
Trevor Buxton is a fraud communications manager at PNC Bank who also has seen his share of scams.
Here are some red flags that could indicate financial exploitation of an older or vulnerable adult. These are not the only scenarios, but signs of possible exploitation include:
Frequent large withdrawals, including daily maximum ATM withdrawals
Sudden unpaid bills or non-sufficient funds activity
Debit transactions that are inconsistent for the customer
Uncharacteristic attempts to wire large sums of money
Disregarding penalties while closing CDs or accounts
Withdrawal requests when the customer appears vulnerable and financially exploitable
Unusual or strained interactions with caregivers or others may also indicate a problem. Watch for these:
A caregiver or others who show excessive interest in the customer's finances or assets, does not allow the customer to speak for himself, or is reluctant to leave the customer's side during conversations.
The vulnerable adult shows an unusual degree of fear or submissiveness toward a caregiver, or expresses a fear of eviction or placement in a nursing home if money is not given to a caretaker.
Bank employees are unable to speak directly with the elderly individual, despite repeated attempts to contact him or her.
A new caretaker, relative, or friend begins conducting financial transactions on behalf of the customer without proper documentation.
The customer lacks knowledge about his or her financial status or is suddenly reluctant to discuss financial matters.
If you think you have seen something suspicious, report it to law enforcement and the vulnerable person's financial institution. You can also report suspicions to Adult Protective Services in your state.
Learn more about how to keep yourself and your family safe. »