Toggle nav
Login
Sign on to Online Banking
---
Personal and Small Business:
---
Personal and Small Business:
---
Corporate and Institutional:
Attention shoppers: a Monday Christmas holiday may mean an extra-long weekend for you to shop 'til you drop, but fraudsters see it as more opportunity to trick innocent holiday revelers with holiday-related scams.
In fact, ACI Worldwide reports that from 2015 to 2016, global fraud attempts grew by 31 percent between Thanksgiving to New Year's Eve[1]. Generally fraud losses are 20 percent higher during the holiday season, according to the Association of Certified Fraud Examiners[2].
"With fraud efforts spiking around holiday shipping deadlines and December 25, consumers should take time to educate themselves on popular fraud attempts and how to protect themselves," said Trevor Buxton, a fraud awareness and communications manager and Certified Fraud Examiner with PNC Bank.
Taking the extra time now will help you guard against starting out the New Year on the wrong foot.
Buxton offers information on this season's most common scams and tips on how to guard against them.
1. Gift Card Fraud
Gift cards – both electronic and plastic – are a popular option for gift-givers. For the eleventh year in a row, 61 percent of consumers want gift cards as a holiday present, according to the National Retail Federation[3].
But gift cards also are highly prone to fraud. Because they do not contain customer information, they are not traceable and scammers can get money fast.
Downloadable e-gift cards carry the highest fraud risk. According to Radial's Annual Holiday Fraud Index, e-gift card fraud generally happens 10 times more during the holiday season but surges to 25 times more likely on December 26 and remains high until the new year[4].
Guard against gift card fraud with these tips:
Promptly use your gift cards. They are basically like cash sitting in your spare drawer – or your email inbox.
With e-gift cards, confirm there is a legitimate sender and confirmation code you can use on the company's website.
Gift cards on unattended display racks carry more risk. Buy gift cards off of a company website or at the customer service counter where they are under surveillance.
Look for gift cards in protective packing that have the number hidden, but make sure the seal isn't broken.
Watch the cashier activate your gift card and confirm the value after it is activated. And always get a gift receipt.
Do not buy gift cards from an auction website or online marketplace, unless it is a verified exchange website.
2. Copycat Websites & Mobile Apps
Some say imitation is the sincerest form of flattery, but not when it comes to websites or apps. Fraudsters like to be copycats and engage in cybersquatting, where they profit by imitating someone else's trademark.
They take well-known brands, create a website with a few extra words in the URL, market goods using words such as "hot-selling" or "discount" and voila – they are in business. You hand over your credit card number, but the fraudsters have no actual merchandise to sell.
To guard against these copycat websites, search online yourself for the real company's website. Double check information such as a company's street address or phone number when you enter their website. As an added precaution, use Whois.net, which allows you to check domain names and registration of websites.
Use caution when downloading mobile apps[5]. Always download and install apps from well-known stores, such as Apple® Store[6], Google Play Store[7], Amazon Store and Windows® Store. Some applications can house malware capable of stealing your data as you use your phone or charge money to your app-linked accounts without your knowledge.
3. Fake Shipping Notifications
Did you get an email saying a shipper is trying to deliver a package or a package is undeliverable, but you don't remember providing your email address? It could be a scam.
Attachments or links in these emails could be a phishing attack and pollute your device with malware in an attempt to steal passwords, personal information or worst case – your identity. PNC offers tips to help you learn how to identify a phishing attempt.
Always visit the shipping services' valid website to call and verify. Fraudsters may also place a "missed delivery" postcard on your door that could contain false numbers. Some lead to a fraudulent company overseas, which is one expensive call to make.
4. Phony E-Greeting Cards
If you receive an e-card in your inbox and can't make out the sender's name, chances are it's not a secret admirer, but a fraudster. Always delete an e-card from someone that you don't know. Legitimate companies also will never make you share personal information to open a card.
5. Help Wanted: Seasonal Job Solicitations
You or your teenager may be looking to earn some extra cash to spend over the holidays, and seasonal jobs are a popular option. During your job search, go to the company's main website to apply or apply in person. Never pay or share personal information to get a job lead.
6. Travel Scams
See a travel deal around the holidays that seems too good to be true? Chances are it is. Fraudsters reel you in with fake travel websites and vacation rentals, and stop responding once you enter your credit card number.
Guard against these scams by dealing with a reputable travel agency or directly with a property owner. In addition, follow these tips to help secure your finances during holiday travel.
Think you're a Victim?
Regardless of the scam or amount you think was compromised, contact your financial institution, law enforcement and then file a complaint with the FBI's Internet Crime Complaint Center.
You also can report a scam to the Better Business Bureau's Scam Tracker.
PNC offers security tips to help keep yourself safe during holiday shopping »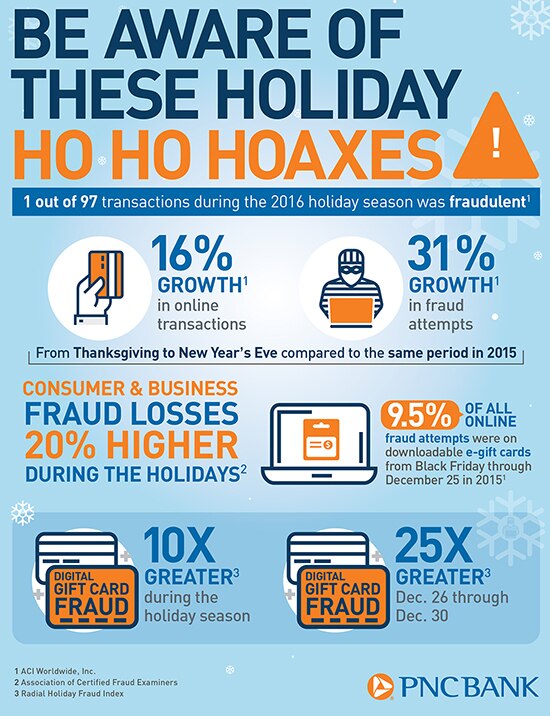 BE AWARE OF THESE HOLIDAY HO HO HOAXES
1 out of 97 transactions during the 2016 holiday season was fraudulent1
From Thanksgiving to New Year's Eve compared to the same period in 2015: 16% growth in online transactions and 31% growth in fraud attempts1
CONSUMER & BUSINESS FRAUD LOSSES 20% HIGHER DURING THE HOLIDAYS2
9.5% OF ALL ONLINE fraud attempts were on downloadable e-gift cards from Black Friday through December 25 in 20151
Digital gift card fraud 10x GREATER during the holiday season and 25x GREATER Dec. 26 through Dec. 303
1 ACI Worldwide, Inc.
2 Association of Certified Fraud Examiners
3 Radial Holiday Fraud Index


Trevor Buxton advises holiday shoppers to be wary of deals that are too good to be true
What is Gift Card Stripping?
As the most common type of gift card fraud, scammers target plastic gift card racks in stores. By using a scanning device, they can read the code behind the scratch off strip.

Paired with the gift card number, they steal either the card's prepaid value or put it back on the rack to wait for an unsuspecting customer to buy and activate it.Once activated, fraudsters call the cards' toll-free number to find out the value.

Because gift cards are purchased in advance for the holidays, scammers have plenty of time to spend the money online before the customer does.
You May Also Be Interested in Visiting...
Important Legal Disclosures & Information
These articles are for general information purposes only and are not intended to provide legal, tax, accounting or financial advice. PNC urges its customers to do independent research and to consult with financial and legal professionals before making any financial decisions.
This site may provide reference to Internet sites as a convenience to our readers. While PNC endeavors to provide resources that are reputable and safe, we cannot be held responsible for the information, products or services obtained on such sites and will not be liable for any damages arising from your access to such sites. The content, accuracy, opinions expressed and links provided by these resources are not investigated, verified, monitored or endorsed by PNC.