PITTSBURGH – When an elderly man reported unusual charges to his debit card but never returned calls from PNC's fraud investigators, Celeste Grimm knew something was wrong.
Grimm, an investigations senior associate in debit card fraud at PNC for 10 years, has learned in her 18 total years at the bank that her instincts are usually right.
In this case, the elderly customer, "Frank," had hired a caregiver who used his debit card to buy him groceries, but started using the card for her own purchases. When the caregiver learned that Frank knew she was stealing, she prevented him from using the phone or even talking to his family.
"When I found out what was happening, it didn't sit well with me," Grimm said. After she finally made contact with Frank he confirmed that the caregiver was stealing from him, had moved into his home without permission and kept him from using the phone. This confirmation allowed Grimm to call in adult protective services, who had the state open an investigation that resulted in the caregiver being arrested.
"This case was a big win," Grimm said. "We weren't sure how this would end because the police had previously been involved, but hadn't made the caregiver leave since she established residence there by receiving mail. That made it a lot harder to prove that she was exploiting Frank."
Grimm's dedication is particularly evident in this example, but she says that every one of her fraud cases over the past decade is just as important to her.
Overnight Shift Success
Before joining PNC, Grimm worked at a pharmacy where she helped verify the authenticity of prescriptions and watched for shoplifters. One of her customers at the time worked for PNC and persuaded Grimm to apply for a job processing bill payments. With a seven-year-old son and a two-year-old daughter at the time, a twilight shift fit perfectly into Grimm's schedule and she gladly took the position.
Grimm eventually earned a leadership position on that team before transferring to a data entry position in another department. In this role she sat near the team working on unauthorized debit card usage and developed a strong working relationship with the online banking supervisor. When a position opened, the supervisor asked Grimm to join the team. In 2007 the department re-organized and Celeste was promoted to the fraud team based on her experience working on fraud cases in online banking.
Since then, Grimm has worked on cases in nearly every category of debit card, including online banking, debit card Regulation E (per the Electronic Fund Transfers Act), personal identification numbers, non-PIN and deposits.
Fraudsters Try New Schemes
Working an average of over two dozen debit card fraud cases a month has exposed Grimm to countless different fraud schemes, but there is always a new one to learn.
"People are getting smarter about ways to access accounts and steal money. Fraudsters are developing more sophisticated tactics, but they're also getting more brazen," Grimm said, adding that fraudsters will even go so far as calling or visiting banks to impersonate customers.
One growing trend in debit card fraud Grimm sees is "card cracking" that targets teenagers and college students. In this scheme, fraudsters solicit students on social media and ask to purchase the student's debit card. The fraudster then coaches the student on how to file a dispute with the bank to recover funds. Once given the debit card by the student, the fraudster makes a large fraudulent deposit and then immediately makes a withdrawal or large purchase. This leaves the student with an overdrawn account.
"It's really important for customers to know that once you let someone use your debit card, you give them authorization to your money," Grimm said. "As much as I feel for our customers, I can't give them their money back because they authorized someone else to access their account. Those are really hard conversations to have, but we want to ensure they are prepared in the future."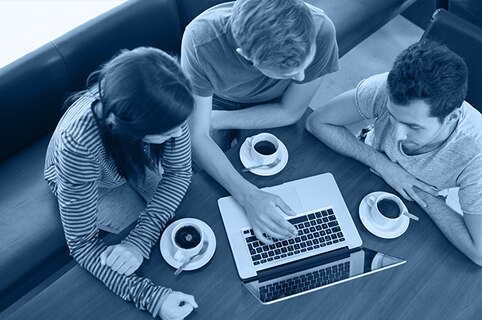 A Passion for Improvement
PNC has an internal program called "Better Way" to improve processes, teamwork and problem-solving. Grimm was part of the investigative services team's introduction of structured daily meetings of PNC employees and problem-solving sessions to share information about fraud trends, progress on cases and news from law enforcement.