Toggle nav
Login
Sign on to Online Banking
---
Personal and Small Business:
---
Personal and Small Business:
---
Corporate and Institutional:
CLEVELAND – For 28 years, Martin Schulz has led a double life, juggling two successful careers and traveling the world for his employers. But rather than doing so undercover at the risk of being revealed, he does so publicly – with the full support of both his bosses, PNC and Uncle Sam.
As managing director of international equity for PNC Capital Advisors, LLC, Schulz manages the PNC International Equity Fund. He also is a U.S. Army Colonel, most recently of the 3rd Brigade in Fort Totten, NY, and transitioning to deputy chief of staff for Operations, Force Development and Training (G-3/5/7) for the 80th Training Command located in Richmond, VA.
A Jack of Many Trades
Schulz is a frequent traveler, regularly visiting Europe and Asia on behalf of PNC to conduct research for the fund, and has served several Middle East military deployments, including a 2002 tour in Afghanistan.
On any given day, he will check on the European and Asian equity and currency markets, advise fund allocation changes, conduct research on companies and meet with executives at companies in which the fund owns shares. Later that evening, he may also be dealing with logistical and equipment requirements for numerous training sites across the United States, conducting long-term planning for soldier training and advising his superiors on topical issues.
"It's all very fluid," he says. "Even when I'm traveling for the bank, I'm still doing business for the Army and vice versa. Both organizations acknowledge that I'm constantly striking a balance between my roles and bringing the best of my experience to each."
In fact, over the course of his career, Schulz has identified a number of areas where the skills and experience gained in one role has benefitted the other.
Crossing the Cultural Divide
"My specific duties vary depending on whether I'm managing the client's portfolio or leading the training of over 1,500 soldiers in civil affairs, psychological operations and advanced leadership courses, but one thing is at the core of all my work: Cross-cultural communication."
He says that being able to communicate with people from different cultures and in their own language whenever possible - he speaks fluent German and conversant in French - creates deeper and more personal connections. And in many cultures, this approach makes all the difference.
"As a soldier, I need to understand what's important to the people in the countries where I'm serving and what influences them. Meeting with local decision makers in Afghanistan and Haiti is actually very similar to sitting down with a Japanese or European CEO of a company. My goal is to understand their strategy while being respectful of the culture."
And it's not just communication with other cultures that's important. Whether it's speaking to the financial press or to fund clients, communication is critical for his international equity team. The sharing of ideas in an open forum along with effective coaching are integral to team success.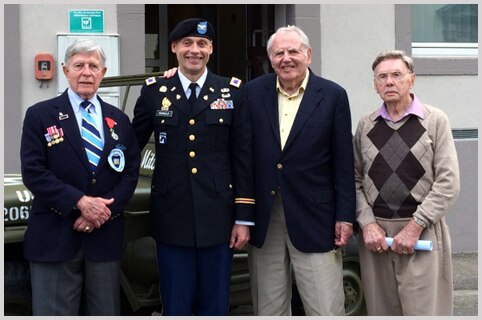 Martin Schulz (in uniform) recently traveled to France to represent the 100th Division at a ceremony marking the 70th anniversary of the Liberation of Bitche. He delivered his remarks in French and English.
One Team
Another common thread between Schulz's labors is teamwork.
"Regardless of which job I'm doing, the most important factor is the level of our teamwork. In the Army Special Operations Forces, we are all equals functioning as a team rather than adhering to a strict hierarchy. This is very similar to the way we work at PNC. It takes every member of the team to bring the best of themselves to the job every day in order to achieve great outcomes for our clients."

As a portfolio manager and Army colonel, Martin Schulz speaks English, French and German
PNC has always been an advocate for my military service. I'll always be grateful for the support they provided to me and my family while I was deployed.