There were 516 pre-owned retail sales in the business jet market in 3Q17 - up 5.7% over 3Q16 and down 8.0% from the 3Q14 amount of 561, the record-setting mark for any 3Q used retail transaction amount.
As of 3Q17 there were 1,617 transactions in the used market - up 7.5% year over year from YTD 3Q16 and up 2.6% from YTD 3Q14 (the previous YTD 3Q high mark).
Updated 3Q17 data suggests a year-end transaction forecast between 2,098 and 2,223 used business jets, and while a difference of 125 transactions seems like a large amount for a single quarter, the number can be broken down for further analysis.
Let's begin with the conservative forecast of 2,098 transactions for year-end. This amount indicates a 4Q17 total of 481 used business jet transactions. If that number were to hold true, it would be the lowest amount of used sales for a 4Q since 473 transactions 4Q11. As dismal as that number may be viewed by today's standards it was still the best quarter of 2011, as the industry would typically expect a 4Q to be with only a couple of exceptions over the past 10 years. In fact, the only 4Q that realized used business jet transactions that were lower than that same year's 3Q was in 2008 when the business jet market first started to feel the effects of the recession – and it was significant. There were 289 pre-owned business jet transactions in 4Q08 as compared to 332 transactions in 3Q08. 2008 saw a total of 1,440 transactions which, over the last 10 years, is overshadowed only by 2009 as the most inactive in the used market (which is not surprising considering the market conditions at that time).

Could this conservative projection be true? Unequivocally "yes" – those of us that have been around this industry for a reasonable amount of time could say that we have become accustomed to the unexpected. The real question – is it likely? Before we attempt to ask ourselves that, let's look at the more optimistic side of what the current and historical statistics are pointing to in terms of year end possibilities. 2017 has been a year that industry experts have attributed an uptick in pre-owned sales to what has been dubbed the "Trump Bump"; the phenomenon of putting the tumultuous presidential election behind us and corporations having more confidence in which direction the economy is headed.
Over the past 10 years, used sales transactions occurring through the end of 3Q for the year represent an average of approximately 72.8% of the year's total transaction amount. Strictly using that methodology results in 606 transactions in Q417 and 2,223 for all of 2017 (which would narrowly dethrone 2014 as the year that realized the most used business jet transactions – by 32 aircraft). 606 transactions would indicate a 17.4% increase over 3Q, which would not necessarily be a rarity considering the typical summer slowdowns that take place during 3Q in conjunction with the 4Q press to make capital expenditures and take advantage of end of year pricing flexibility in the market.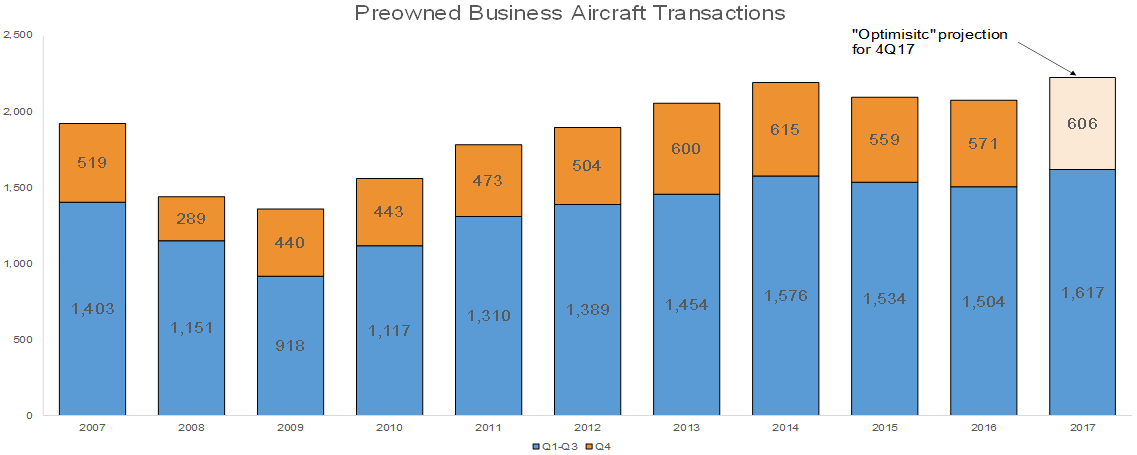 So – could the higher end of the projection be true? For the same reasons as stated above concerning the conservative projection, it could be; however, those in the industry that follow this market closely have felt a recent slowing in activity.
Johnny Foster, President and CEO of OGARAJETS:
"Relative to the last decade, OGARAJETS has had a very strong year – both from a brokerage standpoint and from an inventory perspective. "
"The industry still feels very positive, but inventory remains high to the point where the market cannot absorb all of the supply."
"Another new critical aspect to today's market is depreciation, not tax, but market. Business aircraft are now widely viewed as a piece of capital equipment – they depreciate every year." This topic of continued depreciation has been a hard adjustment for many of the veterans in the industry - both owners and brokers. "From 2009 to 2014, I still had a hard time – and even apologized to clients – when we would sell their aircraft for less than what they had paid for it 5 years earlier. It had become such a norm and such an expectation in many circles that if you paid attention and accurately timed those value fluctuations the industry had become accustomed to prior to the recession, you could make money every time you bought an aircraft. Then inventory was very tight though – 1,000 units for sale, give or take, and more than enough buyers to absorb the supply."
Those days appear to be over though. As OGARAJETS guides their clients through the process of purchasing new aircraft, they suggest to them to prepare for 10% - 12% depreciation per year over the first 5 years of the aircraft's life, 5% - 7% for years 6 – 10, and then somewhere between 3% and 5% thereafter. "These numbers are obviously painted with a broad brush and are dependent upon the specific aircraft being purchased. The new market, for the foreseeable future, will continue to struggle and be competitive with the pre-owned market because of these steep depreciation rates that new aircraft are experiencing."
To Johnny's point – while the market has not seen aircraft residual values acting the way they did 10+ years ago, they have been a bit more predictable as of late.
"It's been a welcome change in the last year to be able to start seeing the opportunities to get back into the inventory side of the business. Many of those opportunities arise from a certain confidence in the market and appreciation of some stability, and not nearly as much volatility in pricing as we have seen in recent years."
In the recent past the volatility that has kept most of the other dealers, like OGARAJETS, out of the inventory market in terms of their willingness to buy inventory and hold it. "There's just been too much risk. Brokerage fees have become increasingly low with new brokers grasping for business without offering any relevant experience or value added, and inventory deals become the only option to make any money. The recent risks associated with the inventory market combined with low brokerage fees is what has caused an uptick of back-to-back deals over the past year or two." A back-to-back deal typically occurs off market so that the broker orchestrating the transaction can assert some control and realize a profit or spread between seller and buyer, or both. There is often little or no transparency in a back to back transaction. "It's all the more reason for buyers and sellers to be aware of what's going on behind the scenes and to work with a company that is a member of NARA or known intimately by buyer or seller – transparency is priceless"
So back to the original question – how will 4Q shape up for 4Q transactions? What is likely? Based on industry experts noticing this slight slowdown thus far into 4Q, a number erring towards the conservative side of what the data points to may be a safer projection.
Irrespective of how the year end transactional numbers turn out, there are some certainties that can be taken away from 2017:
The well-pedigreed, pre-owned aircraft that have entered the market have traded quickly – with some aircraft even noticing some slight, short-term value upticks earlier in the year based on the demand for well-pedigreed aircraft;
The current pre-owned market has slowed down a bit in terms of transactions, but has also been picked over from the standpoint of well-pedigreed aircraft – there is likely a correlation between the two;
There is still optimism in the market and many believe that 2018 will be another strong year for the pre-owned market; and
The pre-owned inventory will need to continue to shrink in order for the new aircraft market to start gaining some real ground.