Toggle nav
Login
Sign on to Online Banking
Sign on to another service:
---
Personal and Small Business:
---
Personal and Small Business:
---
Corporate and Institutional:
DivcoWest Taps PNC for Acquisition
of San Mateo Office Building
DivcoWest, a vertically-integrated real estate operating company focused on the acquisition and repositioning of office and industrial assets in high growth markets, acquired 101 Ellsworth, one of only two office buildings constructed in downtown San Mateo, California in the past 15 years. PNC provided financing for the acquisition.
101 Ellsworth is a six-story 87,504 square foot office building leased to a diverse mix of tenants. Ellsworth's location offers unique access to the amenities of downtown San Mateo and the entire Bay Area. The building is situated just 1.5 blocks from the San Mateo Caltrain station, providing tenants convenient transportation options to San Francisco, San Jose and Silicon Valley.
PNC also provides services to DivcoWest's treasury management group for their operating accounts.
Ken Wong, Senior Managing Director, DivcoWest, praised the smoothness of the process. "PNC is gaining a reputation for executing well in a short time frame on transactions like this one," he noted. "The solution fit our business needs and PNC seamlessly resolved any issues that came up as we approached closing."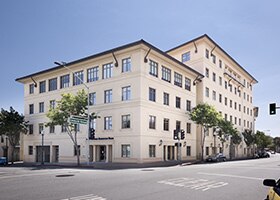 Date: May 2017
Location: San Mateo, California
Financing Amount: $42 million
Financing Type: Acquisition
Asset: 87,504 square foot multi-tenant office building
GET IN TOUCH

Join Us

Be part of our inclusive culture that strives for excellence and rewards talent.

Visit PNC Careers »
The PNC Financial Services Group, Inc. All rights reserved.