Toggle nav
Login
Sign on to Online Banking
Sign on to another service:
---
Personal and Small Business:
---
Personal and Small Business:
---
Corporate and Institutional:
PNC Real Estate Delivers a Significant Cash-Out Event
Creative approach delivers permanent loan prior to stabilization
When Randolph Street Realty Capital (RSRC) acquired 1819 Lofts in April 2016, it was 100% vacant. By January of 2017 the residential units were more than 97% leased and the commercial spaces were leased. However, the main tenant would not be open for business until the summer of 2017, creating a "near-stabilized situation." PNC structured a loan that achieved the client's goal: immediate funding of full loan proceeds before the property was fully stabilized and delivery of an attractive permanent loan with a significant cash-out within a year of the Sponsor's acquisition.

The Class-A, 36-unit mixed-use apartment building had originally been conceived as a for-sale condominium community, but it was quietly marketed by the developer as a value-add investment opportunity before sales or leasing of the commercial spaces began.
RSRC, based in Chicago, owns, operates and manages a portfolio of 11 properties located in four states. It focuses on value-add multifamily investments as well as ground up construction. The Principals are also co-founders of Calibrate Property Management Company, the firm's affiliate property manager, which also handles third party management in Chicago, Minneapolis and Seattle.

Based on their experience, RSRC immediately saw the property's potential as an apartment rental community within a highly-desirable Chicago neighborhood.

1819 Lofts is located on Division Street in the heart of the Wicker Park neighborhood, a popular cultural and entertainment destination featuring performance art, music, theater and dining. According to Reis®, rents for the submarket are projected to grow 4.0% annually through 2021.

PNC Real Estate initiated a relationship with RSRC in 2012 and closed five loans with them before considering the 1819 Lofts project. The PNC team, including the chief underwriting officer, built a personal relationship with the principals and was familiar with their successful track record with this type of asset when the deal came up for bid.

To meet the financing goals of the client, PNC needed to create a loan outside normal lending parameters. RSRC wished to obtain an immediate loan funding at maximum proceeds from the property as if it were fully stabilized, regardless of the fact that:
The loan would be a significant cash-out above the existing debt secured by the property within one year of their ownership.
The largest commercial tenant at the property would not be in occupancy and paying full rent until six months post-closing.
PNC worked with the client to understand the special circumstances around the acquisition of the property, the breadth of the relationship with Randolph, their outstanding track record with assets of this nature and the location of the asset within a high-growth market. This, combined with PNC's knowledge and expertise with near-stabilized lending programs, provided for a loan structure that allowed the largest commercial tenant at the property to open for business and begin paying rent at the subject property six months post-closing, with only a small escrow for remaining tenant improvements to be completed post-closing, while still utilizing the income from that tenant as loan proceeds.
In describing the transaction, Jon Saliterman, Principal of RSRC, noted, "There are certainly many institutions vying for our deals. However, we have engaged PNC Real Estate frequently because we trust their execution and have a strong relationship that has been built over time with several layers of their organization."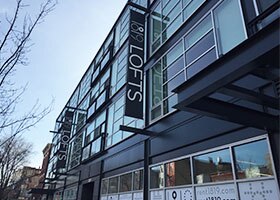 Date: March 2017
Location: Chicago, Illinois
Financing Amount: $12.5 million
Financing Type: Conventional multifamily, MBS
Units: 36 plus 8,287 square feet of ground-level retail space
GET IN TOUCH

Join Us

Be part of our inclusive culture that strives for excellence and rewards talent.

Visit PNC Careers »
The PNC Financial Services Group, Inc. All rights reserved.