Toggle nav
Login
Sign on to Online Banking
Sign on to another service:
---
Personal and Small Business:
---
Personal and Small Business:
---
Corporate and Institutional:
Horses and Hipsters
PNC Real Estate finances new mixed-use development in Bluegrass Country
Lexington, Kentucky, is a centerpiece of history and has been home to the world's top equestrian farms for generations. To protect that heritage, the Lexington-Fayette Urban County Government established an urban growth boundary in 1958 — recently amended in 2007 — to limit expansion into the surrounding Thoroughbred estates.
Fritz Farm, established during the Revolutionary War, was the last and largest plot of land that could be transformed into a new destination. PNC Real Estate was instrumental in a transition that will provide a new, trendy mixed-use development while respecting the storied landscape.
Scheduled for an October 2016 opening, the 50-plus acre The Summit at Fritz Farm will be located on the corner of Nicholasville Road and Man O' War Boulevard. Phase I will consist of 282,000 square feet of street-level retail anchored by Whole Foods, approximately 47,000 square feet of Class "A" office space, 306 luxury apartments and structured parking. Phase II is anticipated to include additional street-level retail and a boutique hotel.
Bayer Properties has worked closely with the Fritz family and the city to repurpose and preserve many elements of the original farm to create a new community with unique architectural textures. The development targets affluent residents and visitors who are seeking cosmopolitan shopping, dining and nightlife.
When it came to financing, the complexity of the property and the restrictions around its development required a bank with significant relevant expertise. Time was extremely short. And the competition was intense. PNC Real Estate's flexibility, creativity and responsiveness tipped the scales for the client.
Securing the agent role, PNC Real Estate took the lead in a structure that included two other banks. The $79.7 million construction loan was agented to Fritz Farm Retail Company, a joint venture between the principals of Bayer Properties and Sarofim Realty Advisors. The loan will fund development of Phase I retail, office and site work.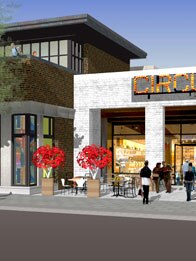 Date: June 2015
Location: Lexington, Kentucky
Financing Amount: $79.7 million; PNC share: $37.7 million
Financing Type: Construction loan
Sizing: 50-acre mixed-use development