Toggle nav
Login
Sign on to Online Banking
---
Personal and Small Business:
---
Personal and Small Business:
---
Corporate and Institutional:
Jacksonville, Florida. Austin, Texas. San Jose, California and now Los Angeles. PNC Real Estate has followed Intercontinental Real Estate Corp. from coast to coast since 2015.
The most recent deal was the refinance of 6300 Wilshire, a 21-story Class A multi-tenant office tower comprising a total of 393,698 square feet located in the Miracle Mile submarket of Los Angeles. The high-profile high rise was named Building Owners and Managers Association (BOMA) building of the year and was recently awarded an Energy Star label for operating efficiency.
PNC Real Estate faced a highly competitive environment and an extremely tight deadline to secure the deal.
In addition to a solid long-term relationship, PNC Real Estate's competitive advantage included an attractive fixed interest rate for the $80 million ten-year term loan. Moreover, PNC Real Estate was able to beat the December 31 closing deadline. The client also appreciated the fact that PNC Real Estate could follow through by servicing the loan with Midland Loan Services, a PNC Real Estate business, at its Overland Park, Kansas, location.
Paul J. Nasser, Chief Financial Officer and Chief Operating Officer, Intercontinental Real Estate Corp., noted, "PNC Real Estate has come through for us with four transactions. We appreciate the consistency and reliability of their closing process, the teamwork and the fact that they provide services from initiation through servicing."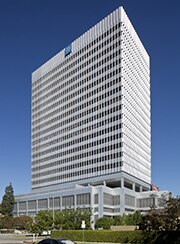 Date: December 2018
Financing Amount: $80 million
Financing Type: Permanent
Property Type: Office tower
Location: Los Angeles, California
Square Footage: 393,698