PNC Institutional Advisory Solutions®
A Consultative Approach - Customized Solutions
At PNC Institutional Advisory Solutions® we are experienced at providing competitive investment management and administrative services to middle-market corporations, unions, municipalities, and nonprofit organizations. Our commitment is to know our customers and understand their needs, concerns and aspirations. We strive to form a lasting, productive relationship with our clients and provide a high level of client service.
When you work with us, you work with a dynamic team who collaborates to meet your needs. Led by an experienced advisor who acts as your liaison to extensive resources, your team defines and implements a tailored solution by following a disciplined process. With a focus on understanding your current and future needs, the team works tirelessly to help make your goals a reality.
We're Globally Recognized for Our Services: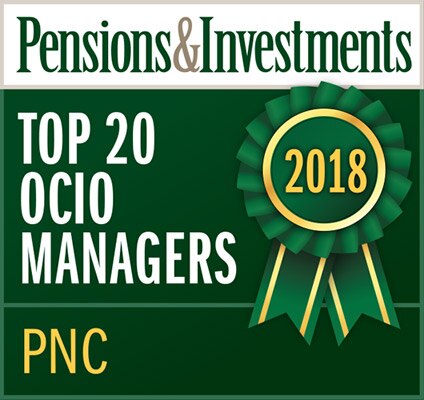 Get Started
To learn more about how PNC Institutional Advisory Solutions® can help your organization complete our contact form.
Solutions to meet your needs
Clients tell us that we understand their needs and effectively recommend appropriate solutions. We deliver a broad range of investment capabilities, styles and products to help your organization achieve its financial goals.
When you want full-service investment management delivered through dedicated investment professionals, PNC Institutional Advisory Solutions® has the resources and experience to help meet your needs.
Investment Management
We believe a key to successful investing is to employ a consistent, disciplined process over time. Your objectives are carefully considered and strategically matched to an optimal asset allocation. We offer an open architecture platform of proprietary and non-proprietary options designed to meet the needs of institutional investors. Recognizing that each client situation is unique, we employ industry tools to analyze your cash flow requirements and portfolio objectives. The result is a comprehensive and dynamic customized investment solution that effectively manages risk.

To learn more about our liability driven investing capabilities, click here.

Defined Benefit Plan Services
We understand the fiduciary responsibilities and complexities of managing and administering your assets, as we work with numerous institutional clients, and have the experience and professionalism to attend to the details. Our trust and custody services are designed to help ease administrative burdens you face in managing your pension plan. We offer comprehensive investment management and administrative solutions. Our team processes more than 100,000 benefit disbursement payments each month, so you can be confident that we are capable of handling your behind-the-scenes administration needs quickly and accurately.

Non-Profits
We make it easy for you to balance your fiduciary responsibilities with your core philanthropic mission. Comprehensive investment management and administrative solutions enable you to better allocate internal resources and focus on your mission. We design customized investment solutions to help increase the likelihood that you achieve your goals. A focus on disciplined risk management helps decrease volatility, maximize returns and confirm fiduciary compliance.
To learn more about our planned giving capabilities, click here.
Escrow Services
We serve as escrow agent for attorneys, corporations, business ventures, government agencies, insurance providers and others in a broad range of transactions. We generally service real estate sales, business acquisitions, good faith deposits on purchases of securities or chattels, government contracts, deferred compensation, insurance awards and trusts, environmental cleanup funds, litigation and court settlements, and other types of contractual arrangements where assets are held until fulfillment of specific conditions.
Important Legal Disclosures and Information
The PNC Financial Services Group, Inc. ("PNC") uses the marketing name PNC Institutional Advisory Solutions® for discretionary investment management, trustee and other related services conducted by its subsidiary, PNC Bank, National Association ("PNC Bank"), which is a Member FDIC. Standalone custody, escrow and directed trustee services and FDIC- insured banking products and services and lending of funds are also provided through PNC Bank. PNC does not provide legal, tax or accounting advice, unless, with respect to tax advice, PNC Bank has entered into a written tax services agreement. PNC does not provide services in any jurisdiction in which it is not authorized to conduct business. PNC Bank is not registered as a municipal advisor under the Dodd-Frank Wall Street Reform and Consumer Protection Act ("Act"). Investment management and related products and services provided to a "municipal entity" or "obligated person" regarding "proceeds of municipal securities" (as such terms are defined in the Act) will be provided by PNC Capital Advisors, LLC, a wholly-owned subsidiary of PNC Bank and SEC registered investment adviser.
"PNC Institutional Advisory Solutions" is a registered trademark of The PNC Financial Services Group, Inc.
Important Information about Procedures for Opening a New Account
To help the government fight the funding of terrorism and money laundering activities, Federal law requires all financial institutions to obtain, verify, and record information that identifies each person who opens an account.
What this means for you: When you open an account, we are required by Federal law to ask for your name, street address, date of birth (for natural persons) and other information as required to identify you. This may include a request or requests for confirmatory information such as presentation of your driver's license and/or other document(s).
Investments: Not FDIC Insured. No Bank Guarantee. May Lose Value.