Thought Leadership: Digital Trends in Retirement
PNC recently completed an extensive study of the digital connections investors make to plan for and manage their retirement.
A brief summary of our findings is shared below to provide plan sponsors with important insights into how digital connections might help them respond to the evolving needs and changing expectations of individual investors.
Research Highlights
Investors are Connected
74% of individuals connect to the internet as the first thing they do upon waking up
57% believe the amount of information available to them online helps them feel in touch with, or in control of, their financial lives
9% are overwhelmed by the vast amount of information
The Connections Investors are Making…
On a daily or weekly basis:
77% access liquid accounts (e.g., checking)
61% look at financial news headlines
50% look at stock market indices
At least once per month:
41% log into their 401(k) account with their current employer
59% check their non-retirement investment accounts
…And the Connections They Want
72% want periodic notifications of changes to their portfolio
71% want recommendations or alerts when changes occur or opportunities arise
69% would like timely recommendations when opportunities appear within their portfolio
55% would prefer greater capabilities on mobile devices
Five Key Insights for Plan Sponsors
Insight 1: Digital connections need to be relevant, and help improve investors' financial lives
The digital connections investors desire are those that can help them better manage their investments and retirement. They need to be specific to their circumstances, and make interactions with advisers easier and more convenient.
Insight 2: Financial Advisers Are Highly Valued
Digital connections do not replace the personal touch or customized advice. In fact, 60% of investors would consider switching providers if their adviser was replaced by a robo-adviser, or they were moved to a call center.
Insight 3: Information is not Wisdom
One in ten said that they regretted a financial investment or retirement decision they made in the last year.
The prime culprit in making decisions more confusing was "news sources." The most helpful source was their financial adviser (35%). Second most helpful was the investment provider's website (31%).
Insight 4: The Overwhelmed Need Help
Information needs to be more carefully curated to facilitate education and understanding, especially to the overwhelmed, who are predominantly female (68%).
Insight 5: Stay Ahead of the Curve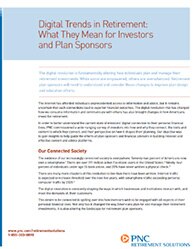 Our research uncovered three distinct types of connectors: High Connectors, Moderate Connectors and Low Connectors. High Connectors (who tend to be younger) will come to dominate the workforce as Baby Boomers continue to retire.
These High Connectors will expect plan providers and advisers to offer guidance, content and tools that matter most to them.
To learn more, please read our latest whitepaper, Digital Trends in Retirement: What it Means for Investors and Plan Sponsors.

Important Legal Disclosures and Information
The material presented in this newsletter is of a general nature and does not constitute the provision by PNC of investment, legal, tax, or accounting advice to any person, or a recommendation to buy or sell any security or adopt any investment strategy. Opinions expressed herein are subject to change without notice. The information was obtained from sources deemed reliable. Such information is not guaranteed as to its accuracy.
The PNC Financial Services Group, Inc. ("PNC") uses the marketing name PNC Institutional Asset Management® for the various discretionary and non-discretionary institutional investment activities conducted through PNC Bank, National Association ("PNC Bank), which is a Member FDIC, and through PNC's subsidiary PNC Capital Advisors, LLC, a registered investment adviser ("PNC Capital Advisors"). PNC Bank uses the marketing names PNC Retirement Solutions® and Vested Interest® to provide defined contribution plan services and PNC Institutional Advisory Solutions® to provide discretionary investment management, trustee, and other related services. Standalone custody, escrow, and directed trustee services; FDIC-insured banking products and services; and lending of funds are also provided through PNC Bank. PNC does not provide legal, tax, or accounting advice unless, with respect to tax advice, PNC Bank has entered into a written tax services agreement. PNC does not provide services in any jurisdiction in which it is not authorized to conduct business. PNC Bank is not registered as a municipal advisor under the Dodd-Frank Wall Street Reform and Consumer Protection Act ("Act"). Investment management and related products and services provided to a "municipal entity" or "obligated person" regarding "proceeds of municipal securities" (as such terms are defined in the Act) will be provided by PNC Capital Advisors.
"Vested Interest," "PNC Institutional Asset Management," "PNC Retirement Solutions," and "PNC Institutional Advisory Solutions" are registered service marks of The PNC Financial Services Group, Inc.
Investments: Not FDIC Insured. No Bank Guarantee. May Lose Value.