PNC Retirement Solutions® Wins J.D. Power Award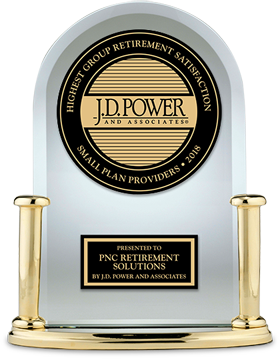 Participants recently rated PNC Retirement Solutions "Highest in Group Retirement Satisfaction Among Small Plan Providers" in the inaugural J.D. Power 2018 Group Retirement Satisfaction Study℠. For purposes of the study, small plans are defined as those having less than $100 million in assets,[1]
The J.D. Power 2018 U.S. Group Retirement Satisfaction Study evaluates the needs and expectations of retirement account investors.
This new study measures customer satisfaction with 401(k) providers' services. The 2018 study is based on responses from more than 9,500 group retirement plan members and was fielded in February-March 2018.
PNC Retirement Solutions received the highest score in the following factors:
Interaction Across Live and Digital Channels
Investment and Service Offerings
Fees and Expenses
Plan Features
Information Resources
Communications
Within the segment, PNC Retirement Solutions scored 806 vs. the segment industry average of 751, and scored 24 points higher than the next competitor.
"Our teams work hard with clients and their employees every day. This award demonstrates that participants are highly satisfied with their overall experience with PNC Retirement Solutions," said Sherri Painter, Director of Retirement Plan Services.
With over 900 plans and 273,000 plan participants served, PNC Retirement Solutions administers more than $16 billion in plan assets as of September 30, 2018.
Important Legal Disclosures and Information
The PNC Financial Services Group, Inc. ("PNC") uses the marketing name PNC Institutional Asset Management® for the various discretionary and non-discretionary institutional investment activities conducted through PNC Bank, National Association ("PNC Bank), which is a Member FDIC, and through PNC's subsidiary PNC Capital Advisors, LLC, a registered investment adviser ("PNC Capital Advisors"). PNC Bank uses the marketing names PNC Retirement Solutions® and Vested Interest® to provide defined contribution plan services and PNC Institutional Advisory Solutions® to provide discretionary investment management, trustee, and other related services. Standalone custody, escrow, and directed trustee services; FDIC-insured banking products and services; and lending of funds are also provided through PNC Bank. PNC does not provide legal, tax, or accounting advice unless, with respect to tax advice, PNC Bank has entered into a written tax services agreement. PNC does not provide services in any jurisdiction in which it is not authorized to conduct business. PNC Bank is not registered as a municipal advisor under the Dodd-Frank Wall Street Reform and Consumer Protection Act ("Act"). Investment management and related products and services provided to a "municipal entity" or "obligated person" regarding "proceeds of municipal securities" (as such terms are defined in the Act) will be provided by PNC Capital Advisors.
"Vested Interest," "PNC Institutional Asset Management," "PNC Retirement Solutions," and "PNC Institutional Advisory Solutions" are registered service marks of The PNC Financial Services Group, Inc.
Investments: Not FDIC Insured. No Bank Guarantee. May Lose Value.
The material presented in this newsletter is of a general nature and does not constitute the provision by PNC of investment, legal, tax, or accounting advice to any person, or a recommendation to buy or sell any security or adopt any investment strategy. Opinions expressed herein are subject to change without notice. The information was obtained from sources deemed reliable. Such information is not guaranteed as to its accuracy.