Toggle nav
Login
Sign on to Online Banking
---
Personal and Small Business:
---
Personal and Small Business:
---
Corporate and Institutional:
Payment Solutions News | Product Spotlight
Opportunities For U.S. Companies in Canada
---
Canada and the United States not only share the world's longest border, but also one of the world's most important economic relationships. Canada is the United States' largest export market ($321 billion in 20161), and its third-largest source of imports ($314 billion in 20162).
More than 89,000 U.S. companies exported to Canada in 2015.3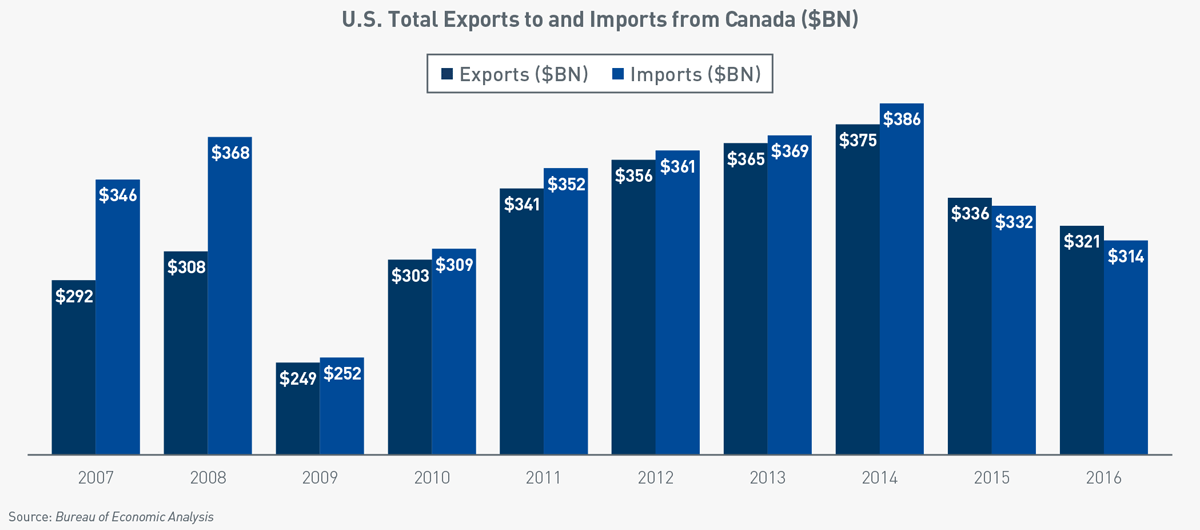 The economic relationship between the U.S. and Canada is not limited to trade.
As of 2016, U.S. companies had $364 billion invested in Canada (up from $205 billion in 2006), while Canadian companies' direct investments in the U.S. totaled $371 billion (up from $165 billion in 2006)4
In 2014, U.S. multinational enterprises (MNEs) employed 1.19 million people in Canada, while there were 621,400 employees of Canadian MNEs in the U.S.5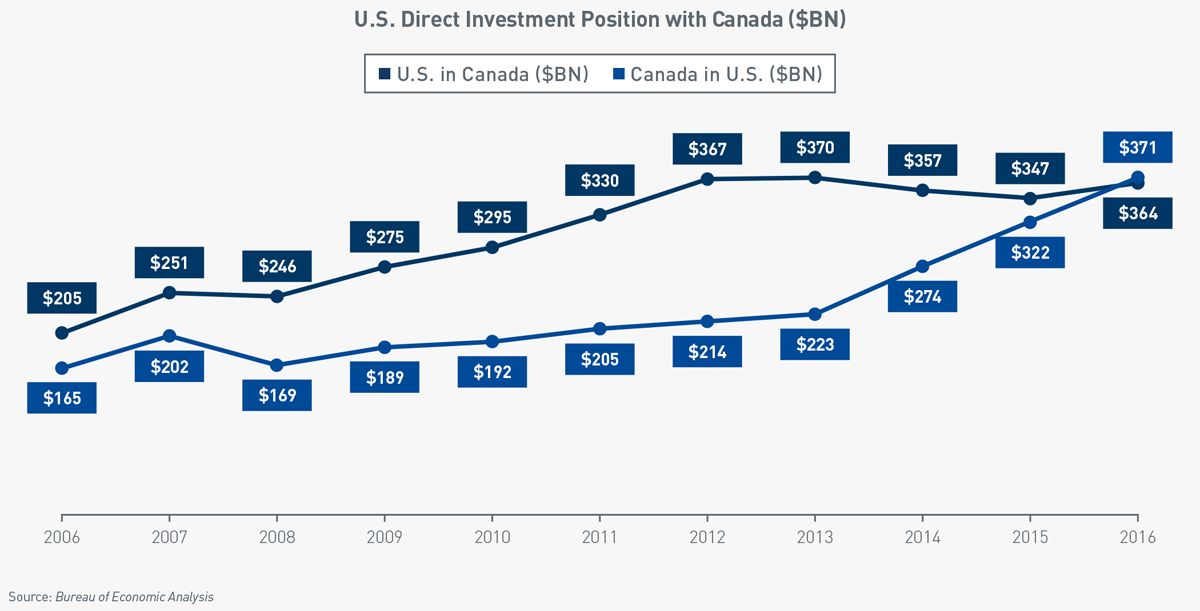 Canadian Payment Systems
Although there are many similarities between the U.S. and Canadian banking systems, there are important differences. For example:
Many companies hold both Canadian dollar (CAD) and U.S. dollar (USD) accounts for payables and receivables. This is readily supported in Canada as both CAD and USD clearing systems are available for wire, ACH and check. The USD system is unique and independent from the U.S. clearing channels (e.g., the Fed). For this reason, a USD check issued on a bank in Canada cannot clear through U.S. systems and is not eligible for remote deposit in the United States.
Addenda information is very limited for ACH transactions in Canada, which can cause problems for companies trying to reconcile payments.
Canada is currently undergoing an expansive payments modernization6 project spearheaded by Payments Canada, a Canadian government-backed non-profit organization that is responsible for Canada's clearing and settlement infrastructure. It will include a new core clearing and settlement system, which will replace the legacy systems. The many benefits of this project include faster payments, expanded and standardized information to accompany those payments, and transparency throughout the payment process.
PNC Bank Canada Branch (PNC Canada)
Companies operating on both sides of the U.S.-Canadian border have a range of significant financial needs, especially in areas such as foreign exchange, import and export services, trade finance, treasury management, and commercial banking services. To address these needs, PNC Canada is a full-service foreign bank branch providing an array of commercial banking services.
PNC has been doing business in Canada since 1988 and has had a longstanding presence in the Canadian market. Originally operating as a lending branch, PNC received a full-service license in 2014 to provide financial services in Canada to companies and government entities.
PNC Canada's services include:
Corporate banking: PNC Canada's Corporate Bank provides a wide range of competitively-priced committed and uncommitted revolving and term loan facilities and standby letters of credit in Canadian dollars. Available in both Canadian and U.S. dollars to corporate and commercial clients, facilities can assist with operating expenses, capital equipment purchases, acquisition/expansion activities, and more.
Equipment financing: PNC Equipment Finance offers financing solutions to large corporations, as well as governmental agencies on a wide range of equipment assets. We provide operating leases, loans or capital leases to clients, assisting companies in acquiring the assets they need to run their business. In addition, we offer manufacturers, distributors and equipment resellers finance programs that have proven to increase sales and provide a competitive advantage.
Asset-based lending: PNC Business Credit offers cross border financing for U.S.-based companies and domestic financing throughout Canada for mid-sized companies.
Treasury management: PNC Canada's treasury management services complement PNC's U.S. products and services so clients with cross-border operations can utilize services such as PINACLE; PNC's corporate online and mobile banking portal, Payables Advantage (ACH, check and Positive Pay); PINACLE FX for CAD and US wires; and A/R Advantage, PNC's wholesale lockbox solution, to support operations in both countries. PNC Canada is also developing a Canadian-issued commercial card product offering as an alternative to our U.S.-based CAD solution.
PNC Canada's Treasury Management Services
PNC Canada's treasury management services focus on serving U.S. companies with operations in Canada. Because PNC Canada provides both a broad range of treasury management solutions (including branch deposits, and payables and receivables solutions), as well as strong implementation and program optimization support, U.S. clients can consolidate their U.S. and Canadian treasury management needs in one financial institution.
PNC Canada is continually enhancing its treasury management solutions.
In 2015, we opened a wholesale lockbox processing center in Toronto, thereby enabling U.S. companies doing business in Canada to consolidate their U.S. and Canadian receivables, and extending the availability of advanced services options that were previously only available in the U.S. PNC Canada also enables clients to conduct transactions (deposits, wires, EFT, etc.) in either U.S. dollars or Canadian dollars.
In 1Q 2018, PNC will be launching the Canadian Commercial Card to serve both U.S. and Canadian companies. The cards will feature:

Dual-language (English and French) collateral and customer service
Dual-language access to the Visa IntelliLink® spend management tool
Access to Visa IntelliLink Compliance Auditor to support card monitoring and compliance
Available for commercial, corporate and purchasing cards and can be billed as individual accounts
Benefits and insurance protection customized for the Canadian market
Comprehensive implementation and program optimization support
Ability to support all Canadian-based companies and Canadian subsidiaries
Chip-and-PIN functionality
PNC operates a lockbox site in Ontario, Canada, offering the same capabilities available through the U.S. National Lockbox Network, including Remittance On-Site (ROS). ROS is a remote deposit solution which allows clients to scan both check and related remittance documents received in local offices across Canada into the PNC site for processing.
PNC Canada's Treasury Management Client Support
In addition to offering a strong product set, PNC Canada focuses on robust service delivery to meet the needs of U.S. treasury management clients operating in Canada. Each client has a relationship manager based in the United States who acts as single point of contact for U.S. and Canadian treasury management needs and coordinates support from dedicated implementation and optimization teams. This seamless integration is an important point of differentiation from other U.S. or Canadian banks that use different systems and account teams to serve the needs of clients operating in both countries. In addition, clients can easily manage their DDA accounts with a single login to PINACLE®, our online and mobile banking portal.
Along with the ongoing support provided by our relationship managers and dedicated account teams, PNC regularly publishes information on trends, opportunities and challenges in the Canadian market. This information is especially valuable to U.S. companies, as Canada is often the first country into which U.S. companies expand internationally. Some recent Canada-related topics include:
PNC's commitment to supporting the needs of our clients doing business both in Canada and the U.S. has led to the introduction of several new payment solutions, including our lockbox site in Canada and the Canadian Commercial Card. Moving forward, treasury management clients can look forward to innovative services to support their growth in Canada and help them operate amongst new payment methods and technologies.
Subscribe
Receive each issue of Payment Solutions News in your email inbox.
---
Contact Us
Talk to your Treasury Management Officer today for valuable insight.
---
Important Legal Disclosures & Information
Bureau of Economic Analysis

Bureau of Economic Analysis

"A Profile of U.S. Importing and Exporting Companies, 2014 – 2015," U.S. Census Bureau News, April 4, 2017

Bureau of Economic Analysis

Bureau of Economic Analysis

Payments Canada
This Payments Solution News was prepared for general information purposes and is not intended as legal, tax or accounting advice or as recommendations to engage in any specific transaction, and does not purport to be comprehensive. Under no circumstances should any information contained in this newsletter be used or considered as an offer or commitment, or a solicitation of an offer or commitment, to participate in any particular transaction or strategy. Any reliance upon any such information is solely and exclusively at your own risk. Please consult your own counsel, accountant or other advisor regarding your specific situation. Neither PNC Bank nor any other subsidiary of The PNC Financial Services Group, Inc. ("PNC") will be responsible for any consequences of reliance upon any opinion or statement contained here, or any omission.
PNC and PINACLE® are registered marks of The PNC Financial Services Group, Inc. All other trademarks are the property of their respective owners.
Visa & Visa IntelliLink are registered trademarks of Visa International Service Association in the United States and used under license.
Lending and leasing products and services, including card services and merchant services, as well as certain other banking products and services, require credit approval.