Toggle nav
Login
Sign on to Online Banking
---
Personal and Small Business:
---
Personal and Small Business:
---
Corporate and Institutional:
Savings & Money Market Account Transfer Limits
A Federal Regulation limits certain types of outgoing transfers from a Savings or Money Market account each monthly statement period

Savings and Money Market accounts (like the Growth account in Virtual Wallet®) have limits when it comes to outgoing transfers. While customers can transfer into savings accounts as often as they wish, a federal regulation limits how many times customers can transfer money out of these accounts in any one statement period.

Customers can make 6 outgoing transfers per month from a savings account.
Types of transfers that are limited to six (6) include:
Online and mobile transfers
Transfers via PNC Voice Banking
Automatic transfers for Overdraft Protection
Pre-authorized payments or transfers through Automated Clearing House (ACH)
Wire Transfers
Checks, Point of Sale (POS) Transfers, drafts or similar orders payable to a third party

Types of transfers from savings and money market accounts that are NOT limited to six (6) include:
ATM transfers and withdrawals
Branch teller transfers and withdrawals
---
There are consequences if the transfer limits are exceeded
If the transfer limits are exceeded, you may be assessed a fee, and PNC will convert the savings/money market account into a non-interest bearing checking account. If you have Virtual Wallet this means your Growth account will be removed from Virtual Wallet and converted to a stand-alone non-interest bearing checking account. You'll be charged a fee and you will no longer see the Growth account in your online view.

---
Information for Virtual Wallet accounts
Virtual Wallet helps you spend, save and grow your finances. It is made up of:
Spend is your primary checking account. It is designed for everyday living and spending. Your Spend account is what you'll use to pay bills by check or through Online Bill Pay, as well as to make your daily, weekly (and weekend) purchases.

Reserve is for your short-term savings and functions as your primary overdraft protection account. This account is classified as a checking account and customers are not limited to the six outgoing transfer limit. If you plan to do more than six transfers per month, this may be a better option than the Growth account.
Growth is for your long-term savings and serves as a secondary overdraft protection account. It is a savings account, and customers are limited to six outgoing transfers per month.
Learn more about Virtual Wallet »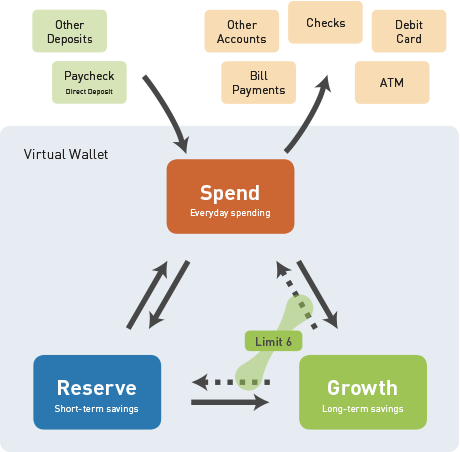 Tips for staying within the limits
Plan ahead and try to limit the number of transfers from your savings or money market account each statement period

Visit a PNC branch or ATM to make a transfer, if you're near your limit
Tips for Virtual Wallet customers

Keep money for your daily spending and bill payments in the Spend account

Keep money in Reserve for your primary overdraft protection and if you plan to transfer to Spend six or more times each month

Plan ahead each month and limit your transfers out of Growth
---
Keep track in Virtual Wallet

Virtual Wallet customers can track their transfers by logging into their Virtual Wallet from a desktop and selecting the Growth account. This is a good way to keep track of the transfers and where you stand. The tracker is not yet available on mobile devices.

Important Legal Disclosures and Information