Toggle nav
Login
Sign on to Online Banking
Sign on to another service:
---
Personal and Small Business:
---
Personal and Small Business:
---
Corporate and Institutional:
Planning for College

Learn about the true costs of college and the process of finding aid
Let's Talk

Speak to one of our loan specialists
Returning Applicants
View and follow up on your saved application.
College Costs
College costs are more than just the price of tuition. Living arrangements, books and meals can raise the sticker price. Figuring out how much college is going to cost can help you create a budget you can stick to.

Getting Financial Aid Starts with FAFSA
Completing the Free Application for Federal Student Aid (FAFSA) is the first step in applying for many forms of financial aid. Every student should complete the application prior to entering college and re-apply for financial aid each year enrolled in school. Submit the application even if you don't think you would qualify for federal financial aid. You cannot borrow through the Direct or PLUS loan programs without completing the FAFSA.

Understanding the Financial Aid Award Letter
Before you can make an informed decision about whether or not to attend a college, you need to evaluate your financial aid award letter. The letter summarizes the types and sources of financial aid you will receive. Learn how to decipher the information in it.
What is Financial Aid?
Financial aid is any money used to pay for college, whether it's earned by you, given to you, or loaned to you by a bank. Read a comparison of Federal PLUS Loans versus private loans, view a list of federal tax benefits available to those paying for higher education, and learn what it means to co-sign a loan.
Financial Aid Timeline
Getting into college and finding money to pay for college are two processes that begin in your junior year of high school. Don't get overwhelmed -- get organized. Planning ahead can improve your chances of getting the aid you need.

Education Loans - Glossary
Can't remember what COA means? What's a disbursement? The glossary is good reference for learning the details of the student loan process. Check it out to find definitions for financial aid terms.
Create a Strategy for College Funding and Repayment
GradReady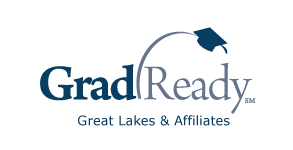 A valuable resource that can help ensure you graduate from college with strong financial acumen, budgeting skills and insight to successfully manage student loan repayment. Best of all, it's free to everyone.
1. Learn
Watch videos to learn about financial aid options, what's expected during student loan repayment and how to budget once you get your first job.
2. Plan
Prepare for a strong financial future through personalized and engaging money management education.
3. Gauge

Use interactive tools and calculators to create a detailed budget that you can customize and update to track spending.
GradReady's free videos, planning tools and resources can educate you on a wide range of college-relevant financial topics. Learn how to plan for debt and make financially sound decisions during and after college. Set up your free account today!
Important Information and Disclosures
You are encouraged to explore all scholarship, grant and federal borrowing options before applying for a private loan.
PNC does not provide accounting, tax or legal advice. Any calculators provided are intended for educational and estimation purposes only, and their accuracy is not guaranteed. The calculators, and any results displayed, do not constitute the advice of, or reflect actual products, services, rates and/or terms available from PNC Bank or its affiliates, and nothing contained in the calculators shall constitute an offer or solicitation of a product or service by PNC Bank or its affiliates.
GET IN TOUCH

Join Us

Be part of our inclusive culture that strives for excellence and rewards talent.

Visit PNC Careers »
The PNC Financial Services Group, Inc. All rights reserved.