Maintain a Tidy Home With Ease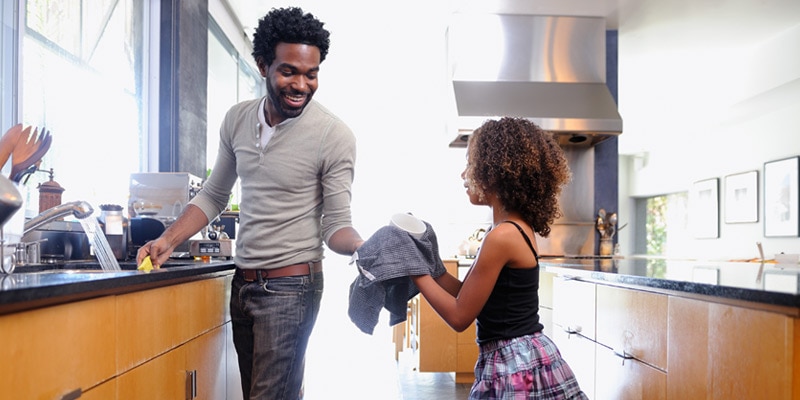 Think it's impossible to keep your house clean for more than five minutes? Think again. These 10 simple tips make it easier to maintain a tidy home without putting in a ton of effort – so you can actually relax and enjoy your space.
1. Don't let messes pile up too long.
Set aside 10–15 minutes to pick up and clean up each day.
Clean as you go. When you're done with something, put it away.
Wipe down countertops often, including a good clean after dinner.
Sweep and vacuum frequently.
2. Keep cleaning supplies close
Fill a caddy with your most-used cleaning supplies.
If you have two floors, keep a caddy on each for easy access.
Keep an additional one with appropriate cleaners in each bathroom.
3. Pre-organize so you don't have to reorganize.
Give everything in your home a designated place and stick to it.
Make commonly used items easy to access and convenient to put away.
Group items with similar uses: knives and cutting boards, pens and paper, etc.
4. Make donating a habit.
Start a donation box and add to it as you go.
Make sure the whole family uses the donation box.
Every time you get something new, find something to donate too.
When the box is full, immediately take it to a local donation center.
5. Organize with a designer's eye.
Use decorative shelving that suits both form and function.
Color code your closet – it looks nice and makes it easier to find an outfit.
Swap plain containers for baskets that suit your style.
Use simple clear containers in the kitchen for easy access and a uniform look.
6. Keep your kitchen clean and countertops clear.
Maximize space by keeping your kitchen surfaces free of clutter.
Put your mixer, toaster and other small appliances away, but keep them easily accessible.
Share kitchen duty – start a calendar and assign age-specific tasks to everyone.
7. Check expiration dates.
Look through your pantry, fridge and freezer on a recurring basis and toss expired items.
Have a deep freezer? Clean it out once every two months.
Get rid of leftovers after one week, tops.
8. Get clever about hiding clutter.
Buy an easy-to-use concealer to hide the cords on your mounted TV.
Tie all office cords together and funnel them behind your desk.
Think vertically and use wall space to create extra storage.
Use decorative storage containers on open shelving for a tidy look.
9. Don't neglect the bathroom.
Maximize under-the-sink storage.
Install hooks or shelves for extra towels.
Clean out your medicine cabinet regularly.
Do a 60-second pickup before you leave the room.
10. Utilize space under the bed.
Use large plastic containers with lids to store books, magazines, etc.
Store seasonal items, blankets and pillows in vacuum sealed storage bags.
When you clean your floors, don't forget to clean under the beds.
While this might seem like a lot of work at once, take a few minutes to try out a few of these tips today. Then work to keep the momentum going and see how just a few new habits can help keep your home tidy and clean.
Important Legal Disclosures and Information
PNC is a registered service mark of The PNC Financial Services Group, Inc. ("PNC"). All loans are provided by PNC Bank, National Association, a subsidiary of PNC, and are subject to credit approval and property appraisal.
©2023 The PNC Financial Services Group, Inc. All rights reserved. PNC Bank, National Association.