Toggle nav
Login
Sign on to Online Banking
Sign on to another service:
---
Personal and Small Business:
---
Personal and Small Business:
---
Corporate and Institutional:
Let's Talk Finances: 3 Questions About Spending Couples Should Consider Asking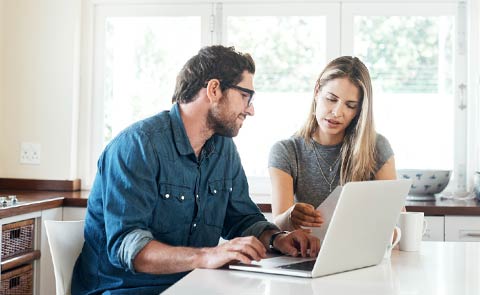 Money talks can be a little uncomfortable, especially for new couples. Research shows two-thirds of engaged couples have negative feelings about financial talks with their fiancé, according to a survey from National Foundation for Credit Counseling.[1]
To help you overcome the discomfort of financial talks, here are three questions to ease into the conversation:
1. How will we merge our finances?
If you're newly married, you've probably already figured out things like housing, whose bedroom furniture is the best and how your cat and dog will survive under one roof. You've merged your belongings, but are you ready to merge your finances?
It's time to figure it out. Sit down and talk about whether you want to merge bank accounts or set up three accounts: Yours, Mine and Ours. If you choose the latter, define which expenses are "ours," and then decide how much money each of you will add to that account each month and when.
Everyone manages their finances a little differently, but you need to make a plan that takes care of your financial responsibilities together.
2. How much debt do we have, and how should we manage it?
Make a list of every debt you have, including long-term payments that have high balances, such as credit cards, car loans and student loans. It's important to get a clear picture of how much debt each person brings to the relationship.
If your soon-to-be-spouse has a six-figure debt from college expenses, that's important to know. Large student loan payments could limit your buying power in the future when you're ready to make big life changes like buying a house.
You'll need to figure out a plan to manage the debt. You might consider identifying the debt with the highest interest rate and paying that off first.
If you need help making a plan, a financial advisor can help provide more detailed direction.
3. How did your parents handle money?
Most adults take financial cues from their parents. If your parents were constantly strapped for cash, while your partner's parents took lavish trips to Europe twice a year, you will probably have very different ways of looking at finances and spending.
It's important to talk about how your parents managed money and examine the ways it shaped your financial choices. Share your experiences and set a goal to elevate your financial approach beyond that of your parents.
Sharing a life together means more than sharing a home and a Wi-Fi password. Marriage ties your financial lives together, and it's important to have open, honest conversations about money right from the start to ensure a happy, financially sound future.
Remember, you don't have to have all the answers. You can always talk with a PNC Specialist about how to better manage your money. He or she can help you identify actionable steps that you can take to help you keep your bank accounts as healthy as your marriage.
Important Legal Disclosures and Information
"Two Thirds of Engaged Couples Have Negative Attitudes Toward Discussing Money," NFCC.
These articles are for general information purposes only and are not intended to provide legal, tax, accounting or financial advice. PNC urges its customers to do independent research and to consult with financial and legal professionals before making any financial decisions. This site may provide reference to Internet sites as a convenience to our readers. While PNC endeavors to provide resources that are reputable and safe, we cannot be held responsible for the information, products or services obtained on such sites and will not be liable for any damages arising from your access to such sites. The content, accuracy, opinions expressed and links provided by these resources are not investigated, verified, monitored or endorsed by PNC.
PNC is a registered service mark of The PNC Financial Services Group, Inc. ("PNC"). All loans are provided by PNC Bank, National Association, a subsidiary of PNC, and are subject to credit approval and property appraisal.