Toggle nav
Login
Sign on to Online Banking
Sign on to another service:
---
Personal and Small Business:
---
Personal and Small Business:
---
Corporate and Institutional:
Save Money on Dinner with Friends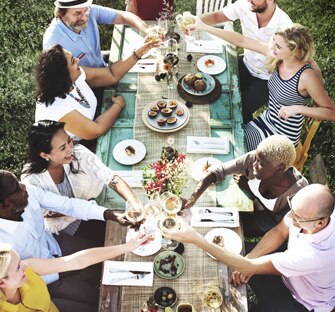 One of the challenges of getting together with friends is that they may have different spending and entertaining habits than you do — or they even may play games when it's time to split the check (don't we all know that one person?) Even if your friends have different preferences when it comes to dining, they are still friends. How can you get together without breaking your budget? We have a few ideas to help you have fun while still meeting your financial goals:
Entertain at home. With a casual potluck, you can split the cost of dinner with friends. Those who don't cook can contribute beverages. Or, set up a taco bar or pizza party for some easy, good fun. If you don't want the work of preparing food, you can always order in, saving the cost of a sitter and parking.


Does your city have a Restaurant Week?[1] Many do, and the promotion often lasts more than a week. Participating restaurants offer special fixed-price menus to show off their cuisine, and it's a great opportunity to go out with your dearest foodie friend. You'll know up front what you're spending, and you'll get an opportunity to try a new place while having money left over for saving.


Does the cost of an evening out for you include a babysitter? If you share a sitter with friends, you will both save money. (Be sure to notify the sitter in advance and negotiate an appropriate fee. It's not fair sticking a high school student with 10 high-energy preschoolers for the same rate you would pay for one baby who sleeps the entire time.)


Consider going out on a weeknight rather than a weekend. Because they don't have the weekend crowds to contend with, many restaurants offer great mid-week specials that can make a night out a lot less expensive. An extra bonus? A relaxing break in the middle of a hectic week.
Getting together with friends is fun, and so is going out, even more so when you know it's not exceeding your budget goals. Try these tips next time you get together with friends and watch your savings grow.
Important Legal Disclosures and Information
These articles are for general information purposes only and are not intended to provide legal, tax, accounting or financial advice. PNC urges its customers to do independent research and to consult with financial and legal professionals before making any financial decisions. This site may provide reference to Internet sites as a convenience to our readers. While PNC endeavors to provide resources that are reputable and safe, we cannot be held responsible for the information, products or services obtained on such sites and will not be liable for any damages arising from your access to such sites. The content, accuracy, opinions expressed and links provided by these resources are not investigated, verified, monitored or endorsed by PNC.