Toggle nav
Login
Sign on to Online Banking
---
Personal and Small Business:
---
Personal and Small Business:
---
Corporate and Institutional:
CLIENT STORY

Trust & Estate Services

Wealth Strategy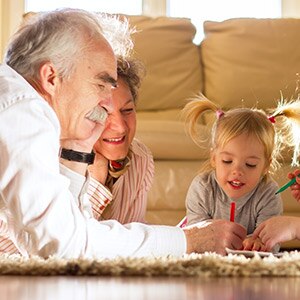 The Situation:
John and Virginia love spending time with their children and grandchildren, talking about politics, travel, and the latest movies. However, both John and Virginia feel uncomfortable discussing their wealth.
Their children also feel uneasy and avoid the subject. They know their parents have a considerable amount of assets, but don't want to appear greedy or think about a future without their parents.
As a result, they have no idea how their parents plan to divide their assets, including their two homes and family heirlooms. The children are unaware if there is a will or where the important documents are located. This lack of communication concerned John, which prompted a meeting with PNC Wealth Management.
The Solution:
The PNC Wealth Management professionals met with John and Virginia and their legal and tax advisors to discuss implications of their estate plan. They explained the potential dangers of not giving the children all the information they might need in the future, such as the location of important documents, and instructions regarding medical care.
PNC suggested they prepare an inventory of their financial situation and possessions, including investments, homes, cars, and jewelry. PNC also suggested that John, Virginia, and their children hold a family meeting. They agreed. A PNC Fiduciary Advisor joined the meeting to guide the dialogue and answer specific questions.
Estate planning is only performed in conjunction with a client's attorney, accountant, and/or other business advisors.
About Wealth Strategy

As a client of PNC Wealth Management®, you'll have access to an experienced PNC Wealth Strategist who can help identify and articulate financial, tax, estate planning, insurance and philanthropic issues. They will assist you in identifying your financial goals and create strategies to keep you on track.
Questions about implementing this theme into your wealth strategy?
Fill out a simple form and we'll get in touch with you.
Important Legal Disclosures & Information
This story represents a hypothetical scenario and is intended for illustrative purposes; the person described is fictional and not an actual client, but the scenario is intended to reflect a typical and/or previously experienced situation. Actual client experiences and outcomes may vary and future performance or success is not guaranteed.
The PNC Financial Services Group, Inc. ("PNC") uses the marketing name PNC Wealth Management® to provide investment and wealth management, fiduciary services, FDIC-insured banking products and services, and lending of funds through its subsidiary, PNC Bank, National Association ("PNC Bank"), which is a Member FDIC, and to provide specific fiduciary and agency services through its subsidiary, PNC Delaware Trust Company or PNC Ohio Trust Company. Securities products, brokerage services, and managed account advisory services are offered by PNC Investments LLC, a registered broker-dealer and a registered investment adviser and member of FINRA and SIPC. Insurance products may be provided through PNC Insurance Services, LLC, a licensed insurance agency affiliate of PNC, or through licensed insurance agencies that are not affiliated with PNC; in either case a licensed insurance affiliate may receive compensation if you choose to purchase insurance through these programs. A decision to purchase insurance will not affect the cost or availability of other products or services from PNC or its affiliates. PNC does not provide legal, tax, or accounting advice unless, with respect to tax advice, PNC Bank has entered into a written tax services agreement. PNC does not provide services in any jurisdiction in which it is not authorized to conduct business. PNC Bank is not registered as a municipal advisor under the Dodd-Frank Wall Street Reform and Consumer Protection Act ("Act"). Investment management and related products and services provided to a "municipal entity" or "obligated person" regarding "proceeds of municipal securities" (as such terms are defined in the Act) will be provided by PNC Capital Advisors, LLC, a wholly-owned subsidiary of PNC Bank and SEC registered investment adviser.
"PNC Wealth Management" and "PNC Wealth Insight" are registered service marks of The PNC Financial Services Group, Inc.
Investments: Not FDIC Insured. No Bank Guarantee. May Lose Value.
Insurance: Not FDIC Insured. No Bank or Federal Government Guarantee. Not a Deposit. May Lose Value.
Bank deposit products and services provided by PNC Bank, National Association. Member FDIC