Toggle nav
Login
Sign on to Online Banking
---
Personal and Small Business:
---
Personal and Small Business:
---
Corporate and Institutional:
CLIENT STORY

Modern Family

Wealth Strategy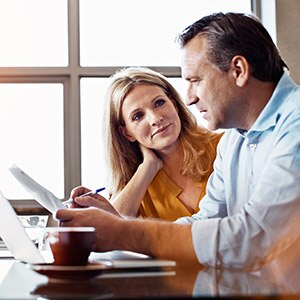 The Situation:
For very personal reasons Sarah and her partner Rick have decided not to marry. Sarah and Rick own a business together and plan to save as a family for their future together. Even as an adult, Sarah's parents can be a little intrusive and over-protective of her. Sarah is worried that if she became ill, her parents would try to take over as her caregivers.
As an unmarried couple, the default laws don't apply to Sarah and Rick. In most states, if Sarah were to be hospitalized and in need of an intervening healthcare proxy, her legal next of kin would step in to make decisions on her behalf. Her parents are her legal next of kin, not Rick, her unmarried partner. Sarah also learned that when she died, her legal next of kin would step in to make funeral arrangements and decisions around burial or cremation. Sarah contacted her PNC Wealth Strategist to inquire how Rick can gain rights to make decisions on her behalf if incapacitated or in death.
The Solution:
While brainstorming with her PNC Wealth Strategist on ideas for organizing their business and retirement planning, Sarah shared her concern about how the default laws in her state impacted Rick. Sarah's PNC Wealth Strategist recommended that she wrap as many protections around her relationship with Rick as she could. Sarah did not have any legal documents in place. She had no will, power of attorney, healthcare directive, or living will.
With competing interests between Rick and her parents, Sarah took the advice of her PNC Wealth Strategist and consulted an attorney to help her with creating legal documents and naming Rick as her legal next of kin. After the documents were executed, Sarah's PNC Wealth Strategist helped her organize her assets. Sarah learned that all of her assets needed to be reviewed, not only those that passed through her will, but also those that have a named beneficiary. Now that this process is finished for her, she can breathe easier knowing that Rick will be able to take care of her if she became ill and he won't lose the business or their savings if she passed away.
About Wealth Strategy

As a client of PNC Wealth Management®, you'll have access to an experienced PNC Wealth Strategist who can help identify and articulate financial, tax, estate planning, insurance and philanthropic issues. They will assist you in identifying your financial goals and create strategies to keep you on track.
Questions about implementing this theme into your wealth strategy?
Fill out a simple form and we'll get in touch with you.
Important Legal Disclosures & Information
This story represents a hypothetical scenario and is intended for illustrative purposes; the person described is fictional and not an actual client, but the scenario is intended to reflect a typical and/or previously experienced situation. Actual client experiences and outcomes may vary and future performance or success is not guaranteed.
The PNC Financial Services Group, Inc. ("PNC") uses the marketing name PNC Wealth Management® to provide investment and wealth management, fiduciary services, FDIC-insured banking products and services, and lending of funds through its subsidiary, PNC Bank, National Association ("PNC Bank"), which is a Member FDIC, and to provide specific fiduciary and agency services through its subsidiary, PNC Delaware Trust Company or PNC Ohio Trust Company. Securities products, brokerage services, and managed account advisory services are offered by PNC Investments LLC, a registered broker-dealer and a registered investment adviser and member of FINRA and SIPC. Insurance products may be provided through PNC Insurance Services, LLC, a licensed insurance agency affiliate of PNC, or through licensed insurance agencies that are not affiliated with PNC; in either case a licensed insurance affiliate may receive compensation if you choose to purchase insurance through these programs. A decision to purchase insurance will not affect the cost or availability of other products or services from PNC or its affiliates. PNC does not provide legal, tax, or accounting advice unless, with respect to tax advice, PNC Bank has entered into a written tax services agreement. PNC does not provide services in any jurisdiction in which it is not authorized to conduct business. PNC Bank is not registered as a municipal advisor under the Dodd-Frank Wall Street Reform and Consumer Protection Act ("Act"). Investment management and related products and services provided to a "municipal entity" or "obligated person" regarding "proceeds of municipal securities" (as such terms are defined in the Act) will be provided by PNC Capital Advisors, LLC, a wholly-owned subsidiary of PNC Bank and SEC registered investment adviser.
"PNC Wealth Management" and "PNC Wealth Insight" are registered service marks of The PNC Financial Services Group, Inc.
Investments: Not FDIC Insured. No Bank Guarantee. May Lose Value.
Insurance: Not FDIC Insured. No Bank or Federal Government Guarantee. Not a Deposit. May Lose Value.