Toggle nav
Login
Sign on to Online Banking
---
Personal and Small Business:
---
Personal and Small Business:
---
Corporate and Institutional:
CLIENT STORY

Modern Family

Wealth Strategy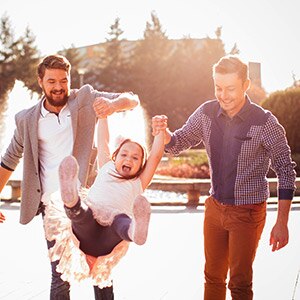 The Situation:
Eric and Kevin just got married. After being together for 20 years, the law has finally changed to allow Eric and Kevin to marry – something they would have done long ago if possible. The couple was very excited to expand their family and welcome a little one into their home. Eric and Kevin decided to use a surrogate to help them have a baby that would represent Eric's biology. In addition, Eric and Kevin wanted help determining how they would pay for this very expensive process.
The Solution:
The couple's PNC Wealth Strategist recommended that they speak with both a family law attorney and an estate planning attorney. Surrogacy law is very complicated and different in each state. Their new attorneys helped them execute a contract with the surrogate to legally guide the process.
To help navigate through the expenses of this process, their PNC Relationship Strategist gave them a few financing ideas that would keep them from having to liquidate any of their assets earmarked for retirement. In the event of an emergency, their PNC Wealth Strategist suggested that the couple prepare a will to protect each other's interest and the surrogate's interest during the pregnancy.
During this exciting time, it became clear that both intended parents needed life insurance to protect the family in the event of an emergency. The couple's PNC Wealth Strategist, along with their personal insurance advisor, guided them through deciding the amount of life insurance and product that made sense for their goals and objectives.
After Eric and Kevin breathed a sigh of relief and welcomed their baby girl home, their PNC Wealth Strategist helped them create an education plan for their daughter. The couple feels on track to give themselves and their daughter a bright financial future.
About Wealth Strategy

As a client of PNC Wealth Management®, you'll have access to an experienced PNC Wealth Strategist who can help identify and articulate financial, tax, estate planning, insurance and philanthropic issues. They will assist you in identifying your financial goals and create strategies to keep you on track.
Questions about implementing this theme into your wealth strategy?
Fill out a simple form and we'll get in touch with you.
Important Legal Disclosures & Information
This story represents a hypothetical scenario and is intended for illustrative purposes; the person described is fictional and not an actual client, but the scenario is intended to reflect a typical and/or previously experienced situation. Actual client experiences and outcomes may vary and future performance or success is not guaranteed.
The PNC Financial Services Group, Inc. ("PNC") uses the marketing name PNC Wealth Management® to provide investment and wealth management, fiduciary services, FDIC-insured banking products and services, and lending of funds through its subsidiary, PNC Bank, National Association ("PNC Bank"), which is a Member FDIC, and to provide specific fiduciary and agency services through its subsidiary, PNC Delaware Trust Company or PNC Ohio Trust Company. Securities products, brokerage services, and managed account advisory services are offered by PNC Investments LLC, a registered broker-dealer and a registered investment adviser and member of FINRA and SIPC. Insurance products may be provided through PNC Insurance Services, LLC, a licensed insurance agency affiliate of PNC, or through licensed insurance agencies that are not affiliated with PNC; in either case a licensed insurance affiliate may receive compensation if you choose to purchase insurance through these programs. A decision to purchase insurance will not affect the cost or availability of other products or services from PNC or its affiliates. PNC does not provide legal, tax, or accounting advice unless, with respect to tax advice, PNC Bank has entered into a written tax services agreement. PNC does not provide services in any jurisdiction in which it is not authorized to conduct business. PNC Bank is not registered as a municipal advisor under the Dodd-Frank Wall Street Reform and Consumer Protection Act ("Act"). Investment management and related products and services provided to a "municipal entity" or "obligated person" regarding "proceeds of municipal securities" (as such terms are defined in the Act) will be provided by PNC Capital Advisors, LLC, a wholly-owned subsidiary of PNC Bank and SEC registered investment adviser.
"PNC Wealth Management" and "PNC Wealth Insight" are registered service marks of The PNC Financial Services Group, Inc.
Investments: Not FDIC Insured. No Bank Guarantee. May Lose Value.
Insurance: Not FDIC Insured. No Bank or Federal Government Guarantee. Not a Deposit. May Lose Value.