Toggle nav
Login
Sign on to Online Banking
---
Personal and Small Business:
---
Personal and Small Business:
---
Corporate and Institutional:
CLIENT STORY

Family & Business Continuity and Succession - Passing on My Business

Wealth Strategy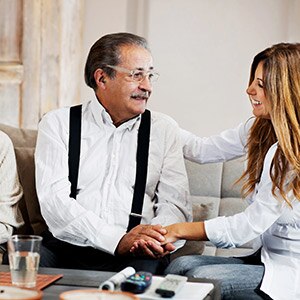 The Situation:
Michael, the owner of a closely held chemical company, is ready to retire and is preparing to turn over ownership of his business to his three children.
Like many business owners in this situation, Michael wants to preserve the integrity and reputation of his business after he retires. However, he is concerned about treating each child equally and doing what is right for the business.
His eldest child, Kristin, is highly involved in the business and has the leadership skills and business savvy to succeed him. Dylan, his second child, is married, lives in another state and works in a completely different field. Suzanne, the youngest, works for the company but isn't inclined to participate in the management of the business.
How will Michael fairly divide the business's value among the children, given their varying degrees of involvement?
The Solution:
To help ease Michael's worries, a PNC Wealth Strategist worked with Michael's attorney to formulate a proposed plan to pass controlling interest in the business to his eldest child, Kristin. This would be accomplished by issuing her voting stock in the company, while giving Suzanne non-voting stock.
Since Michael's outside assets are not sufficient to allow for an equalization of his personal assets among the three children, the PNC Wealth Strategist also recommended a life insurance policy on Michael's life. The policy would be purchased and owned by an Irrevocable Life Insurance Trust (ILIT). It could provide both liquidity to the estate and cash to Michael's son, Dylan, in an amount equal to the value of the business interests passing to Kristin and Suzanne. It could also provide cash to equalize the gift to Suzanne, if necessary.
This solution helped Michael achieve his goal of retaining control of the business within the family, while equalizing gifts among all three children.
About Wealth Strategy

As a client of PNC Wealth Management®, you'll have access to an experienced PNC Wealth Strategist who can help identify and articulate financial, tax, estate planning, insurance and philanthropic issues. They will assist you in identifying your financial goals and create strategies to keep you on track.
Questions about implementing this theme into your wealth strategy?
Fill out a simple form and we'll get in touch with you.
Important Legal Disclosures & Information
This story represents a hypothetical scenario and is intended for illustrative purposes; the person described is fictional and not an actual client, but the scenario is intended to reflect a typical and/or previously experienced situation. Actual client experiences and outcomes may vary and future performance or success is not guaranteed.
The PNC Financial Services Group, Inc. ("PNC") uses the marketing name PNC Wealth Management® to provide investment and wealth management, fiduciary services, FDIC-insured banking products and services, and lending of funds through its subsidiary, PNC Bank, National Association ("PNC Bank"), which is a Member FDIC, and to provide specific fiduciary and agency services through its subsidiary, PNC Delaware Trust Company or PNC Ohio Trust Company. Securities products, brokerage services, and managed account advisory services are offered by PNC Investments LLC, a registered broker-dealer and a registered investment adviser and member of FINRA and SIPC. Insurance products may be provided through PNC Insurance Services, LLC, a licensed insurance agency affiliate of PNC, or through licensed insurance agencies that are not affiliated with PNC; in either case a licensed insurance affiliate may receive compensation if you choose to purchase insurance through these programs. A decision to purchase insurance will not affect the cost or availability of other products or services from PNC or its affiliates. PNC does not provide legal, tax, or accounting advice unless, with respect to tax advice, PNC Bank has entered into a written tax services agreement. PNC does not provide services in any jurisdiction in which it is not authorized to conduct business. PNC Bank is not registered as a municipal advisor under the Dodd-Frank Wall Street Reform and Consumer Protection Act ("Act"). Investment management and related products and services provided to a "municipal entity" or "obligated person" regarding "proceeds of municipal securities" (as such terms are defined in the Act) will be provided by PNC Capital Advisors, LLC, a wholly-owned subsidiary of PNC Bank and SEC registered investment adviser.
"PNC Wealth Management" and "PNC Wealth Insight" are registered service marks of The PNC Financial Services Group, Inc.
Investments: Not FDIC Insured. No Bank Guarantee. May Lose Value.
Insurance: Not FDIC Insured. No Bank or Federal Government Guarantee. Not a Deposit. May Lose Value.
Bank deposit products and services provided by PNC Bank, National Association. Member FDIC