Toggle nav
Login
Sign on to Online Banking
---
Personal and Small Business:
---
Personal and Small Business:
---
Corporate and Institutional:
CLIENT STORY

Modern Family

Wealth Strategy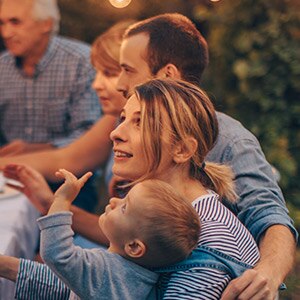 The Situation:
John's first wife, Mary, passed away ten years ago. They amassed wealth together while raising four children who have flourishing families of their own. John later married Amy five years ago. Their blended family seems to get along well with each other. John is concerned about caring for Amy, yet wishes to pass family assets to his children when he dies.
The Solution:
John began exploring his aspirations for his wealth with his PNC Wealth Strategist. After brainstorming all of his options, John determined that the family vacation home would pass to his four children so they could preserve the memories created there with their mother. Knowing that they would have a difficult time affording the vacation home, John took out a life insurance policy for them to help provide financial flexibility. John's PNC Wealth Strategist further encouraged him to speak with his children to see if this plan was something that interested them. The best laid plans can fall apart when there is no communication. John's children were thrilled with the plan and even more thrilled that he had asked their opinion.
John's PNC Wealth Strategist also consulted with his attorney to help him design a trust to replace the income for Amy that John is currently providing, so that she would be able to afford the home they bought together if he died first. This plan allayed Amy's biggest fear that she might have to sell the home, in order make ends meet. Ultimately, after Amy dies, John's children and grandchildren would inherit what remains in the trust.
PNC Wealth Strategist also referred John to a few attorneys who could draft the appropriate will and trust documents for him. Both John and Amy felt a huge weight lift after the planning process was complete.
About Wealth Strategy

As a client of PNC Wealth Management®, you'll have access to an experienced PNC Wealth Strategist who can help identify and articulate financial, tax, estate planning, insurance and philanthropic issues. They will assist you in identifying your financial goals and create strategies to keep you on track.
Questions about implementing this theme into your wealth strategy?
Fill out a simple form and we'll get in touch with you.
Important Legal Disclosures & Information
This story represents a hypothetical scenario and is intended for illustrative purposes; the person described is fictional and not an actual client, but the scenario is intended to reflect a typical and/or previously experienced situation. Actual client experiences and outcomes may vary and future performance or success is not guaranteed.
The PNC Financial Services Group, Inc. ("PNC") uses the marketing name PNC Wealth Management® to provide investment and wealth management, fiduciary services, FDIC-insured banking products and services, and lending of funds through its subsidiary, PNC Bank, National Association ("PNC Bank"), which is a Member FDIC, and to provide specific fiduciary and agency services through its subsidiary, PNC Delaware Trust Company or PNC Ohio Trust Company. Securities products, brokerage services, and managed account advisory services are offered by PNC Investments LLC, a registered broker-dealer and a registered investment adviser and member of FINRA and SIPC. Insurance products may be provided through PNC Insurance Services, LLC, a licensed insurance agency affiliate of PNC, or through licensed insurance agencies that are not affiliated with PNC; in either case a licensed insurance affiliate may receive compensation if you choose to purchase insurance through these programs. A decision to purchase insurance will not affect the cost or availability of other products or services from PNC or its affiliates. PNC does not provide legal, tax, or accounting advice unless, with respect to tax advice, PNC Bank has entered into a written tax services agreement. PNC does not provide services in any jurisdiction in which it is not authorized to conduct business. PNC Bank is not registered as a municipal advisor under the Dodd-Frank Wall Street Reform and Consumer Protection Act ("Act"). Investment management and related products and services provided to a "municipal entity" or "obligated person" regarding "proceeds of municipal securities" (as such terms are defined in the Act) will be provided by PNC Capital Advisors, LLC, a wholly-owned subsidiary of PNC Bank and SEC registered investment adviser.
"PNC Wealth Management" and "PNC Wealth Insight" are registered service marks of The PNC Financial Services Group, Inc.
Investments: Not FDIC Insured. No Bank Guarantee. May Lose Value.
Insurance: Not FDIC Insured. No Bank or Federal Government Guarantee. Not a Deposit. May Lose Value.
Bank deposit products and services provided by PNC Bank, National Association. Member FDIC