Are you really in control of your money's destiny? It's your money.
You want to decide who inherits it. But without a thoughtful and sophisticated estate plan, your children could lose their inheritance in divorce settlements, some of your wealth might unnecessarily be lost to taxes, and your legacy could be squandered through poor investments or wasteful spending.
Whether you want to endow a charity or provide for grandchildren, you want to feel confident your wealth will last.
At PNC Wealth Management®, you can find the trust and estate solutions you need - planning, administration and asset management services, all in a simple source, and developed in close coordination with your professional advisors. Our approach is uniquely personal, tailored to your needs and built on a strong relationship with you.
What is Estate Planning?
Estate planning is a process designed to help you manage and preserve your assets while you are alive, and to conserve and control their distribution after your death, according to your goals and objectives. But what estate planning means to you specifically depends on who you are. Your age, health, wealth, lifestyle, life stage, goals, and many other factors determine your particular estate planning needs. For example, you may have a small estate and may be concerned only that certain people receive particular things. A simple will may be all you need. Or, you may have a large estate, and minimizing any potential estate tax impact is your foremost goal. Here, you'll need to use more sophisticated techniques in your estate plan, such as a trust.
Estate Planning Pyramid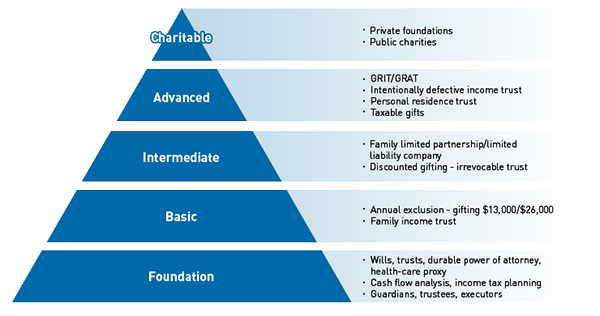 What Are Your Goals and Objectives?
Your goals and objectives are personal, but you can't formulate a successful plan without a clear and precise understanding of what they are. They can be based on your particular circumstances and the factors that may affect your estate, as discussed earlier, but your feelings and desires are just as important. The following are some goals and objectives you might consider:
Provide financial security for your family
Confirm that your property is preserved and passed on to your beneficiaries
Avoid disputes among family members, business owners, or with third parties (such as the IRS)
Provide for your children's or grandchildren's education
Provide for your favorite charity
Maintain control over your property in case of incapacity or determine its competent management
Minimize estate taxes and other costs
Avoid probate
Provide adequate liquidity for the settlement of your estate
Transfer ownership of your business to your beneficiaries
Steps to Successful Estate Planning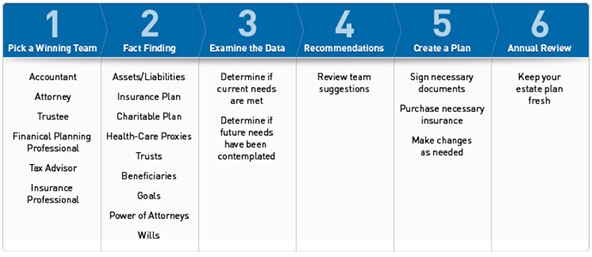 Important Legal Disclosures and Information
The PNC Financial Services Group, Inc. ("PNC") uses the marketing name PNC Wealth Management® to provide investment and wealth management, fiduciary services, FDIC-insured banking products and services, and lending of funds through its subsidiary, PNC Bank, National Association ("PNC Bank"), which is a Member FDIC, and to provide specific fiduciary and agency services through its subsidiary, PNC Delaware Trust Company or PNC Ohio Trust Company. Securities products, brokerage services, and managed account advisory services are offered by PNC Investments LLC, a registered broker-dealer and a registered investment adviser and member of FINRA and SIPC. Insurance products may be provided through PNC Insurance Services, LLC, a licensed insurance agency affiliate of PNC, or through licensed insurance agencies that are not affiliated with PNC; in either case a licensed insurance affiliate may receive compensation if you choose to purchase insurance through these programs. A decision to purchase insurance will not affect the cost or availability of other products or services from PNC or its affiliates. PNC does not provide legal, tax, or accounting advice unless, with respect to tax advice, PNC Bank has entered into a written tax services agreement. PNC does not provide services in any jurisdiction in which it is not authorized to conduct business. PNC Bank is not registered as a municipal advisor under the Dodd-Frank Wall Street Reform and Consumer Protection Act ("Act"). Investment management and related products and services provided to a "municipal entity" or "obligated person" regarding "proceeds of municipal securities" (as such terms are defined in the Act) will be provided by PNC Capital Advisors, LLC, a wholly-owned subsidiary of PNC Bank and SEC registered investment adviser.
"PNC Wealth Management" and "PNC Wealth Insight" are registered service marks of The PNC Financial Services Group, Inc.
Important Information about Procedures for Opening a New Account
To help the government fight the funding of terrorism and money laundering activities, Federal law requires all financial institutions to obtain, verify, and record information that identifies each person who opens an account.
What this means for you: When you open an account, we are required by Federal law to ask for your name, street address, date of birth (for natural persons) and other information as required to identify you. This may include a request or requests for confirmatory information such as presentation of your driver's license and/or other document(s).
Investments: Not FDIC Insured. No Bank Guarantee. May Lose Value.
Insurance: Not FDIC Insured. No Bank or Federal Government Guarantee. Not a Deposit. May Lose Value.