Toggle nav
Login
Sign on to Online Banking
---
Personal and Small Business:
---
Personal and Small Business:
---
Corporate and Institutional:
Meet Women Who Can Help Renew Your Vision
A new, inspirational book offers an array of advice from women who have found success in the design, arts and business worlds.
It can happen to any business owner: You get bogged down in exasperating details or discouraged by a setback, and suddenly you're wondering, "Why am I doing this?" What you need is a bit of inspiration — something you can find in abundance in Grace Bonney's new hardcover offering, "In the Company of Women: Inspiration and Advice from over 100 Makers, Artists, and Entrepreneurs" (Artisan, October 2016). Bonney, the creator of the website Design*Sponge, tapped her network of makers, artists and entrepreneurs to assemble a wealth of advice and inspiration for anyone struggling to bring her vision to fruition.
While a handful of names may be recognizable, the vast majority of the women Bonney profiles work outside the glare of publicity. There are chefs, writers, performers, poets and designers of every stripe. Given Bonney's interest in interior design, it's no surprise that each profile is accompanied by photos of the subject's working space that are visually inspirational.
Rather than organize the book by theme, Bonney simply introduces her refreshingly diverse cast one at a time with Q&A-style interviews. Because she asks similar questions of each interviewee, it can be instructive and inspirational to read the broad range of responses. When Bonney asks, for example, what lesson these business owners have taken away from their experiences, she heard this:[1]
"I've really had to learn to go with the flow. I am a huge planner, but things often don't go according to plan. … I have to be prepared to take the givens of any scenario, work with what I've got and avoid having a meltdown!"
—Hana Getachew, textile designer, Brooklyn, New York
"Always be honest with the customer and make them happy."
—Rebecca Wood, potter, Athens, Georgia
"Your best resource is the company you keep. Surround yourself with creative, smart people whose work you respect."
—Veronica Corzo-Duchardt, graphic designer, artist, Philadelphia
"The biggest lesson I've learned is to prepare for the long haul, the rise and fall, and let neither define your sense of self."
—Karen Young, product designer, entrepreneur, Brooklyn, New York
If you're looking for a refreshing breath of inspiration to put renewed energy into your business, give Bonney's book a try.
More eNews

Get Helpful Articles Like This Sent Automatically to your Inbox.
---
Insights Magazine
PNC INSIGHTS for Women in Business Magazine
Spring / Summer 2018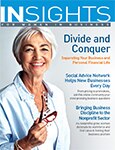 In-depth articles and tips for women business owners and executives
---
Solutions
Get More Solutions for Women

---
Important Legal Disclosures and Information
Quotes from Hana Getachew, Rebecca Wood, Veronica Corzo-Duchardt and Karen Young originally appear in Grace Bonne's book "In the Company of Women: Inspiration and Advice from over 100 Makers, Artists, and Entrepreneurs" (Artisan, October 2016).
The article(s) you are reading were prepared for general information purposes by Manifest, LLC. These articles are for general information purposes only and are not intended to provide legal, tax, accounting or financial advice. PNC urges its customers to do independent research and to consult with financial and legal professionals before making any financial decisions. These articles may provide reference to Internet sites as a convenience to our readers. While PNC endeavors to provide resources that are reputable and safe, we cannot be held responsible for the information, products, or services obtained on such sites and will not be liable for any damages arising from your access to such sites. The content, accuracy, opinions expressed, and links provided by these resources are not investigated, verified, monitored or endorsed by PNC.
GET IN TOUCH

Stay Connected

Join Us

Be part of our inclusive culture that strives for excellence and rewards talent.

Visit PNC Careers »
The PNC Financial Services Group, Inc. All rights reserved.