Toggle nav
Login
Sign on to Online Banking
Sign on to another service:
---
Personal and Small Business:
---
Personal and Small Business:
---
Corporate and Institutional:
The Doodle Revolution:
Unlock the Power to Think Differently
Author Sunni Brown offers a refreshing way to cut through information clutter.
At first glance, Sunni Brown's fascinating work, The Doodle Revolution, seems to be all fun and games, from its sunny yellow cover, square shape reminiscent of children's books and playful writing style. After all, who really takes doodling seriously? Well, Brown, for one. Behind the whimsy lies a thoroughly researched and remarkably detailed treatise on combining verbal and visual communications to unlock innovation, share ideas and think in new ways. Brown argues that the simple, familiar and ubiquitous act of doodling can serve as a way to distill the tsunami of information we're faced with every day into actionable ideas.
The word "doodle" may be something of a misnomer. While Brown provides ample support for the notion that idle doodles are anything but, she's really advocating a more conscious approach, even providing a shorthand "alphabet" that users can adopt to make their doodles as densely informative as possible. She refers to this technique as "infodoodling." Brown posits several uses for such drawings, from personal note-taking to "performance infodoodling," in which an individual provides graphic interpretations of a presentation, not unlike the way a signer might interpret a speech for the hearing impaired.
One of the most intriguing of Brown's techniques is group infodoodling, in which working groups contribute to a shared doodle to communicate the gist of arguments and ideas. The idea is to ensure that all participants clearly understand one another in a way that is often elusive in strictly verbal forms of communication.
Despite doodling's usual association with rapid, barely conscious activity, this densely packed book takes a measured, interactive approach to the subject. Brown starts with the assumption that her readers are not only highly skeptical of doodling's value, but also far from artistically inclined. Along the way, Brown offers dozens of drawing exercises and thought experiments so even those of us who have a hard time drawing a closed circle can develop our latent skills. And she provides detailed instructions on how to conduct specific types of meetings that readers can implement right away, including planning, problem-solving, decision-making and feedback, among others.
More eNews

Get Helpful Articles Like This Sent Automatically to your Inbox.
---
Insights Magazine
PNC INSIGHTS for Women in Business Magazine
Spring / Summer 2018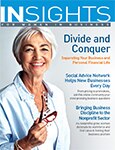 In-depth articles and tips for women business owners and executives
---
Solutions
Get More Solutions for Women

---
Important Legal Disclosures and Information
The article(s) you are reading were prepared for general information purposes by Manifest, LLC. These articles are for general information purposes only and are not intended to provide legal, tax, accounting or financial advice. PNC urges its customers to do independent research and to consult with financial and legal professionals before making any financial decisions. These articles may provide reference to Internet sites as a convenience to our readers. While PNC endeavors to provide resources that are reputable and safe, we cannot be held responsible for the information, products, or services obtained on such sites and will not be liable for any damages arising from your access to such sites. The content, accuracy, opinions expressed, and links provided by these resources are not investigated, verified, monitored or endorsed by PNC.
GET IN TOUCH

Join Us

Be part of our inclusive culture that strives for excellence and rewards talent.

Visit PNC Careers »
The PNC Financial Services Group, Inc. All rights reserved.