Toggle nav
Login
Sign on to Online Banking
Sign on to another service:
---
Personal and Small Business:
---
Personal and Small Business:
---
Corporate and Institutional:
What Works for Women at Work:
Four Patterns Working Women Need to Know
Authors Joan C. Williams and Rachel Dempsey encourage women to defy patterns that might hold them back.
As the founding director of the Center for WorkLife Law at the University of California's Hastings College of the Law, Joan C. Williams has long been in the front lines in the battle for women in the workplace. In a new book, What Works for Women at Work, she collaborates with her daughter Rachel Dempsey to deliver straightforward advice for working women.
At the core of the book are four patterns—easily recognizable to many working women—that can keep women from advancing their careers.
Once the authors identify each pattern, they offer an "action plan" of multiple strategies to overcome them. They are:
Prove It Again! Women find themselves having to prove their competence over and over despite previous success. Why? Given the fact that most high-level executives still happen to be men, we automatically envision a man when we imagine a successful professional. Strategy: Trump the stereotype by documenting and being forthright about your accomplishments.
The Tightrope. Women in the workplace are forced to find a mythical balance between the masculine and the feminine. Those judged as overly masculine are often respected but not liked, while those seen as too feminine are more liked than respected. Strategy: Be decent but not a doormat, and, on the flipside, manage your anger.
The Maternal Wall. The bias against women with children is by far the strongest form of gender inequality. One study found that mothers are 79% less likely to be hired and 100% less likely to be promoted than women without children. Strategy: Let people you know you remain committed to your work by being crystal clear if and when you are available to take on a project.
The Tug of War. Gender bias often ends up creating highly fraught relationships among women themselves, which can lead to tired stereotypes about bickering, emotional women. The conflicts, it turns out, are real, but they're based on the fact that women are competing with one another for the limited number of positions open to them. Strategy: Make an enemy into an ally by addressing the conflict head-on.
More eNews

Get Helpful Articles Like This Sent Automatically to your Inbox.
---
Insights Magazine
PNC INSIGHTS for Women in Business Magazine
Spring / Summer 2018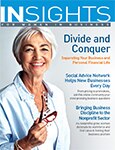 In-depth articles and tips for women business owners and executives
---
Solutions
Get More Solutions for Women

---
Important Legal Disclosures and Information
The article(s) you are reading were prepared for general information purposes by Manifest, LLC. These articles are for general information purposes only and are not intended to provide legal, tax, accounting or financial advice. PNC urges its customers to do independent research and to consult with financial and legal professionals before making any financial decisions. These articles may provide reference to Internet sites as a convenience to our readers. While PNC endeavors to provide resources that are reputable and safe, we cannot be held responsible for the information, products, or services obtained on such sites and will not be liable for any damages arising from your access to such sites. The content, accuracy, opinions expressed, and links provided by these resources are not investigated, verified, monitored or endorsed by PNC.
GET IN TOUCH

Join Us

Be part of our inclusive culture that strives for excellence and rewards talent.

Visit PNC Careers »
The PNC Financial Services Group, Inc. All rights reserved.