Toggle nav
Login
Sign on to Online Banking
Sign on to another service:
---
Personal and Small Business:
---
Personal and Small Business:
---
Corporate and Institutional:
Could You Become a Thought Leader?

Building a business also means building a brand — and you are part of that.
As a small-business owner, you are constantly looking for ways to strengthen your business's brand and support your company. One avenue you might consider is becoming a thought leader. According to the Sterling Marketing Group and Watermark, an association of female CEOs, it can help to view thought leadership as an outgrowth of your online voice.[1] Being a thought leader is a crucial designation for the head of a business, they argue, because you represent your brand. For your brand to stand out, you need to stand out.
While building a reputation as a thought leader takes hard work, both you and your business can benefit. Here are some steps to help get you there.

Consider your strengths and expertise. It's fine if your range of expertise is narrow — in fact, specializing in a narrow niche can be a positive asset — as long as you really know the topic and are engaged enough to continue to learn more about it.
Create an online presence, or strengthen the one you have. Write a blog that showcases your expertise. According to Forbes, writing a blog, particularly one that offers advice on a topic, can help establish your voice.[2]
Connect with others in your field. As you work toward establishing yourself in a niche, connect to people in that area by reading widely — you can comment on others' blogs — and attending conferences. Establishing connections with other experts in the field can help you amplify your own message, says Forbes.
Think big. Once you have a firm footing in your niche and you thoroughly understand your field, don't be afraid to put your voice out there with unorthodox opinions. Provided it's based in knowledge and expertise, disruptive, inventive thinking can be invaluable in establishing yourself as a thought leader.
Believe in yourself. Many female entrepreneurs struggle with societal expectations and their own instinct not to "brag," according to Watermark. But positioning yourself as an expert, by creating a distinctive voice and brand, and sharing your messages with the world, isn't bragging. Rather, it's acknowledging your expertise and experience to an audience who is probably open to hearing what you have to say.
Becoming a thought leader is a time-intensive, ongoing effort. To maintain your subject-matter expertise, you will need to keep writing, reading and learning. But doing this, and making your voice heard, will give you and your business an opportunity to grow.
More eNews

Get Helpful Articles Like This Sent Automatically to your Inbox.
---
Insights Magazine
PNC INSIGHTS for Women in Business Magazine
Spring / Summer 2018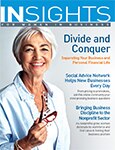 In-depth articles and tips for women business owners and executives
---
Solutions
Get More Solutions for Women

---
Important Legal Disclosures and Information
1. http://sterlingmarketinggroup.com/2016/07/creating-thought-leadership-for-women-ceos-and-executives/

2. https://www.forbes.com/sites/johnrampton/2016/08/19/how-to-become-a-thought-leader/#9e22e1e33538

The article(s) you are reading were prepared for general information purposes by Manifest, LLC. These articles are for general information purposes only and are not intended to provide legal, tax, accounting or financial advice. PNC urges its customers to do independent research and to consult with financial and legal professionals before making any financial decisions. These articles may provide reference to Internet sites as a convenience to our readers. While PNC endeavors to provide resources that are reputable and safe, we cannot be held responsible for the information, products, or services obtained on such sites and will not be liable for any damages arising from your access to such sites. The content, accuracy, opinions expressed, and links provided by these resources are not investigated, verified, monitored or endorsed by PNC.
GET IN TOUCH

Join Us

Be part of our inclusive culture that strives for excellence and rewards talent.

Visit PNC Careers »
The PNC Financial Services Group, Inc. All rights reserved.