Toggle nav
Login
Sign on to Online Banking
---
Personal and Small Business:
---
Personal and Small Business:
---
Corporate and Institutional: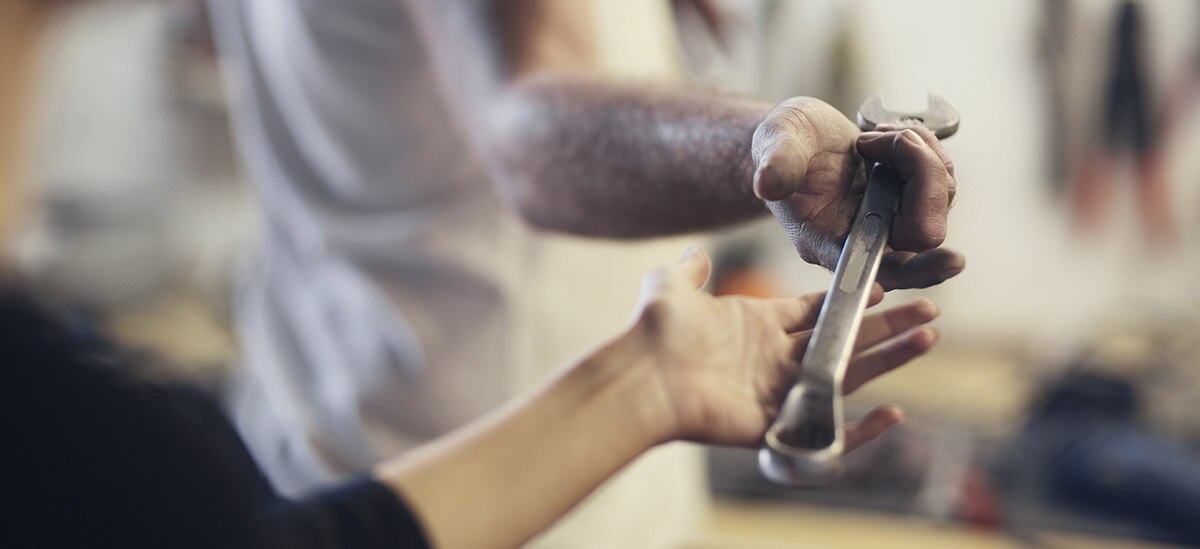 Barter, or trading goods and services without the use of cash or credit, dates back to the earliest business conducted between humans. Although often used during times of economic distress, when cash is scarce, reciprocal trade relationships can also be a boon to businesses with excess production capacity, excess inventory or simply an interest in expanding their client base. And taking advantage of bartering opportunities can free up cash flow to benefit of your business.
How Barter Works Today
While you can't take your goods or services into any old market or business establishment and expect just anyone to trade with you, barter networks and trade exchanges do still exist, such as the nonprofit Our Goods and the Milford, Conn.-based company Barter Network. Within these organizations, member companies sell their offerings to other members and earn trade credits in place of cash or, in some cases, directly swap services with other members. A roofing contractor might replace the roof of one member's commercial building and then use the earned credits to have a new print flyer designed and produced.
Doug Cale, head chocolatier at Birmingham Chocolate in Birmingham, MI, which creates fine, handcrafted chocolates, refers to barter networks as "parallel markets" operating alongside the cash marketplace. And bartering benefits his business. Not only can cash be freed up for other purposes, but also, Cale views participation in a trade exchange as a marketing tool.
"To me, trade is marketing, like social media and advertising," he says, because trade credits earned can be spent to attract both trade and cash customers. How so? Here's how Cale uses his trade exchange to get his business's name and sweet product in front of new eyes and bring in more cash:
Advertising

Like any business association, Cale uses his trade network to boost the B2B aspect of his business. To let other members know how Birmingham Chocolate may be able to serve them, Cale advertises in his network's newsletter and attends the organization's trade shows, attracting new business from fellow members who may become business customers — not to mention may help spread the word to their B2C customers, drawing new cash consumers to Cale's door.

Leveraging Network Services
Each barter network has a team of sales representatives who help connect member businesses and create new business opportunities. Thanks to his trade organization, Cale now calls the Hotel Palomar Chicago a client. Network employees pitched Birmingham Chocolate to the hotel as a vendor for guest gifts. The hotel loved the idea and now Cale prepares monthly chocolate shipments to Chicago.
Having a client in the hotel industry now gives Cale a leg up as he pitches other hotels on boxes of chocolates for birthdays, weddings or other special celebrations. With each of these events involving numerous guests, impressing them all opens Birmingham Chocolates up to the potential for all sorts of new cash business.
Cale estimates that approximately 10 percent of his business originates from his barter network membership but the benefits go beyond that number.
Cash Conservation
Another major benefit to barter networks is the very reason they're often relied heavily upon during tough economic times: it's a cash-free way to keep business moving forward. According to Bloomberg Businessweek, trade network members "can conserve cash and expand reach by selling their products and services." Members of the New Berlin, Wisc.-based International Monetary Systems, the largest independent trade exchange in North America, traded $225 million in services in 2011. That's a lot of cash-free business.
When cash isn't being used on services from other network members, it's freed up to increase cash flow and invest in other aspects of your business. Between preserving cash reserves and opening up business to new customers through network-based marketing opportunities, barter turns out to be an innovative way to maintain healthy cash flow. Not too bad for a trade system that outdates cash itself.
Related Links:
Our Goods https://ourgoods.org
http://www.barternetworkinc.com/
http://www.businessweek.com/articles/2012-07-12/using-a-barter-exchange-to-conserve-cash
Optimize Your Business Cash Flow
Important Legal Disclosures and Information
PNC is a registered mark of The PNC Financial Services Group, Inc. ("PNC"). This article has been prepared for general information purposes by the author who is solely responsible for its contents. The opinions expressed in these articles are those of the author and do not necessarily reflect the opinions of PNC or any of its affiliates, directors, officers or employees. This article is not intended to provide legal, tax or accounting advice or to suggest that you engage in any specific transaction, including with respect to any securities of PNC, and does not purport to be comprehensive. Under no circumstances should any information contained in the presentation, the webinar or the materials presented be used or considered as an offer or commitment, or a solicitation of an offer or commitment, to participate in any particular transaction or strategy or should it be considered legal or tax advice. Any reliance upon any such information is solely and exclusively at your own risk. Please consult your own counsel, accountant or other advisor regarding your specific situation. Neither PNC Bank nor any other subsidiary of The PNC Financial Services Group, Inc., will be responsible for any consequences of reliance upon any opinion or statement contained here, or any omission. Banking and lending products and services, bank deposit products, and Treasury Management products and services for healthcare providers and payers are provided by PNC Bank, National Association, a wholly owned subsidiary of PNC and Member FDIC. Lending and leasing products and services, including card services and merchant services, as well as certain other banking products and services, may require credit approval.