Be the Boss that Employees Love
Small Business Edition
By Ritika Puri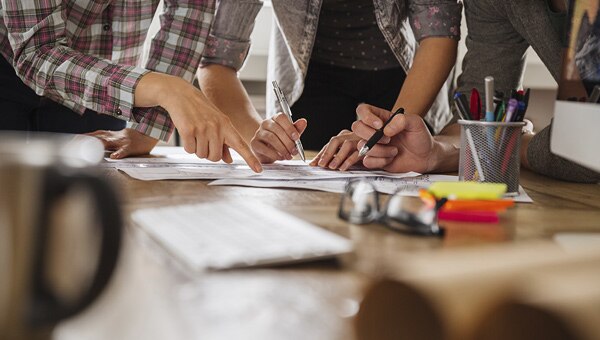 According to Gallup's recent Employee Engagement Survey, only 31.5 percent of the workforce is engaged. Even more troubling is the trend that employee engagement has been hovering around 30 percent for the last several years.
The reason? Of course, the answer varies from employee to employee. But there are some underlying causes for why team members feel frustrated and begin to distance themselves from their work. One involves drudgery: people feel exhausted when they're stuck doing work that they dislike. Another is interpersonal conflict: office politics can cause major stress in making workplaces feel less enjoyable. And then there's perhaps the biggest reason: bad management. Some work cultures are so toxic that it's impossible to get any work done.
The bottom line is that people want to work for strong leadership and well-run organizations. As a small business owner, you're in a strong position to empower your employees and create a work culture that keeps team members happy. You also have little choice but to maintain a positive office environment, since you don't have funds to splurge on Google-esque perks and you can't afford to waste resources dealing with employee turnover.
Here are some subtle tips to keep you on the right track:
Keep Your Stressors to Yourself
Small business owners are often under a lot of pressure—financial and otherwise. If you're running a company, you know that these stressors are a normal part of doing business. Your employees, on the other hand, don't have the same perspective that you do. They're worried about stability, paying their mortgages, and supporting their families. Any sign of turbulence may feel alarming.
As a small business owner, you need to keep your stressors to yourself. Your team members are close to you, and if they feel your stress, your company's productivity—and retention rates—may suffer.
Understand Their Professional Ambitions
Even though other companies may offer perks, you may be able to provide the ultimate benefit: career advancement. As a small business owner, you're in a great position to let employees self-direct their paths forward. Allow space for teams to pursue passion projects, and work closely with each of your colleagues to set and achieve goals. Keep providing positive reinforcement, and employees will stick around for the long haul.
Know What's Happening in Your Employees' Lives
You may find peace in working odd hours, but your employees likely won't. Team members need flexibility to live their lives out of the office, and as a small business owner, you're in a good position to offer flexibility.
Be attentive to whether your deadlines and meeting schedules are interfering with employees' much-needed family time. Know whether a kid might be sick, have a special event coming up, or be passionate about a new extracurricular activity. This awareness, empathy, and understanding will be the ultimate perk that you have to offer—more than any corporate slide, free lunch, or on-site massage.
Many of your employees will want to one day become the boss. Even more want to work for a great manager from whom they can learn. Be the leader that your employees want to see—set an example, and remember that people all around you are eager to be a part of your journey. Be the boss you wish you always had.
Important Legal Disclosures and Information
Source
Gallup: http://www.gallup.com/poll/183545/employee-engagement-flat-may.aspx
PNC is a registered mark of The PNC Financial Services Group, Inc. ("PNC"). This article has been prepared for general information purposes by the author who is solely responsible for its contents. The opinions expressed in these articles are those of the author and do not necessarily reflect the opinions of PNC or any of its affiliates, directors, officers or employees. This article is not intended to provide legal, tax or accounting advice or to suggest that you engage in any specific transaction, including with respect to any securities of PNC, and does not purport to be comprehensive. Under no circumstances should any information contained in the presentation, the webinar or the materials presented be used or considered as an offer or commitment, or a solicitation of an offer or commitment, to participate in any particular transaction or strategy or should it be considered legal or tax advice. Any reliance upon any such information is solely and exclusively at your own risk. Please consult your own counsel, accountant or other advisor regarding your specific situation. Neither PNC Bank nor any other subsidiary of The PNC Financial Services Group, Inc., will be responsible for any consequences of reliance upon any opinion or statement contained here, or any omission. Banking and lending products and services, bank deposit products, and Treasury Management products and services for healthcare providers and payers are provided by PNC Bank, National Association, a wholly owned subsidiary of PNC and Member FDIC. Lending and leasing products and services, including card services and merchant services, as well as certain other banking products and services, may require credit approval.