Toggle nav
Login
Sign on to Online Banking
---
Personal and Small Business:
---
Personal and Small Business:
---
Corporate and Institutional: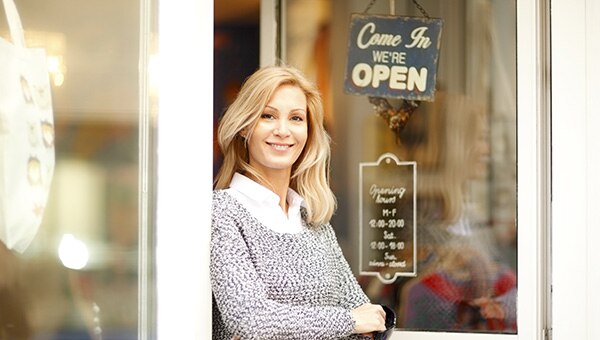 Not long ago, it was widely assumed that online retailers were going to be the death of traditional brick-and-mortar retail stores. With so many great deals online and businesses delivering everything imaginable to your front door, who still needs to shop in the real world, with all the traffic, long lines, crowds, and bored teenagers at the cash register?
But an interesting trend recently has seen several e-commerce retailers set up real-world brick-and-mortar retail spaces. And this is not just for boutiques. Online giants are experimenting with real-world retail stores to complement their online businesses.
Here are a few key things to consider before moving your online business to a brick-and-mortar store location:
Questions Your Business Should Ask
Brick-and-mortar store outlets cost money—and it's a fixed cost every month. There are lots of questions you need to ask yourself. Do you have the cash flow already in place to cover these costs, or can you anticipate making enough money from increased in-store retail sales to cover the overhead? You might need to consider getting a short-term loan or line of credit to cover the costs of making the move from online to real-world retail.
Who's going to run the store? Can you repurpose or reassign people from your existing staff, or do you need to hire more in-store staff? You may need to hire a manager with retail experience, since working with customers in person often requires different skills and personality traits than you might need from your staff for online-only interactions. You might have to invest in customer service and sales training.
Is your business seasonal? If so, make sure to plan your store launch to get ahead of the seasonal retail rush. Is there a new product launch on the horizon that you want to promote via in-store sales? Plan accordingly so your brick-and-mortar store is ready to go in time to host your big product launch push.
Effect on Cash Flow
If you're used to only selling online, opening a retail location can be a big transition. To minimize any negative impact on your cash flow, consider doing a series of pop-up stores. A pop-up retail store is a temporary store location—often with minimalist décor and few trappings—that's designed to create a unique shopping experience centered on a certain set of products or a certain theme.
Using pop-up stores reduces the start-up costs of building and supplying an entire retail store location, while avoiding the up-front investment and risks of committing to the ongoing costs of running a store or signing a lease. Pop-up stores allow you to be experimental and to see what works and what doesn't. Then you can replicate those successes in other locations and based on the data and feedback you've gained from your pop-up store experience, you can transition to a more permanent brick-and-mortar model for the future.
Implications for Strategy
Before opening a brick-and-mortar store, think about your company's overall brand. How important is it for you to be known as a retailer that's online only? What can you offer your customers at a brick-and-mortar retail shop that they cannot get from you online? How can you use the in-store experience to amplify and expand upon the experience of buying from your company?
For example, you can use a store to offer higher-value products that require in-person viewing, and deliver higher-quality customer service. An in-store experience can deepen relationships with your existing customers by giving them a valuable place to communicate with your brand.
You should also consider your clientele. Are they younger, more digitally adept consumers who would prefer the online experience, or are they from an older generation that may be more comfortable with the traditional brick-and-mortar experience?
Ideally, a brick-and-mortar store should be an extension of your online presence, while also delivering some kind of powerful and inspiring real-world interaction that people can't get from a website alone.
Small businesses are thinking outside of the big-box model of retail and coming up with new ideas to blend technology and e-commerce into the traditional in-store setting. Fortunately, there are many exciting innovations happening in retail that are transforming the fundamental concept of what a store can be.
Optimize Your Business Cash Flow
Important Legal Disclosures and Information
PNC is a registered mark of The PNC Financial Services Group, Inc. ("PNC"). This article has been prepared for general information purposes by the author who is solely responsible for its contents. The opinions expressed in these articles are those of the author and do not necessarily reflect the opinions of PNC or any of its affiliates, directors, officers or employees. This article is not intended to provide legal, tax or accounting advice or to suggest that you engage in any specific transaction, including with respect to any securities of PNC, and does not purport to be comprehensive. Under no circumstances should any information contained in the presentation, the webinar or the materials presented be used or considered as an offer or commitment, or a solicitation of an offer or commitment, to participate in any particular transaction or strategy or should it be considered legal or tax advice. Any reliance upon any such information is solely and exclusively at your own risk. Please consult your own counsel, accountant or other advisor regarding your specific situation. Neither PNC Bank nor any other subsidiary of The PNC Financial Services Group, Inc., will be responsible for any consequences of reliance upon any opinion or statement contained here, or any omission. Banking and lending products and services, bank deposit products, and Treasury Management products and services for healthcare providers and payers are provided by PNC Bank, National Association, a wholly owned subsidiary of PNC and Member FDIC. Lending and leasing products and services, including card services and merchant services, as well as certain other banking products and services, may require credit approval.