Toggle nav
Login
Sign on to Online Banking
---
Personal and Small Business:
---
Personal and Small Business:
---
Corporate and Institutional: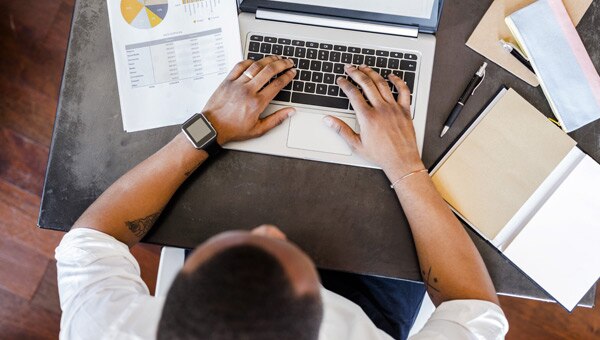 Small business owners work hard to ensure their enterprises are separate entities, so many are surprised to learn that their personal finances can affect the creditworthiness of their businesses. Lenders look at a few key factors, and it's important to be prepared.
Here's the reality: A business may not have any significant history or assets to prove itself. That's why an entrepreneur's personal credit is taken into consideration. The US Small Business Administration (SBA) does not make direct loans, rather they work with lenders who ensures SBA requirements are met.
The SBA Loan Application
Lenders want to see that founders have invested both time and money in their businesses. Your ability to financially invest in your business ultimately depends on your personal finances. If you can't show investments of both sweat and cash, then your application is likely to be rejected. They also have a legitimate concern about the longevity of your business, as it may take a while for it to generate enough income to cover your personal expenses. If you are starting out with personal financial problems, starting a business is unlikely to ease them.
Beyond your commitment, you also need to demonstrate your willingness to pay and your ability to cover your current expenses and the additional loan. Having the initiative to start a business doesn't prove you will be responsible with bank accounts and financial responsibilities. One way lenders assess the willingness to pay is to look at how an owner has handled personal debts in the past. An applicant who has a history of problems with debt may have a hard time qualifying for a small business loan. The concern is that bad money habits caused personal financial problems, and those habits could cause problems with finances for the business.
Credit scores range from 300 to 850, with higher being better than lower. Generally, a score of 670 or above is considered to be good, 740 is very good, and 800 is exceptional.[1] Because your personal credit rating will be considered, take some steps to clean it up before submitting an SBA loan application. Contact the three credit rating agencies to find out your credit scores and check for inaccuracies. And make sure you make payments on time, and pay off smaller outstanding amounts if you can. Fair Isaac Corporation[2], the company that developed the algorithms used to calculate credit scores, has additional information on other steps you can take.[3]
Optimize Your Business Cash Flow
Important Legal Disclosures and Information
https://www.experian.com/blogs/ask-experian/infographic-what-are-the-different-scoring-ranges/

http://www.fico.com/

https://www.myfico.com/credit-education/improve-your-credit-score/
PNC is a registered mark of The PNC Financial Services Group, Inc. ("PNC"). This article has been prepared for general information purposes by the author who is solely responsible for its contents. The opinions expressed in these articles are those of the author and do not necessarily reflect the opinions of PNC or any of its affiliates, directors, officers or employees. This article is not intended to provide legal, tax or accounting advice or to suggest that you engage in any specific transaction, including with respect to any securities of PNC, and does not purport to be comprehensive. Under no circumstances should any information contained in the presentation, the webinar or the materials presented be used or considered as an offer or commitment, or a solicitation of an offer or commitment, to participate in any particular transaction or strategy or should it be considered legal or tax advice. Any reliance upon any such information is solely and exclusively at your own risk. Please consult your own counsel, accountant or other advisor regarding your specific situation. Neither PNC Bank nor any other subsidiary of The PNC Financial Services Group, Inc., will be responsible for any consequences of reliance upon any opinion or statement contained here, or any omission. Banking and lending products and services, bank deposit products, and Treasury Management products and services for healthcare providers and payers are provided by PNC Bank, National Association, a wholly owned subsidiary of PNC and Member FDIC. Lending and leasing products and services, including card services and merchant services, as well as certain other banking products and services, may require credit approval.