Buy vs. Lease?
Making the Right Decision for Your Business
by Marcia Layton Turner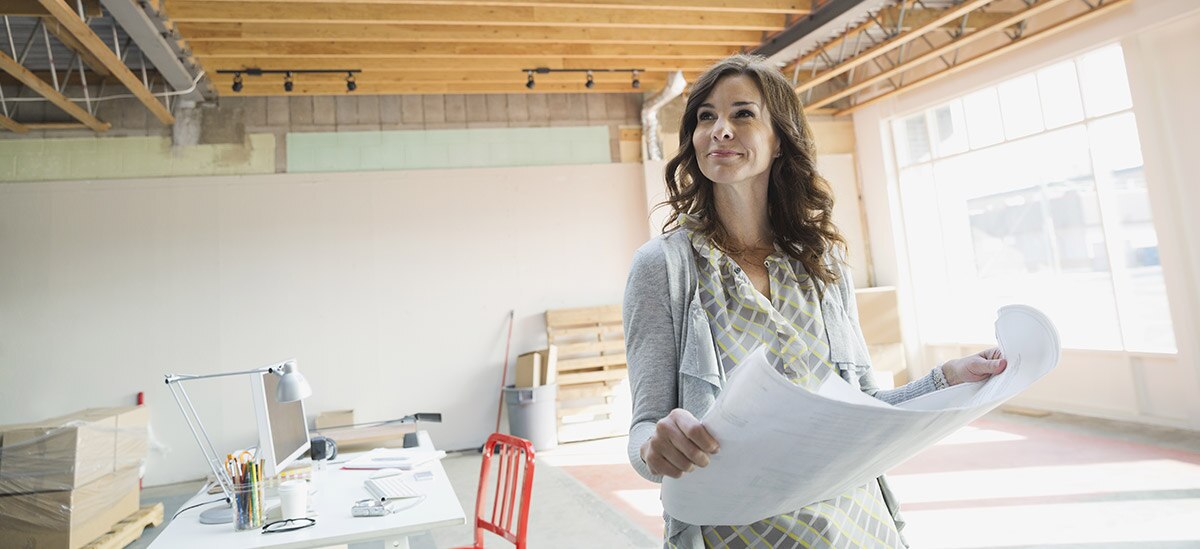 Most small businesses start out leasing space and taking advantage of the lower monthly costs and flexibility that renting provides. Many remain lessees for the same reasons. Others, however, reach a point at which buying a building makes more sense than paying a landlord a monthly fee.
How do you know if you're at that point? By taking a look at your business's financials and your plans for the future.
Rosemary Camposano, co-owner of Halo Blow Dry Bars, Inc. leased space for the first three Halo locations in California. Now that a fourth location is set to open, however, Camposano is considering a building purchase. Here is why now is the right time for Halo:
Equivalent cost
At Halo's fourth planned location, the monthly cost to rent and the cost of a mortgage payment on the property is about the same: $5,000 – 6,000 per month. Yet with a commercial mortgage, Camposano and her partners can build equity in an asset — a building.
When the cost to lease is the same as or more than the cost to buy a building, it's time to seriously crunch the numbers.
Acquiring collateral for future lending.
A more important reason to buy is the need for assets through which Camposano can acquire additional funding. With Halo growing rapidly, the company anticipates the need for taking on debt in order to continue to open new locations.
"Almost no bank will loan to a small business if your business has no assets," says Camposano, based on conversations she has had with several banks. But owning an asset like commercial property "becomes an anchor for other borrowing opportunities," she explains.
If you foresee significant future growth that will require investors or loans, building an asset base through the purchase of a building can make a lot of sense.
The established business is profitable.
Until you've been in business for at least three years and have achieved steady profitability, committing to a building purchase is risky. Halo, fortunately, has done both.
"It makes all kinds of accounting sense," says Camposano, since Halo is beyond worrying about survival; the company has achieved steady revenues that are unaffected by economic cycles or seasonality.
If your company is well past start-up, with a consistent revenue stream and an interest in fortifying the asset side of your balance sheet, investing in a building may be a wise move.
The need for space is fixed or stable.
Companies experiencing or anticipating rapid growth that will cause a need for more floor space may want to stick to leasing. If your need for retail, warehouse, office, or manufacturing space is ever-growing, committing to operate out of a building with finite square footage may not be appropriate. One of the major advantages of leasing is the ability to move or expand in sync with the business's needs. Once you buy a building, your flexibility is diminished.
Only when your business growth has stabilized, or your need for space will be met by opening additional locations, should buying property be considered.
Camposano sees buying a building as an important next step for her company: "It will act as an accelerant for business growth."
Important Legal Disclosures and Information
PNC is a registered mark of The PNC Financial Services Group, Inc. ("PNC"). This article has been prepared for general information purposes by the author who is solely responsible for its contents. The opinions expressed in these articles are those of the author and do not necessarily reflect the opinions of PNC or any of its affiliates, directors, officers or employees. This article is not intended to provide legal, tax or accounting advice or to suggest that you engage in any specific transaction, including with respect to any securities of PNC, and does not purport to be comprehensive. Under no circumstances should any information contained in the presentation, the webinar or the materials presented be used or considered as an offer or commitment, or a solicitation of an offer or commitment, to participate in any particular transaction or strategy or should it be considered legal or tax advice. Any reliance upon any such information is solely and exclusively at your own risk. Please consult your own counsel, accountant or other advisor regarding your specific situation. Neither PNC Bank nor any other subsidiary of The PNC Financial Services Group, Inc., will be responsible for any consequences of reliance upon any opinion or statement contained here, or any omission. Banking and lending products and services, bank deposit products, and Treasury Management products and services for healthcare providers and payers are provided by PNC Bank, National Association, a wholly owned subsidiary of PNC and Member FDIC. Lending and leasing products and services, including card services and merchant services, as well as certain other banking products and services, may require credit approval.