Mastering Cash Flow Through Cash Infusions
by Erika Napoletano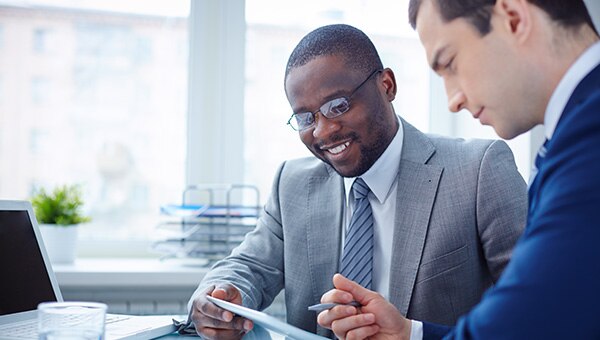 It's the nature of business to be cyclical. This means your company's cash flow will find their own high and low points as well, throughout the seasons and throughout the years. Will you make it from this ebb to the next flow? Would getting a cash infusion in the form of a business loan or line of credit help you? And how can you best use this cash infusion to improve your business?
Here, we'll talk about how lines of credit and business loans can be leveraged to help your growing business—not to mention your growing cash flow.
Why Should You Have a Business Line of Credit?
It's great to consistently have enough cash stored in your bank account to cover ongoing expenses. That probably means your business is doing well. But you also may want to consider the ways that having a business line of credit (LOC) can work to your advantage. Chances are, there'll be situations over the life of your business where it would make more sense to borrow, rather than completely empty your accounts.
If you were suddenly hit with an emergency, what would that do to your available cash? By spending a lot of money to fix your problem, you could end up sacrificing all that available cash—which is one of your most valuable assets. Opening a business LOC can help protect your assets by giving you a short-term boost to your cash flow.
But they're not just to help in an emergency. A business LOC can also be helpful when you have a chance to make a significant investment that can immediately improve your business. What if you come across an excellent deal on trucks that would surely expand your customer delivery base? Or if you have an opportunity to buy inventory at a steep discount? With access to a business LOC, a business could be in prime position to take advantage of these opportunities.
When Should You Use a Business Term Loan?
Unlike a line of credit, a term loan can give your business a lump sum cash infusion, and the loan balance is paid back over a specific term with a set interest rate, similar to a mortgage or auto loan. And like a mortgage or an auto loan, these business term loans are best utilized for set capital needs. A smart business owner will want to make sure that loan works in a way that helps the business's cash continue to flow.
This may include investing in ownership of a large property that will give a business room to expand, or purchasing high-end equipment that would increase productivity and sales. These are significant purchases that should be made with the long-term goals of the business in mind, and you should make sure they won't interfere with the short-term goals of the business. If you do your research and crunch the numbers, it may be worth it for your business to take out a business loan—but only if it can accelerate your cash flow at a rate that outpaces the interest you'll pay on the loan.
Like lines of credit, term loans can be either unsecured or secured. If you're buying property or equipment, you may want to consider using that property or equipment to secure the loan.
Talk to a Financial Advisor
If you're still trying to decide between a LOC and term loan, a conversation with your banker can help you explore the options that best match your needs. There's no cash flow crunch that can't be managed without the help of a smart relationship with your financial institution, who have the information to help your ebb turn back into flow.
Your financial institution will likely have a variety of business lines of credit and term loans available. A conversation with your banker can help steer you toward the best solution to help keep your company's cash flow healthy.
Optimize Your Business Cash Flow
Important Legal Disclosures and Information
Source
https://www.canva.com/
PNC is a registered mark of The PNC Financial Services Group, Inc. ("PNC"). This article has been prepared for general information purposes by the author who is solely responsible for its contents. The opinions expressed in these articles are those of the author and do not necessarily reflect the opinions of PNC or any of its affiliates, directors, officers or employees. This article is not intended to provide legal, tax or accounting advice or to suggest that you engage in any specific transaction, including with respect to any securities of PNC, and does not purport to be comprehensive. Under no circumstances should any information contained in the presentation, the webinar or the materials presented be used or considered as an offer or commitment, or a solicitation of an offer or commitment, to participate in any particular transaction or strategy or should it be considered legal or tax advice. Any reliance upon any such information is solely and exclusively at your own risk. Please consult your own counsel, accountant or other advisor regarding your specific situation. Neither PNC Bank nor any other subsidiary of The PNC Financial Services Group, Inc., will be responsible for any consequences of reliance upon any opinion or statement contained here, or any omission. Banking and lending products and services, bank deposit products, and Treasury Management products and services for healthcare providers and payers are provided by PNC Bank, National Association, a wholly owned subsidiary of PNC and Member FDIC. Lending and leasing products and services, including card services and merchant services, as well as certain other banking products and services, may require credit approval.
GET IN TOUCH

Stay Connected

Join Us

Be part of our inclusive culture that strives for excellence and rewards talent.

Visit PNC Careers »
The PNC Financial Services Group, Inc. All rights reserved.