Toggle nav
Login
Sign on to Online Banking
---
Personal and Small Business:
---
Personal and Small Business:
---
Corporate and Institutional:
Running Credit Checks on Customers
By Ben Gran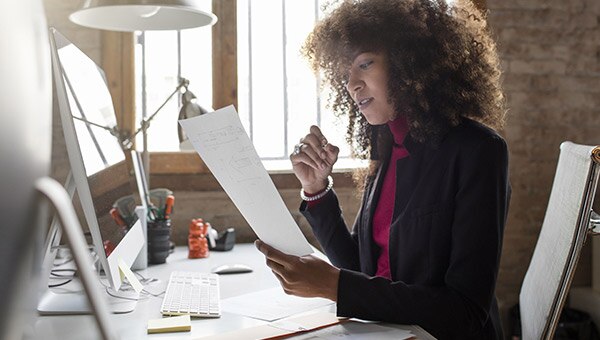 One area of cash flow management where businesses often face special challenges is dealing with slow-paying or delinquent customers. When customers don't pay their bills, a small business is more likely to suffer because it often lacks the large cash reserves or widely diversified revenue streams that bigger companies tend to have. This makes it that much more important to run credit checks on their customers. When an invoice goes unpaid for months, it can stop cash flow dead in its tracks. Before you commit to doing business with a new customer, consider running a credit check on them to make sure you're confident in their ability to pay their bills.
However, running credit checks on your customers can be a sensitive issue, and there are various considerations to keep in mind, such as permissions and privacy issues.
Here are few key points to keep in mind when you're running credit checks on customers for your small business:
Why Credit Checks?
Small businesses often decide to run credit checks on new customers to make sure the customers are a good risk to pay their bills. This is especially important when entering into a large purchase agreement or a long-term contract, or when offering financing to a customer. Small businesses cannot afford to lose money and experience decreased cash flow from customers who don't pay or are slow to pay their bills. If a customer has less-than-perfect credit, you can either choose not to enter into a business agreement with them, or you can use the results of the credit check as leverage to ask for more favorable payment terms. For example, a customer with bad credit could be asked to pay a larger deposit upfront.
When You Should Run Credit Checks
Running credit checks on customers should not be taken lightly. You need to have a permissible use for the credit check information. According to the Fair Credit Reporting Act[1], credit checks can only be conducted for legitimate business needs such as credit transactions, account review or underwriting of insurance. Another good reason for running credit checks is prior to entering into a long-term financial contract.
Deciding whether to offer credit to a new customer or whether to enter into a long-term business agreement isn't always easy, but it can be simpler and more transparent if you have a good idea of whether or not your new customer is creditworthy. Know the rules for when and how to run credit checks on your customers. Use trusted credit-reporting agencies to run instant credit checks, and consider using longer-term services like ongoing credit monitoring.
How to Run a Credit Check
First you need to get permission from the customer—in writing—before you run a credit check. Then use a major credit-reporting agency like Equifax, TransUnion or Experian to actually run the credit check. These services charge fees that range from $8 to around $20 per credit check[2].
The credit-reporting agency will give you results in the form of a ranking of one to nine, where one means the customer is more likely to pay debts on time, and nine means that the customer likely has a lot of late payments and bad debts. This should make it easy for you to quickly evaluate whether you want to do business with a new customer, or whether you might want to ask for more stringent payment terms to ensure that your company gets paid. These credit-reporting agencies also offer a wider array of business credit services[3], like public records of critical business information such as liens and judgments, as well as corporate profiles for high-risk credit decisions.
Running credit checks on potential customers can be a great way to protect your business from cash flow problems that arise with doing business with customers who may be a poor credit risk.
Optimize Your Business Cash Flow
Important Legal Disclosures and Information
http://www.consumer.ftc.gov/sites/default/files/articles/pdf/pdf-0111-fair-credit-reporting-act.pdf

http://www.inc.com/guides/2010/12/how-to-run-a-credit-check.html

http://www.experian.com/small-business/business-credit-risk.jsp
PNC is a registered mark of The PNC Financial Services Group, Inc. ("PNC"). This article has been prepared for general information purposes by the author who is solely responsible for its contents. The opinions expressed in these articles are those of the author and do not necessarily reflect the opinions of PNC or any of its affiliates, directors, officers or employees. This article is not intended to provide legal, tax or accounting advice or to suggest that you engage in any specific transaction, including with respect to any securities of PNC, and does not purport to be comprehensive. Under no circumstances should any information contained in the presentation, the webinar or the materials presented be used or considered as an offer or commitment, or a solicitation of an offer or commitment, to participate in any particular transaction or strategy or should it be considered legal or tax advice. Any reliance upon any such information is solely and exclusively at your own risk. Please consult your own counsel, accountant or other advisor regarding your specific situation. Neither PNC Bank nor any other subsidiary of The PNC Financial Services Group, Inc., will be responsible for any consequences of reliance upon any opinion or statement contained here, or any omission. Banking and lending products and services, bank deposit products, and Treasury Management products and services for healthcare providers and payers are provided by PNC Bank, National Association, a wholly owned subsidiary of PNC and Member FDIC. Lending and leasing products and services, including card services and merchant services, as well as certain other banking products and services, may require credit approval.