Daily Deals: Boosting Business Cash Flow Through Inventory Reduction
by Erika Napoletano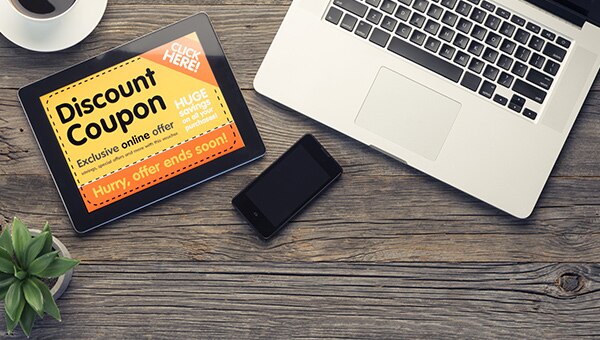 Take a moment to consider the current state of your inventory. If you have more than you planned sitting on shelves, that's could-be revenue—and it's not doing your company coffers much good to have excess merchandise taking up space in your warehouse.
Daily deal and flash sale sites can be a great way for consumer-facing businesses to quickly turn excess inventory into revenue that can be reinvested back into the business. Though these sites can be an overlooked inventory-reduction method, there are things to think about.
Partners to Consider
There are a plethora of daily deal and flash sale sites out there that are eager to help turn your excess inventory into sales. Some of the more popular ones include LivingSocial, Gilt, Groupon, and Woot.
Keep in mind that there are many layers to partnering with a daily deal site. Some of them only operate locally or nationally, so make sure you're picking a partner that can service your customers. You should also be sure to review the various aspects of each deal from these sites, including what they charge for commission. What percentage of your sale will the site take for hosting the deal? What are the fulfillment costs, and who is responsible for fulfilling the orders?
Don't forget to consider the impact these deals may have on your marketing plans. Do you have a plan to market to those who purchase your deal before and after the sale? How will the special offer get the customer back to buy more? And consider your staffing costs. Will the influx of orders affect your staffing needs? Will the payroll be affected?
Potential Pitfalls
There's rarely a conversation about daily deal sites that doesn't come with an appropriate set of warnings for the vendor. But the key for any vendor that's considering using one of these sites to help reduce inventory is to know the pitfalls and how to avoid them.
Don't be overwhelmed by the demand. Go into every daily deal sale knowing the exact quantity you have for sale and what it will cost you to meet all of your obligations to fulfill that sale. This includes shipping and other costs to fulfill orders in a timely fashion.
Be customer-service savvy. Many daily deal sites offer merchant ratings. It's easy for a disgruntled buyer to blast you on social media for a poor customer experience. Make sure you have a customer service team in place, ready to keep customers happy and answer questions.
Make it a priority. Be sure to treat your daily deal sale with the same priority as a full-priced sale. This seems like common sense, but some vendors treat discounted sales differently from full-priced sales, which is just not good business. Treat those daily deal sales with the same TLC as you would any other sale.
Negotiate the deal wisely. For consumer-facing businesses, daily deal sites can help reduce inventory in a flash. They have the subscriber lists filled with deal-hungry shoppers, ready to buy what you have to offer. But don't forget that a relationship with a daily deal site is a partnership that has to be beneficial for both parties. A poorly negotiated sale can leave you regretting letting that inventory go at a reduced rate. A well-planned and negotiated deal can leave you wondering why you didn't think of a daily deal site sooner.
With some sound business sense—and a pinch of good luck—you could be on your way to unloading inventory through daily deal sites.
Important Legal Disclosures and Information
PNC is a registered mark of The PNC Financial Services Group, Inc. ("PNC"). This article has been prepared for general information purposes by the author who is solely responsible for its contents. The opinions expressed in these articles are those of the author and do not necessarily reflect the opinions of PNC or any of its affiliates, directors, officers or employees. This article is not intended to provide legal, tax or accounting advice or to suggest that you engage in any specific transaction, including with respect to any securities of PNC, and does not purport to be comprehensive. Under no circumstances should any information contained in the presentation, the webinar or the materials presented be used or considered as an offer or commitment, or a solicitation of an offer or commitment, to participate in any particular transaction or strategy or should it be considered legal or tax advice. Any reliance upon any such information is solely and exclusively at your own risk. Please consult your own counsel, accountant or other advisor regarding your specific situation. Neither PNC Bank nor any other subsidiary of The PNC Financial Services Group, Inc., will be responsible for any consequences of reliance upon any opinion or statement contained here, or any omission. Banking and lending products and services, bank deposit products, and Treasury Management products and services for healthcare providers and payers are provided by PNC Bank, National Association, a wholly owned subsidiary of PNC and Member FDIC. Lending and leasing products and services, including card services and merchant services, as well as certain other banking products and services, may require credit approval.