The Delegation Dilemma: Five Steps to Delegate More Effectively
by Scott Westcott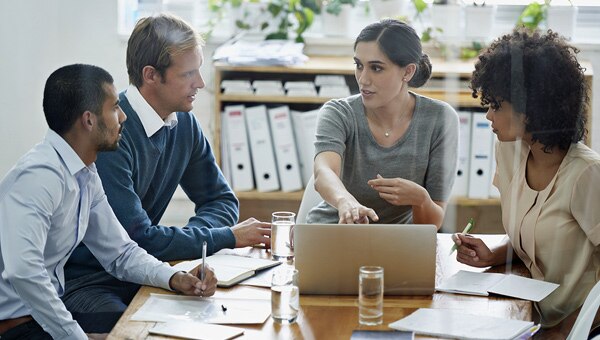 When you're a small business owner, it's easy to fall into the work-won't-get-done right-unless-I do-it mentality. Yet, an ever-increasing chunk of your hours may be chewed up by routine administrative and accounting tasks, as well as any other responsibilities that reach outside your true expertise. But if you really want to grow, you need to learn to let go. That means delegating to in-house employees or outsourcing to capable vendors you can trust to take care of certain aspects of running the business—while you focus on more valuable priorities.
Here's your five-step program to put you on the road to being a better delegator.

1. Identify Your Strengths
Companies are better served when they identify and develop each employee's strengths rather than focusing an exorbitant amount of time on improving areas where they may not be as proficient. Undertaking a similar exercise can be equally valuable for a small business owner. Clearly identifying the areas in which you excel and bring the most value is the first step to figuring out the best way to spend your time—and what not to do. If you have a leadership team or managers, it might be useful for them to participate in the process as well.
2. Assess How Your Time Is Spent
After identifying your sweet spots when it comes to high-value activities, it's time to look at the cold reality of how you're spending your time. Assess your current duties and track the amount of time you typically commit to certain activities. Once you get a clear snapshot of the time you spend each day or week on specific duties, match that up against your strengths and your most high-valued tasks. Now consider how much you'd like to commit to those tasks as opposed to things that are consuming too much of your time.
3. Look for Delegation Opportunities
This is the point in which delegation paralysis can set in. So many tasks, but what to delegate? There are two areas to consider when delegating tasks and responsibilities outside of your organization—routine tasks or work that requires specialized expertise that you and your team do not possess. The routine tasks could be anything from basic payroll services or billing, to transcription services or mailing business development materials.
Think broadly—there may be activities that you haven't even considered that could be candidates for delegation, like customer service and social media marketing. When it comes to specialized services, tapping a resource with specific expertise can save time and money in the long run by allowing your team to focus on what they do best.
4. Address the Small Stuff First
The key to making delegation part of your routine business is to take a methodical approach. Identify an area in which you are comfortable shifting responsibility to another employee or outside source.
Set clear expectations and create a timeline where you can evaluate the success of the approach. When looking for vendors, look for referrals from other business owners who have had success so you can improve your chances of a positive experience.
5. Turn Delegation into a Strategic Edge
Ultimately, you should view delegation as a business strategy that will help you achieve your long-term goals. When viewed in that context, it may become easier to let go and to see how effective delegation fits into your overall plan to run a growing business more efficiently.
All other things being equal in business, the better delegator will usually win. Ultimately, if you delegate well, you can be more profitable—and satisfied that you're doing the work that best taps your unique skill set, knowledge, and strengths.
Important Legal Disclosures and Information
PNC is a registered mark of The PNC Financial Services Group, Inc. ("PNC"). This article has been prepared for general information purposes by the author who is solely responsible for its contents. The opinions expressed in these articles are those of the author and do not necessarily reflect the opinions of PNC or any of its affiliates, directors, officers or employees. This article is not intended to provide legal, tax or accounting advice or to suggest that you engage in any specific transaction, including with respect to any securities of PNC, and does not purport to be comprehensive. Under no circumstances should any information contained in the presentation, the webinar or the materials presented be used or considered as an offer or commitment, or a solicitation of an offer or commitment, to participate in any particular transaction or strategy or should it be considered legal or tax advice. Any reliance upon any such information is solely and exclusively at your own risk. Please consult your own counsel, accountant or other advisor regarding your specific situation. Neither PNC Bank nor any other subsidiary of The PNC Financial Services Group, Inc., will be responsible for any consequences of reliance upon any opinion or statement contained here, or any omission. Banking and lending products and services, bank deposit products, and Treasury Management products and services for healthcare providers and payers are provided by PNC Bank, National Association, a wholly owned subsidiary of PNC and Member FDIC. Lending and leasing products and services, including card services and merchant services, as well as certain other banking products and services, may require credit approval.