The Devilish Details of Inventory Management
by Mark Henricks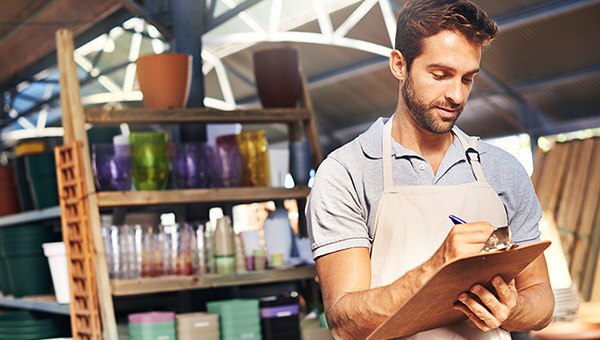 Managing inventory is a big job composed of many smaller jobs. Some of these tasks are clearly of considerable significance, such as deciding what kind of inventory management software to invest in. Others seem only slightly important, but can have an outsized impact. For instance, choosing to count raw materials by package when they are used by weight could lead to interrupted production due to running out of a key material.
First Steps of Inventory Management
The first subsidiary task is to decide your purpose for managing inventory, which will vary by company. Some firms are primarily concerned about identifying, measuring and controlling shrinkage. Others may want to avoid shortfalls or surpluses as an overriding objective. Clarifying the purposes of managing inventory can help guide other decisions during the process.
The next chore tackled when setting up an inventory management system is identifying all storage locations. The key concerns here are that every location have a name, and that every location name is unique. It's best that location names be neither too long, so that they are cumbersome to read and enter, nor so short and loaded with arcane abbreviations that it's not clear what location is being referred to.
After organizing locations by name, it's time to select descriptions, numbers, and labels for items. Descriptions should be clear and include enough information to completely and uniquely identify every item, without any unnecessary details. They should usually begin with the generic item name, then add modifiers. For instance: "shirt, mens, long sleeve, white, large."
Identifying and Labeling Your Inventory
Item numbers should also be brief and unique. It's important to avoid using letters that can be confused with numbers, as well as symbols that may be interpreted wrongly by machines or humans. For instance, inserting a comma may suggest that a model number is actually a price.
Labels are very important, since these will identify items to human eyes or machine scanners. Letters on labels should be large enough that words can be easily read from several feet away at least. Choose colors for label stock and printing for high visibility and to avoid blending into colors on shelving, racks, walls or floors.
Choosing the units of measure for inventory is a trivial-sounding task that can greatly influence an inventory management system's overall efficiency, or lack thereof. Inventory can be counted by weight, by box, by single piece, by a multiple such as 100 pieces, and many other ways. The chosen measure should be as consistent as possible over the item's progress through the business. Eggs may be purchased by the gross and used one at a time, but it will only complicate matters further if inventory counts them by the dozen. Measures should also be unique and each measure should only have one name. Use "case" or "pack," but not both.
Inventory Software and Training
Selecting inventory management software is an important task that may be overlooked, especially if a business is inclined to use general-purpose business software it already has for the job. Spreadsheets are one tool every business has, and they are indispensable for many purposes but they are not ideal for inventory management. Special-purpose inventory management software provides many useful capabilities, such as ease of use, data security, customizable reports, data sharing with remote offices and suppliers, adding images to records and more.
Training is one final—and often overlooked—element of inventory management that needs attention. The people who will be doing the inventory management need solid foundations of skill in dealing with location labels, item names, part numbers, quantities, and technology such as scanners and data entry terminals. If this last detail of inventory management is tended to, then the rest of the details will come together much more smoothly to create a powerful, flexible and informative inventory management system.
Important Legal Disclosures and Information
PNC is a registered mark of The PNC Financial Services Group, Inc. ("PNC"). This article has been prepared for general information purposes by the author who is solely responsible for its contents. The opinions expressed in these articles are those of the author and do not necessarily reflect the opinions of PNC or any of its affiliates, directors, officers or employees. This article is not intended to provide legal, tax or accounting advice or to suggest that you engage in any specific transaction, including with respect to any securities of PNC, and does not purport to be comprehensive. Under no circumstances should any information contained in the presentation, the webinar or the materials presented be used or considered as an offer or commitment, or a solicitation of an offer or commitment, to participate in any particular transaction or strategy or should it be considered legal or tax advice. Any reliance upon any such information is solely and exclusively at your own risk. Please consult your own counsel, accountant or other advisor regarding your specific situation. Neither PNC Bank nor any other subsidiary of The PNC Financial Services Group, Inc., will be responsible for any consequences of reliance upon any opinion or statement contained here, or any omission. Banking and lending products and services, bank deposit products, and Treasury Management products and services for healthcare providers and payers are provided by PNC Bank, National Association, a wholly owned subsidiary of PNC and Member FDIC. Lending and leasing products and services, including card services and merchant services, as well as certain other banking products and services, may require credit approval.