Toggle nav
Login
Sign on to Online Banking
---
Personal and Small Business:
---
Personal and Small Business:
---
Corporate and Institutional: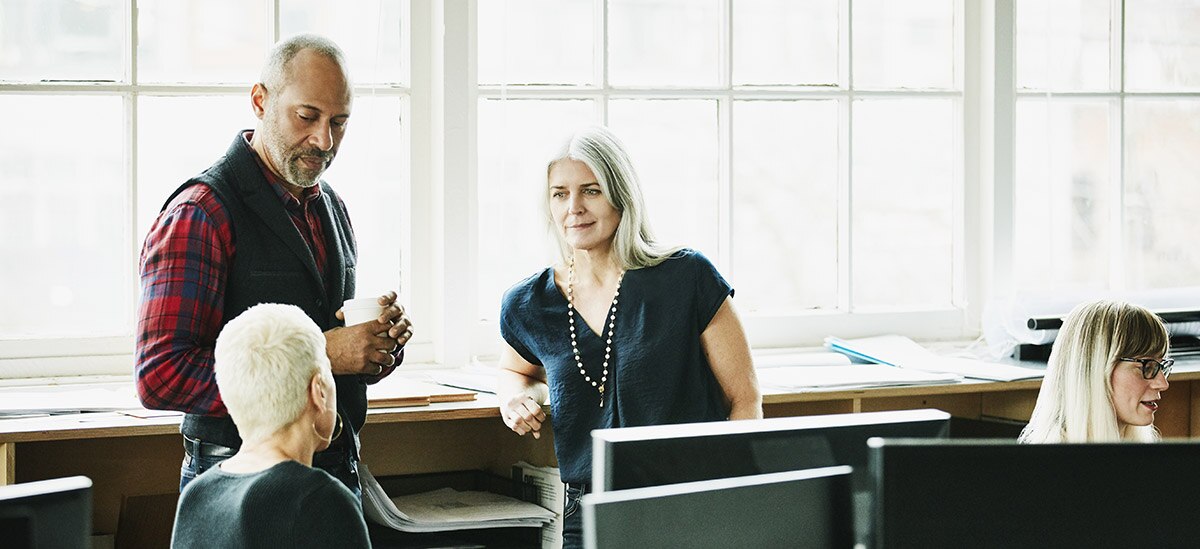 As your business grows, you'll want to make sure your employees receive top-notch benefits that help them lead happy, healthy lives outside of your company's walls, including health insurance and financial management programs. That includes considering their wellbeing after they leave your employment by giving them access to a retirement plan such as a 401(k) or pension — even if your team consists of millennials.
When choosing a retirement plan, you'll need to make sure that you're investing in the best possible option — one that empowers your employees to value their time with your business and prepare for the rest of their lives. Here are few ways to implement a retirement plan that does exactly that:
Step 1: Find experts to help you navigate your blind spots
Business owners often work with CPAs to prepare for their own retirements. The process of implementing a retirement plan for employees, however, is new territory. Business owners who are navigating this area for this first time may need help shopping around for plans.
"Like anything new, one of the main challenges is that you only know what you know," explains Chuck Buckmaster, founder at Processing Point — a merchant processing company for small and medium-sized businesses across the country.
Typically, to get all the answers needed, a business owner will need to interact with multiple service providers when building out their retirement plans. Matthew B. Boersen, a certified financial planner who is in the process of implementing a retirement plan for his own team, explains that business owners often need three types of guides:
The first is the plan custodian, who tracks daily account balances, creates statements, and provides custody of the investments. Second is the third party administrator (TPA), who runs the compliance and discrimination testing for the plan, along with the form 5500 filing with the DOL and IRS. Lastly, most small business plans have a financial advisor who helps the plan make decisions on the investments in the plan and possibly helps participants with retirement planning and investment selection.
"We used our CPA and financial planners to help start this process," says Buckmaster. "This was an area of their expertise and they were able to help us through the research and implementation stages."
Step 2: Talk to employees
A plan is only as strong as its participants. Organizations need to make sure their ideas are in line with their employees' long-term goals. Consider implementing an anonymous survey and ask employees to participate in voluntary, face-to-face interviews.
After choosing a plan, business owners should prepare to train their employees to ensure continued engagement.
"Many employees need encouragement and education to actively participate in the plan," says Boersen. "The employer's willingness to educate — and many times this is the role of the financial advisor — will directly correlate to the utilization of the plan."
In addition to assessing immediate needs, business owners should maintain a long-term view to anticipate plans that they may implement in the future.
"Anticipate what you see your business offering in the future," says Buckmaster. "Reacting after the fact sometimes forces you to overpay or rush implementation, which is never a good thing when making such an important decision."
Step 3: Research extensively
There are a range of plans available at varying price points. As Boersen points out, 'expensive' is not always better.
"There still remains a large gap between service providers in both service and cost," says Boersen. "Some of the least expensive providers are consistently rated the highest in service."
Cast your net wide by talking to a range of professionals — including fellow leaders at organizations that are similar to yours in terms of size and revenue. You may find that there is more to the story — beyond what you thought you knew.
An employee retirement plan represents a significant milestone for your business. As your company continues to grow — and attract the best talent — your benefit needs will continue to evolve.
"We were fortunate to have started out small and the financial impact was justifiable," says Buckmaster. "As we grow, we can now factor in these costs when hiring new employees to keep our retirement plan sustainable."
Optimize Your Business Cash Flow
Important Legal Disclosures and Information
PNC is a registered mark of The PNC Financial Services Group, Inc. ("PNC"). This article has been prepared for general information purposes by the author who is solely responsible for its contents. The opinions expressed in these articles are those of the author and do not necessarily reflect the opinions of PNC or any of its affiliates, directors, officers or employees. This article is not intended to provide legal, tax or accounting advice or to suggest that you engage in any specific transaction, including with respect to any securities of PNC, and does not purport to be comprehensive. Under no circumstances should any information contained in the presentation, the webinar or the materials presented be used or considered as an offer or commitment, or a solicitation of an offer or commitment, to participate in any particular transaction or strategy or should it be considered legal or tax advice. Any reliance upon any such information is solely and exclusively at your own risk. Please consult your own counsel, accountant or other advisor regarding your specific situation. Neither PNC Bank nor any other subsidiary of The PNC Financial Services Group, Inc., will be responsible for any consequences of reliance upon any opinion or statement contained here, or any omission. Banking and lending products and services, bank deposit products, and Treasury Management products and services for healthcare providers and payers are provided by PNC Bank, National Association, a wholly owned subsidiary of PNC and Member FDIC. Lending and leasing products and services, including card services and merchant services, as well as certain other banking products and services, may require credit approval.