Toggle nav
Login
Sign on to Online Banking
---
Personal and Small Business:
---
Personal and Small Business:
---
Corporate and Institutional: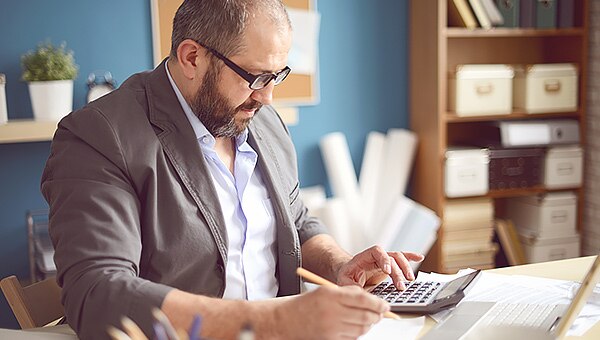 Customers already have many payment options, from cash to check to credit cards, so do you really need to offer them credit, too? From your customer's perspective, being given the opportunity to pay over time has advantages. Not having to pay their bill immediately can be more convenient for them, and may result in them buying more from you. Spreading out payments can also help their cash flow, although it may put a strain on yours.
But there are compelling reasons a growing business may want to consider it, given the potential for higher sales.
Why Extend Credit?
Besides having a positive impact on sales, extending credit can show you trust and value your customers, which may lead to a stronger reputation that can be good for your business in the long term. Having the financial capacity to offer credit can also enhance your company image by positioning you as well-capitalized.
When you extend credit to customers, you're allowing them to make payment later for something they're buying right now. This may seem like an obvious point, but if you accept checks, you're already extending credit in the short term because you don't receive payment until the check clears—if the check clears at all. Generally, you assume it will (and will have to take steps if it doesn't).
Though customers can create major headaches if they don't pay, the assumption that you'll be repaid is a fair one, since 97 to 98 percent of all credit bills are paid on time1.
Creating the Process and Setting Terms
If you decide to allow customers to pay on credit, make sure you have everything you need to set up a system. Have an application process for customers to complete that gathers their information: full name, mailing and billing addresses, contact numbers, identity verification, and bank references.
Be sure the application includes your payment terms, the due date for payment, and instructions for how and where to make payment. Be specific about how long customers have to pay; somewhere between 30 and 90 days is typical. You should also create a billing schedule that can help remind customers to pay.
Though this is a quick list of how to create a lending process and setting terms, being familiar with Regulation Z or The Truth Lending Act[1] would be best to ensure fair practices in consumer lending.
Protecting Yourself
Take the time to verify credit references, which can help give you assurance you'll likely be paid. Run a credit check and set a minimum FICO score that will be acceptable for your business. Keep in mind that there are regulations that you must adhere to in order to ensure a fair and legal process. Decide up front at what point you'll engage a collection agency to pursue what you're owed, in case a customer doesn't pay. You might consider a requirement that establishes a partial payment up front, especially on large orders.
It also helps to become familiar with the Federal Trade Commission's consumer protection laws, so you're not unknowingly breaking any rules when you're attempting to collect payments.
Extending credit to your customers may boost sales, but keep in mind that credit also costs you money as it puts a strain on your cash flow. You have to pay for the goods and services you're selling before your customer pays you. So, it pays to be picky and weigh the options before you decide who you extend it to.
Optimize Your Business Cash Flow
Important Legal Disclosures and Information
1. https://www.federalreserve.gov/boarddocs/caletters/2009/0909/09-9_attachment.pdf
Source:

http://www.entrepreneur.com/encyclopedia/credit-extending
PNC is a registered mark of The PNC Financial Services Group, Inc. ("PNC"). This article has been prepared for general information purposes by the author who is solely responsible for its contents. The opinions expressed in these articles are those of the author and do not necessarily reflect the opinions of PNC or any of its affiliates, directors, officers or employees. This article is not intended to provide legal, tax or accounting advice or to suggest that you engage in any specific transaction, including with respect to any securities of PNC, and does not purport to be comprehensive. Under no circumstances should any information contained in the presentation, the webinar or the materials presented be used or considered as an offer or commitment, or a solicitation of an offer or commitment, to participate in any particular transaction or strategy or should it be considered legal or tax advice. Any reliance upon any such information is solely and exclusively at your own risk. Please consult your own counsel, accountant or other advisor regarding your specific situation. Neither PNC Bank nor any other subsidiary of The PNC Financial Services Group, Inc., will be responsible for any consequences of reliance upon any opinion or statement contained here, or any omission. Banking and lending products and services, bank deposit products, and Treasury Management products and services for healthcare providers and payers are provided by PNC Bank, National Association, a wholly owned subsidiary of PNC and Member FDIC. Lending and leasing products and services, including card services and merchant services, as well as certain other banking products and services, may require credit approval.