Making Seasonality Work for Your Farm-Based Business
by Ben Gran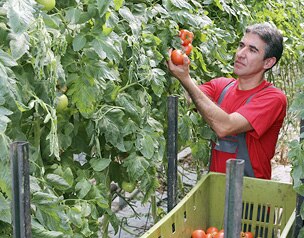 Running a farm, whether you grow row crops or vegetables or berries, is the original "seasonal" business. Every crop has its own unique optimal growing season, and your farm's finances and cash flow also need to adapt to the ups and downs of the calendar year.
Of course, a farmer's work is never done, and there is no true "slow season" in terms of overall farm operations—there is always something to do, whether it's monitoring winter crops, caring for livestock, or preparing for the new planting season. But dealing with seasonal ups and downs in cash flow and managing ongoing marketing activities are crucial to the long-term success of your farm.
Fortunately, there are several ways that farmers can adjust their business operations to make the most of peak season, strategically plan for slow times, and keep building relationships with customers and developing new marketing opportunities, even when fields are fallow and revenues are slow.
Be Financially Disciplined
Successful farmers are often known for their frugality, and it's especially important to manage expenses carefully throughout the year, even during peak season when revenues are at their highest.
Your monthly budget needs to account for the ups and downs of the entire financial year, including conservative estimates for revenue and leaving plenty of financial cushion to cover unexpected expenses. It's always better to be pleasantly surprised by your farm's revenue totals than it is to rely on higher-than-usual crop prices to save the day and balance your books.
Maximize Your Peak Season
Each growing season presents a limited opportunity to produce revenue and "make hay while the sun shines." So, in addition to the usual imperatives of running a farm—like maximizing crop yields—look for ways to reduce waste.
Consider hiring seasonal help to boost your productivity—if you can get more crops to market more quickly, that extra labor cost will be worth the effort.
Think about investing in systems that can reduce food waste—or look for alternate markets for your "less than perfect" crops. For example, many food companies are starting to market "ugly vegetables" or preserves and sauces made from fruits and vegetables that would have otherwise gone to waste.
There are many ways for innovative, forward-thinking farmers to extract some extra earning potential from the busy season.
Get Creative in Extending Your Busy Season
Look for niche markets where you can prolong business into the "off season." For example,
Could you sell your vegetables via a Community Supported Agriculture (CSA)[1] program?
Could you sell smaller quantities of specialized crops to local restaurants?
Could you make value-added products from your farm produce, such as pies, jams, ice cream, or other goods, which can be sold to restaurants, coffee shops, or grocery stores?
What about offering farm tours or overnight farm stays to bring paying visitors to your farm?
Many American consumers are developing a heightened interest in knowing where their food comes from and how their food is produced; there are various opportunities to earn extra money by making your farm a hub of "agritourism."
Learn More About the Business of Farming
One of the best ways to get better at farming—and increase your revenues—is to participate in seminars and conferences with other farmers and farm education leaders. Look for programs in your local area through farmers' co-op organizations, university extension services, and nonprofits dedicated to community agriculture.
There are many innovative ideas circulating within the community of farmers that can help you make your farm more profitable—and the "slow" season is often the best time to start thinking about some bold new strategies for the next busy growing season.
Farmers are known for being smart, curious, hard-working problem solvers. Despite the many challenges of making a living from the land, farmers manage to keep finding new ways to adapt and thrive. On the farm, there never is truly a "slow" season and, with a few key strategies, your farm can find ways to manage your expenses, boost your revenue, and make the most out of every time of year.
Optimize Your Business Cash Flow
Important Legal Disclosures and Information
1. https://www.nal.usda.gov/afsic/community-supported-agriculture
PNC is a registered mark of The PNC Financial Services Group, Inc. ("PNC"). This article has been prepared for general information purposes by the author who is solely responsible for its contents. The opinions expressed in these articles are those of the author and do not necessarily reflect the opinions of PNC or any of its affiliates, directors, officers or employees. This article is not intended to provide legal, tax or accounting advice or to suggest that you engage in any specific transaction, including with respect to any securities of PNC, and does not purport to be comprehensive. Under no circumstances should any information contained in the presentation, the webinar or the materials presented be used or considered as an offer or commitment, or a solicitation of an offer or commitment, to participate in any particular transaction or strategy or should it be considered legal or tax advice. Any reliance upon any such information is solely and exclusively at your own risk. Please consult your own counsel, accountant or other advisor regarding your specific situation. Neither PNC Bank nor any other subsidiary of The PNC Financial Services Group, Inc., will be responsible for any consequences of reliance upon any opinion or statement contained here, or any omission. Banking and lending products and services, bank deposit products, and Treasury Management products and services for healthcare providers and payers are provided by PNC Bank, National Association, a wholly owned subsidiary of PNC and Member FDIC. Lending and leasing products and services, including card services and merchant services, as well as certain other banking products and services, may require credit approval.
GET IN TOUCH

Stay Connected

Join Us

Be part of our inclusive culture that strives for excellence and rewards talent.

Visit PNC Careers »
The PNC Financial Services Group, Inc. All rights reserved.