How Small Business Owners Can Improve Financial Well-Being in 2017
by Ben Gran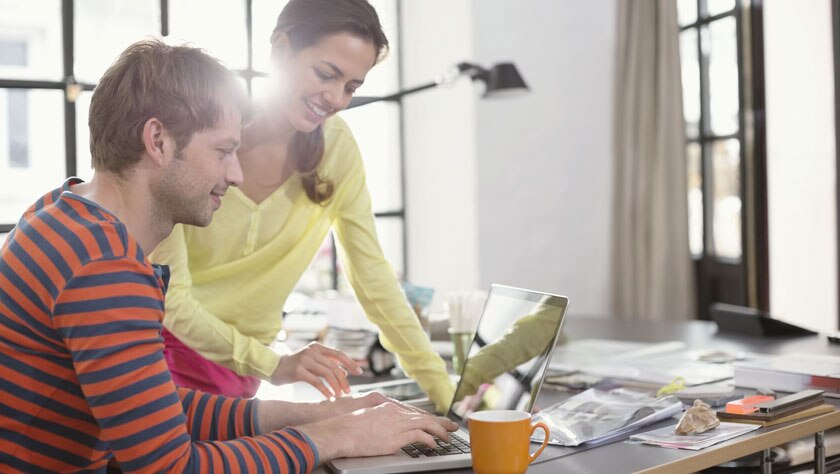 As we look ahead to 2017, it's time for business owners to start thinking about making moves to improve their financial well-being. Every new year is a chance to make a fresh start, end bad habits, improve your investment positions, boost your cash reserves—and get your financial life better organized.
Here are a few easy ways that business owners can improve financial well-being in the new year:
Save for Retirement
One of the best things small business owners can do this year (or any year) to improve financial well-being is to maximize their contributions to tax-advantaged retirement savings accounts.
There are several options for business owners to set up their own retirement plan for their company, their employees, and for themselves. One of the easiest is the Simplified Employee Pension (SEP) plan, which allows employers to set aside money in tax-deductible retirement accounts for the business owner and the business's employees. Contributions can be made at levels up to 25 percent of each employee's pay, and there are no minimum per-year contributions.
Setting up a retirement plan for your company and saving for retirement is important because it gives you and your business an immediate savings on your tax bill, and it also helps you retain talent by giving your employees a valued benefit. Perhaps most importantly, it can give you a more comfortable life and financial legacy once you're ready to retire.
However, many business owners are currently not doing enough to save for retirement. Only 71 percent of small businesses offer retirement plans (compared to 95 percent of firms with 500 or more workers), and only 14 percent of businesses with fewer than ten employees offer a retirement plan for their workers.[1]
Review Your Insurance Coverage
Insurance is one of those business expenses that seems to just keep going up year after year—but many business owners get locked into a sense of inertia and never make time to take a closer look at the details of their insurance coverage.
However, there are often opportunities to save money or get better financial protection (or both) by doing an annual insurance review. Read the fine print of your insurance policies and premiums, and look for better deals by working with an insurance broker or by doing research online. Just by shopping around for different price quotes or coverage options, you might find opportunities to save money and/or expand your coverage.
For example, you could decide that you prefer a higher-deductible health insurance plan with lower premiums, or that you can save money by bundling dental and health insurance together. You may even find that you can trade in a higher-cost whole life insurance policy for a cheaper term life policy.
Insurance is complicated, and everyone's insurance situation is different. But with a bit of research and investigation, you can often find better deals on insurance than what you're paying now.
Meet With Your Accountant
If you only see your accountant at tax time, you're likely missing out on big opportunities to save money and avoid stress throughout the year. Instead of dumping a pile of receipts on your accountant's desk once a year, be sure to schedule regular visits with accountant over the course of the fiscal year. These meetings are a great chance to discuss financial projections, plan for estimated tax payments, evaluate your cash flow, and get some outside perspective on your business's financial performance.
Every new year begins with a sense of promise, energy and excitement—so be sure to capitalize on these feelings of renewal by renewing your dedication to improving your own financial well-being. By making a few financial moves today, and by making plans to re-assess your business's financial picture, you'll be better situated for continued success and prosperity in 2017—and for years to come.
Important Legal Disclosures and Information
http://www.forbes.com/sites/nextavenue/2013/10/16/the-sorry-state-of-small-business-retirement-plans/
PNC is a registered mark of The PNC Financial Services Group, Inc. ("PNC"). This article has been prepared for general information purposes by the author who is solely responsible for its contents. The opinions expressed in these articles are those of the author and do not necessarily reflect the opinions of PNC or any of its affiliates, directors, officers or employees. This article is not intended to provide legal, tax or accounting advice or to suggest that you engage in any specific transaction, including with respect to any securities of PNC, and does not purport to be comprehensive. Under no circumstances should any information contained in the presentation, the webinar or the materials presented be used or considered as an offer or commitment, or a solicitation of an offer or commitment, to participate in any particular transaction or strategy or should it be considered legal or tax advice. Any reliance upon any such information is solely and exclusively at your own risk. Please consult your own counsel, accountant or other advisor regarding your specific situation. Neither PNC Bank nor any other subsidiary of The PNC Financial Services Group, Inc., will be responsible for any consequences of reliance upon any opinion or statement contained here, or any omission. Banking and lending products and services, bank deposit products, and Treasury Management products and services for healthcare providers and payers are provided by PNC Bank, National Association, a wholly owned subsidiary of PNC and Member FDIC. Lending and leasing products and services, including card services and merchant services, as well as certain other banking products and services, may require credit approval.