Toggle nav
Login
Sign on to Online Banking
---
Personal and Small Business:
---
Personal and Small Business:
---
Corporate and Institutional: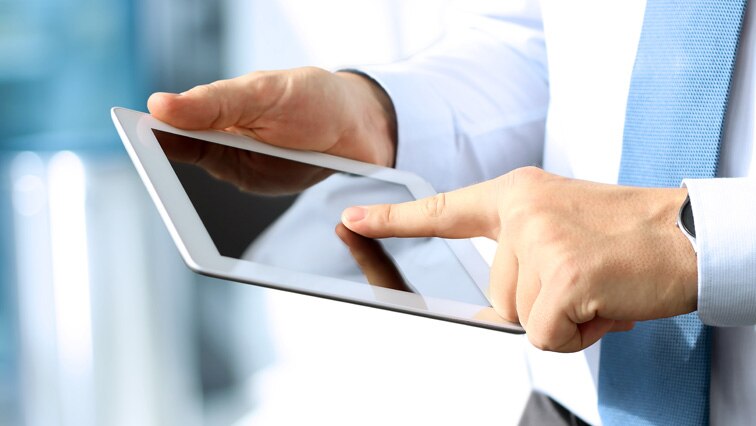 It's not enough to earn a profit. Even a profitable business can be forced to close its doors if it runs out of cash. But a solid cash flow forecast can help avoid that, and let you know in advance when cash will be low so you can take steps to keep from running out. It can also help you find ways to maximize how much use you can get out of your cash.
Here are a few things that should go into forecasting your cash flow:
Reporting Accounts Payables and Receivables
A key part of a cash flow forecast is an accounts receivables report that shows how quickly customers pay. Create a spreadsheet and list all invoices sent out each month. Also, list the dates invoices were sent and the dates payment was received. Calculate the average number of days invoices were outstanding before being paid. This number helps estimate how much cash will be available for future dates. If payments take an average of 45 days, it will take that long for any invoice to turn into cash.
Next, make an accounts payables report showing when bills must be paid for materials, supplies, wages, rent, and other essential items. List each expense, including when bills are received and when they are paid. Many vendors offer 30-day terms. Others require payment on specific dates, such as a landlord who may expect rent on the first of the month. Employees are usually paid in arrears, receiving paychecks from as soon as a week to as long as a month after they have performed their work.
Tracking Your Spending
A cash flow forecast spreadsheet puts these together, breaking down incoming and outgoing cash by week, month, or quarter. A simple forecast would have entries showing cash on hand at the beginning of the period, expected expenses during the period, as well as expected receipts during the period. If the total at the bottom of any period's column is negative, a cash flow crunch may loom and action should be taken to avoid running out.
Many businesses have lines of credit to help with recurring cash shortages, and a one-time shortfall can be filled by taking out a loan. But, ideally, your cash flow should be managed to avoid these shortfalls and reduce borrowing costs in the long term.
Paying and Sending Invoices
Two goals of cash flow management are to be paid as quickly as possible while also paying suppliers no sooner than necessary. Getting paid quickly starts with invoicing promptly and accurately. Send invoices immediately when an order is shipped or when a service is provided. Consider electronic invoicing by email, or using an online invoicing system. Make sure invoices are accurate and have all the information customers need to make payments, including the address, tax identification number, phone numbers, and contact person for any questions.
To manage accounts payables, start by prioritizing payments by due dates. The objective is to pay them when they are due, but not before. Sometimes it may make sense to make payments after the due date, if the cash can be put to better use elsewhere. If you ever need to consider paying a bill late, be sure to calculate the interest rates and any late fees your vendors may assess.
To encourage customers to pay quickly, consider offering discounts for faster payments. When customers are chronically late, consider tightening credit terms. You can also specify late fees or interest charges for late payments.
Managing Your Cash Flow Needs
Managing cash flow is vital for the health of any business, and you should look for ways to improve your cash flow while also protecting relationships with your vendors and customers. Creating a smart cash flow forecast can help maximize growth for your business—by spotting trouble before it arrives and making sure you always have enough money on hand to keep your business growing.
Optimize Your Business Cash Flow
Important Legal Disclosures and Information
PNC is a registered mark of The PNC Financial Services Group, Inc. ("PNC"). This article has been prepared for general information purposes by the author who is solely responsible for its contents. The opinions expressed in these articles are those of the author and do not necessarily reflect the opinions of PNC or any of its affiliates, directors, officers or employees. This article is not intended to provide legal, tax or accounting advice or to suggest that you engage in any specific transaction, including with respect to any securities of PNC, and does not purport to be comprehensive. Under no circumstances should any information contained in the presentation, the webinar or the materials presented be used or considered as an offer or commitment, or a solicitation of an offer or commitment, to participate in any particular transaction or strategy or should it be considered legal or tax advice. Any reliance upon any such information is solely and exclusively at your own risk. Please consult your own counsel, accountant or other advisor regarding your specific situation. Neither PNC Bank nor any other subsidiary of The PNC Financial Services Group, Inc., will be responsible for any consequences of reliance upon any opinion or statement contained here, or any omission. Banking and lending products and services, bank deposit products, and Treasury Management products and services for healthcare providers and payers are provided by PNC Bank, National Association, a wholly owned subsidiary of PNC and Member FDIC. Lending and leasing products and services, including card services and merchant services, as well as certain other banking products and services, may require credit approval.