Toggle nav
Login
Sign on to Online Banking
---
Personal and Small Business:
---
Personal and Small Business:
---
Corporate and Institutional: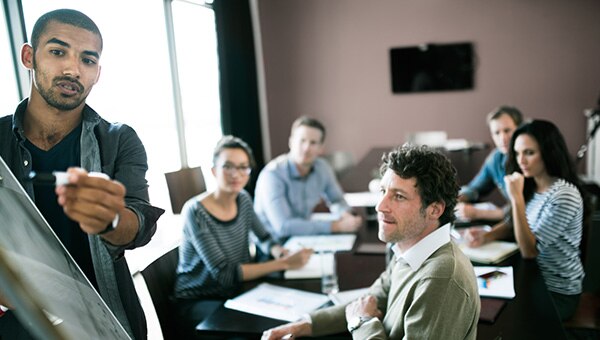 What if the financial side of your business could just … run itself?
Well, it can't. And anyone telling you it can likely has a fair share of swampland available for sale in Nevada.
The bottom line is that your business finances need your full attention and serious strategizing. If you want this year to be the year in which your business stops earning just enough and actually gets ahead, take a few cues from Kyle Durand. He's a business and tax attorney who's spent the past 15 years helping business owners navigate the complex maze of financial and legal issues they face throughout the business life cycle.
Ready to have your best cash flow year yet? Here's what Durand has to say about making that happen — while skipping the swampland stories.
Check Your Financial System Setup
One of the most common issues Durand finds among businesses is the importance placed on financial systems. If every dollar coming into and going out of the business isn't tracked, cash flow will invariably suffer. Without that information, even the most attentive and tuned-in leader won't be making decisions based on the best information.
As time goes on, take inventory on the systems that are, well, running your inventory, tracking your cash and managing your payroll. Consider how you've structured your company culture. Cash flow is every employee's responsibility, so explore ways to make the company's financial data more accessible to your team and demonstrate the impact each employee has on keeping the cash flowing.
Key questions to ask:
Does our company have an accounting system to track every dollar coming into or leaving the business?
Are all employees trained on how to use the system?
Does the owner review the numbers at least weekly?
Review Your Billing Procedures
"I can't tell you how many businesses that I've worked with have turned their cash flow positions around by simply changing their billing procedures," says Durand.
If cash flow has been flowing less than you'd prefer, here are a few of Durand's suggestions for amping it up: Establish regular invoicing procedures (and to boost cash flow, consider switching from a monthly invoicing cycle to a biweekly invoicing practice); offer incentives to customers for paying invoices early, such as small percentages off; and finally, don't let past-due invoices fester. Make sure human beings reach out to those who can get your invoice paid, and be willing to offer incentives to get as much money in the door as quickly as possible.
Key questions to ask:
How quickly are customers billed?
How easy is it for customers to pay? (Hint: don't make them write a check!)
What are the collections procedures for late invoices?
Check for Holes in the Ship
It's possible your business is leaking cash — and you don't even know it. Every ship has holes. Durand recommends inspecting all cost centers on your profit and loss statement. Look for recurring charges that are too small to be noticed each month (like subscription services), yet add up over the year to major dollars.
Also, make sure you're seeking out incentives from your vendors: If you're paying up-front, ask for discounts. If you're paying on terms, see if cash can be saved by up front payments. There are always options for getting a grip on your ship, and these holes are easier to plug than the bigger ones that can crop up if you let the small holes leak.
Key questions to ask:
Where is the business leaking cash?
Are there unnecessary expenses that can be cut back or eliminated?
Is the business paying its vendors on terms, rather than up front?
Think the future looks bright for getting ahead on cash flow? With the right strategies in place, including reviewing your systems, procedures and current cash flow holes, it just may be smooth sailing ahead.
Optimize Your Business Cash Flow
Important Legal Disclosures and Information
PNC is a registered mark of The PNC Financial Services Group, Inc. ("PNC"). This article has been prepared for general information purposes by the author who is solely responsible for its contents. The opinions expressed in these articles are those of the author and do not necessarily reflect the opinions of PNC or any of its affiliates, directors, officers or employees. This article is not intended to provide legal, tax or accounting advice or to suggest that you engage in any specific transaction, including with respect to any securities of PNC, and does not purport to be comprehensive. Under no circumstances should any information contained in the presentation, the webinar or the materials presented be used or considered as an offer or commitment, or a solicitation of an offer or commitment, to participate in any particular transaction or strategy or should it be considered legal or tax advice. Any reliance upon any such information is solely and exclusively at your own risk. Please consult your own counsel, accountant or other advisor regarding your specific situation. Neither PNC Bank nor any other subsidiary of The PNC Financial Services Group, Inc., will be responsible for any consequences of reliance upon any opinion or statement contained here, or any omission. Banking and lending products and services, bank deposit products, and Treasury Management products and services for healthcare providers and payers are provided by PNC Bank, National Association, a wholly owned subsidiary of PNC and Member FDIC. Lending and leasing products and services, including card services and merchant services, as well as certain other banking products and services, may require credit approval.