Toggle nav
Login
Sign on to Online Banking
---
Personal and Small Business:
---
Personal and Small Business:
---
Corporate and Institutional:
Why High Accounts Receivable Can Be Bad Business
by Mark Henricks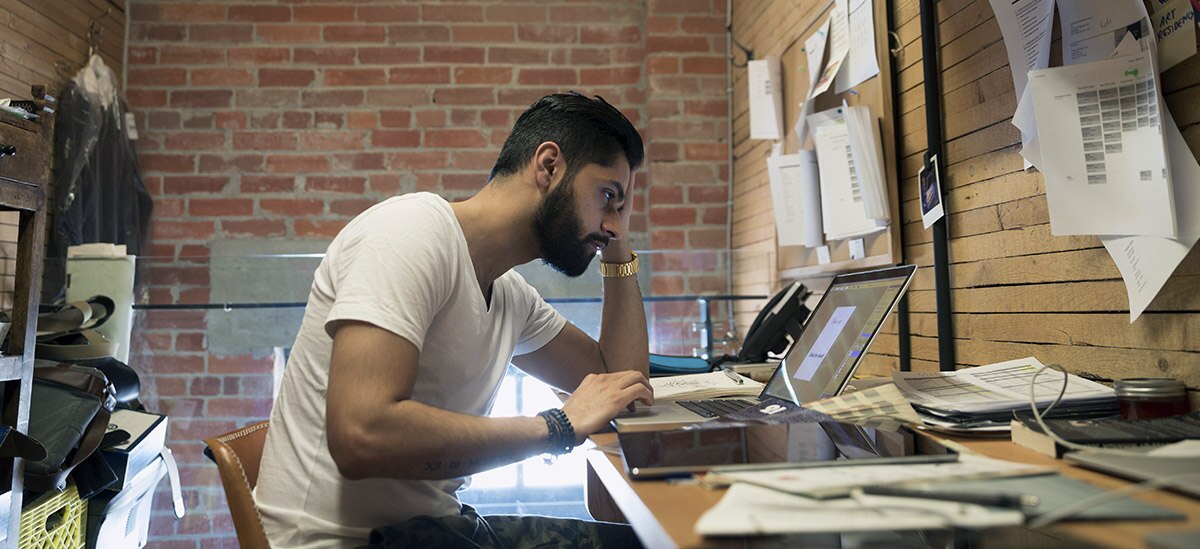 Keeping your accounts receivable high may not seem like a big deal. After all, a business needs to pay its bills. And the current ratio—which is calculated by dividing current liabilities by current assets[1] including accounts receivable—is a basic measure of bill-paying ability.
But customers often seek to improve their own cash flow by delaying payment to vendors, and it's unwise to let accounts receivable grow too high. When a business lets this happen, it can lead to unnecessary financing costs and, in severe cases, a cash crunch that forces closing the doors.
If this is happening in your business, it's time to re-examine your accounts receivables practices.
What Are Similar Businesses Doing?
The first thing any business looking at accounts receivable needs to know is the standard for its industry. How are other like businesses handling it? Unless you have a good reason otherwise, your company should be behaving the same way as similar firms. To compare to the standard, a business needs to know its own accounts receivable performance. Some important measures include average receivables, average turnover, average number of days to collect, and receivable-to-sales ratio.
Check out what companies in your industry are reporting as their key figures, such as ratio of receivables-to-sales and average turnover of receivables. There are trade groups and commercial business data providers that can supply this information for you.
You can calculate average receivables by adding the receivables balance at the start of the year to the receivables balance at the end of the year, and then dividing by two[2]. Calculate average turnover by dividing the dollar amount of sales made on credit for the year by the average dollar amount of receivables. Dividing the resulting number by 365 gives you the average number of days it takes to collect on receivables. The receivables-to-sales ratio is obtained by dividing total dollar sales by average receivables. Understanding and monitoring these averages will help you make decisions about your business's threshold and when to take action to improve it.
Improving the Invoicing Process
Once a business knows where it stands, it can look to improve by invoicing in an accurate and timely manner, and stating terms that are clear and definite. You can also consider the language you use in your billing. For instance, saying "Payable in 30 days" is preferable to "Due immediately."
Invoicing weekly, biweekly, or when a shipment goes out is better than simply invoicing once a month, and offering the ability to pay by credit card can help to improve cash flow significantly.
Improving customer quality can also help. Requiring credit applications for sales other than cash is a good move, and so is getting credit reports on new customers. But slow-paying customers should be considered candidates for cash-only sales in the future.
After You've Invoiced
Following up on unpaid invoices is just as fundamental. Mail reminders monthly and if invoices go unpaid longer than the industry standard, try following up with a phone call. Be firm, but polite and understanding. And don't forget to double-check your paperwork, since tardy payments are sometimes caused by invoicing errors on the seller's end.
Ideally, you don't want to find yourself in a cash crunch, so look for cash before you need it. If accounts receivables monitoring indicates money will not arrive before bills are due, arrange for a loan or line of credit in advance. Borrowing can take time and it is preferable to negotiate terms of a loan before the last minute.
But perhaps the best thing a business can do to keep accounts receivable healthy is to consistently provide high-quality products and services. Happy customers are more likely to pay on time.
Optimize Your Business Cash Flow
Important Legal Disclosures and Information
http://www.investopedia.com/terms/c/currentratio.asp

http://www.exinfm.com/board/accounts_receivable_ratios.htm
PNC is a registered mark of The PNC Financial Services Group, Inc. ("PNC"). This article has been prepared for general information purposes by the author who is solely responsible for its contents. The opinions expressed in these articles are those of the author and do not necessarily reflect the opinions of PNC or any of its affiliates, directors, officers or employees. This article is not intended to provide legal, tax or accounting advice or to suggest that you engage in any specific transaction, including with respect to any securities of PNC, and does not purport to be comprehensive. Under no circumstances should any information contained in the presentation, the webinar or the materials presented be used or considered as an offer or commitment, or a solicitation of an offer or commitment, to participate in any particular transaction or strategy or should it be considered legal or tax advice. Any reliance upon any such information is solely and exclusively at your own risk. Please consult your own counsel, accountant or other advisor regarding your specific situation. Neither PNC Bank nor any other subsidiary of The PNC Financial Services Group, Inc., will be responsible for any consequences of reliance upon any opinion or statement contained here, or any omission. Banking and lending products and services, bank deposit products, and Treasury Management products and services for healthcare providers and payers are provided by PNC Bank, National Association, a wholly owned subsidiary of PNC and Member FDIC. Lending and leasing products and services, including card services and merchant services, as well as certain other banking products and services, may require credit approval.
GET IN TOUCH

Stay Connected

Join Us

Be part of our inclusive culture that strives for excellence and rewards talent.

Visit PNC Careers »
The PNC Financial Services Group, Inc. All rights reserved.